12 great things we ate at The Taste
The Los Angeles Times' annual celebration of Southern California's culinary scene is taking place at Paramount Pictures Studios' backlot this weekend.
This past weekend, many of us — many thousands of us — spent three days eating and drinking ourselves silly at The Taste, the Los Angeles Times' annual food festival.
Many capable people turned Paramount Studios into a giant outdoor food court, with demonstration stages and booths, a pop-up coffee house and an Airstream-turned-cocktail bar. Thanks to all the chefs, cooks, bartenders and baristas who came out and spent their holiday weekend working.
To snapshot the occasion, and for those of you who couldn't come — and somehow missed the zillion social media posts — here are a few highlights. See you (we hope) next year.
Ceviche from Coni'Seafood
Many of us who spend a lot of time at Coni'Seafood in Inglewood compulsively order the Pescado Zarandeado, or snook, a whole grilled fish that arrives on a sheet pan and can happily take up the rest of your meal. But many of the other dishes on the menu are just as wonderful, including the ceviche, a glorious bite served on a tostada that kept us getting in line again.
Salbutes from Chichen Itza
This south L.A. restaurant, located in the Mercado La Paloma, specializes in Yucatecan food. At The Taste's Sunday Block Party, people lined up for its salbutes, or puffy tacos. Pillows of puffy corn tortilla were stuffed with a mixture of ground beef and pork, topped with a sliver of avocado, a slice of tomato, some shredded lettuce and a couple of pickled red onions.
Heirloom tomato gazpacho from Spring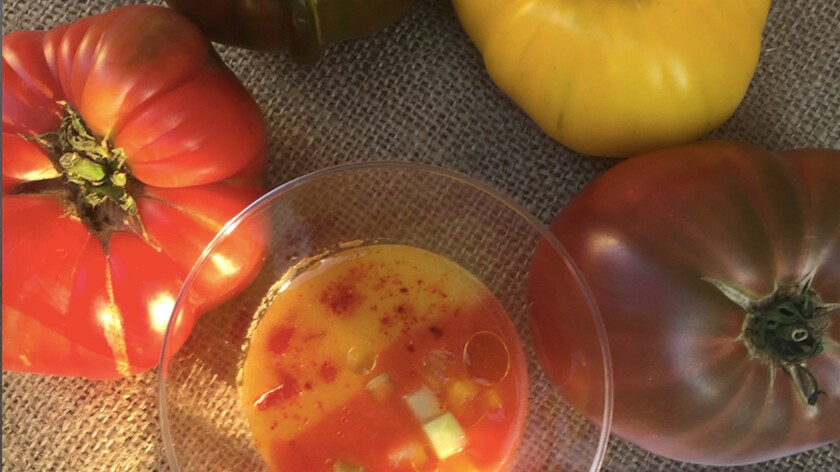 Spring chef-owner Tony Esnault is very fond of the vegetables he compulsively sources from local farmers markets: His legumes de saison dish presents as a still life on a plate. So it wasn't a surprise that both Spring's booth and Esnault's cooking demo featured a vegetable-intensive dish, his take on heirloom tomato gazpacho.
Avocado toast from Lodge Bread
Avocado toast may be a bit of a clichéthese days, but when done in exemplary fashion, as the bakers from Lodge Bread do it, you understand why it became a trend in the first place. On Saturday morning, this was a square of the Culver City bakery's wholegrain dark-crusted bread, topped with mashed avocado, discs of shaved radish and a drizzle of olive oil.
Vampiros from Mexicali Taco & Co
Because even in fancy food events, sometimes all you want is one of chef Esdras Ochoa's Vampiros, a quesadilla filled with cheese and grilled chicken and garlic sauce — especially when there's a giant bowl of fiery salsa handy.
Biryani from Badmaash
In between bites of excellent sliders and tacos, there was chicken and rice. The team at Badmaash, the downtown Indian gastropub (they make poutine!), offered comforting bowls of biryani chicken and rice during Opening Night, topped with a cool cucumber sauce and some tangy pickled onions.
Lamb barbacoa from Aqui Es Texcoco
Aqui Es Texcoco is kind of a one-dish restaurant, and fortunately for many of us, this is what Francisco Perez reliably brings to The Taste: plates of his gloriously addictive lamb barbacoa. Pile your tortilla high with the stuff, add as much of the onions and herbs and salsas as you can stand, eat and repeat.
Chicken larb from Jitlada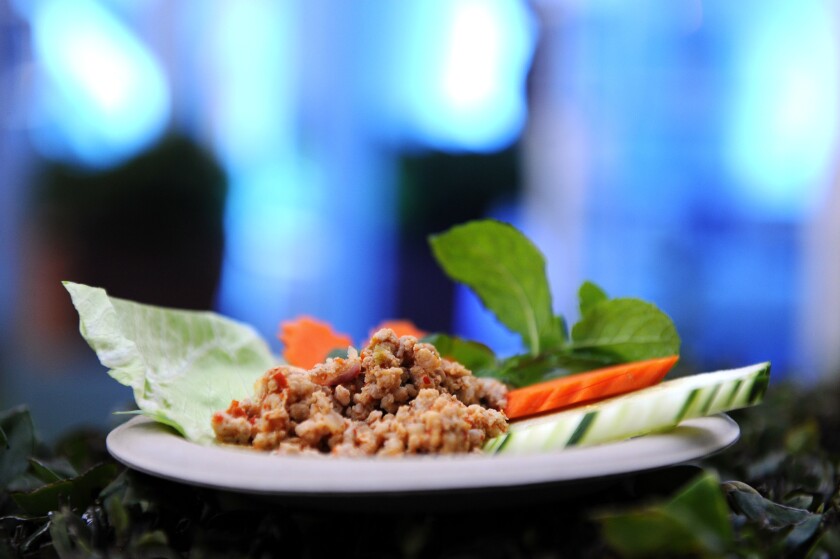 It is an article of faith that Jitlada's Jazz Singsanong and her brother Tui Sungkamee will bring their Southern Thai food to The Taste — and that it will somehow be spicier than you remember. Maybe this is because Jazz inevitably brings a bottle of lately made hot sauce to help you out.
Veal tongue torchon from Little Beast
"Torchon" is a French name for dishcloth, and the term commonly refers to the way in which foie gras or a similar meat-based dish is classically prepared — gently cooked in a lowly towel. The veal tongue torchon from Eagle Rock's Little Beast restaurant pairs thinly-sliced veal tongue torchon with pickled whole mustard seeds and a vibrant salsa verde, a flaky buttermilk biscuit only adds to the richness.
Kung pao shiitake mushrooms from Golden Boy's Chinese
It's hard to settle for just one bite of the kung pao shiitake mushrooms from GoldenBoy's Chinese, the self-described "moveable guerrilla Chinese restaurant" from chefs Hunter Pritchett and Adam Midkiff. Nevermind that the savory umami mashup of the tender mushrooms and koji rice, accented with fresh bits of smashed cucumber and cilantro is also vegan and gluten-free. Win-win.
Risotto from Circa 55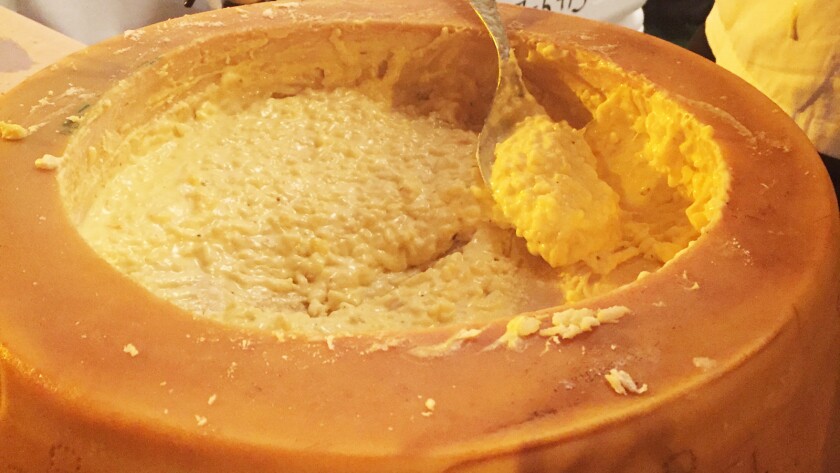 "Did you see the giant wheel of cheese?" The question carried through the crowd Saturday night at Dinner with a Twist as people searched for a rumored giant wheel of cheese. The rumors were true, and it was found in front of the chefs from Circa 55. The line of people at the booth snapped pictures with their iPhones as the chefs served plate after plate of creamy, cheese risotto out of a wheel of Parmesan.
Japanese whiskey from Suntory
If your experience of Suntory has been limited to repeated viewings of "Lost In Translation," a film as binge-worthy as the whiskey Bill Murray plugs on screen, then this was the booth for you. Not straight-up, mind you, but a proper highball, made from Suntory, soda water and just the right amount of ice.
ALSO:
Your guide to Orange County food halls
Shin Sen Gumi is opening a drive-through ramen restaurant in Torrance
Restaurant news: Josef Centeno's new vegetable restaurant, a new beverage-and-breakfast in Koreatown
---
Get our weekly Tasting Notes newsletter for reviews, news and more from critics Bill Addison and Patricia Escárcega.
You may occasionally receive promotional content from the Los Angeles Times.