13 great places for food lovers in Beverly Hills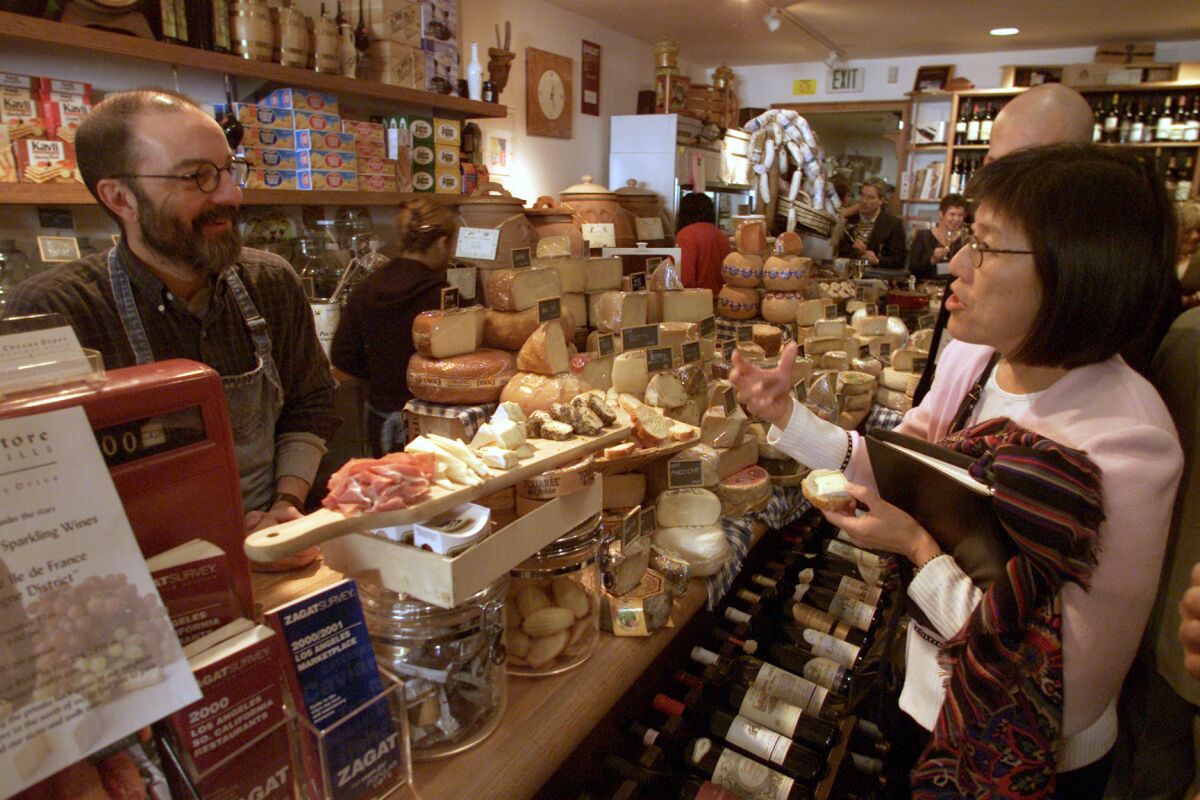 Beverly Drive south of Wilshire Boulevard can still feel like the small town Beverly Hills once was, where locals get their coffee and their nails done. Above Wilshire, in what's called the Golden Triangle, Rodeo Drive and nearby streets lined with global fashion brands' lavish shops embody the very definition of glitzy.
But Beverly Hills is not all about shopping. It's home to some major restaurants, including Wolfgang Puck's Spago. The city also offers plenty of opportunity for casual eating and dedicated food sourcing, from the all-beef hot dogs at Nate 'n Al or a svelte cupcake from Sprinkles to cheese and crackers from the Cheese Shop of Beverly Hills or a glass of old Rioja and a salumi plate from Wally's Vinoteca -- even a place to get that Japanese chef's knife you've always secretly wanted.
The Bazaar — This playful Spanish restaurant from Washington, D.C. chef José Andrés is quite the scene, with not one, but two tapas bars — the more traditional Rojo and the more contemporary Blanco — a dark clamorous bar, and a rococo pastry counter. At the very back, in a private room behind the bar, is Saam, Andrés' elegant tasting menu-only restaurant, which is every bit worth the splurge.
Most of us, though, are dropping in for tapas, maybe pa amb tomaquet (toast with fruity Spanish olive oil and a slurry of ripe tomato on top), delicate and bright gambas al ajillo (shrimp with garlic) and Andrés' "Philly cheesesteak," a torpedo-shaped roll that's really just a shell of crust topped with thin slices of seared Kobe beef and inside, a wisp of cheese. This is also the place for exquisite hand-cut jamón, especially the one from black-footed pigs fed on acorns. And if someone comes around offering foie gras wrapped in cotton candy, you want it. Bite by bite, the restaurant delivers an intoxicating magic. 465 S. La Cienega Blvd., (310) 246-5555, https://slsbazaar.com.
Bouchon — The French Laundry's Thomas Keller came back to Los Angeles, where he cooked in the early '90s, to open Bouchon in 2009. If you're hankering for classic French bistro dishes tweaked with a modern sensibility, this is the place. Upstairs is the restaurant with its tile floors, plush booths and yards of polished brass. Waiters in black vests and long white aprons serve up moules frites (mussels and fries), poule au grand-mère (chicken grandmother-style), roasted leg of lamb — and for dessert, Keller's signature bouchons, fat cork-shaped chocolate cakes, two bites each, with a ball of vanilla ice cream and a puddle of that velvety chocolate sauce.
Or you can just sit at the zinc bar and indulge in a chilled two-tiered seafood platter washed down with a crisp Sancerre or Central Coast Sauvignon Blanc. Downstairs is the bakery and Bar Bouchon, where you can order cheese or charcuterie, foie gras with toasted baguette or a French dip sandwich to enjoy on the sidewalk terrace. 235 N. Canon Drive, (310) 271-9910; www.thomaskeller.com.
The Cheese Store of Beverly Hills — Owner Norbert Wabnig took over a cheese store a block east of Rodeo Drive in 1978 and the Austrian cheese expert is still there, training his staff and teaching cheese courses. The small inviting shop boasts one of the most comprehensive selections of imported and domestic cheeses around. It's almost impossible to name a cheese Wabnig doesn't stock.
The store also has a shrewd selection of wines that pair with cheese and enough gourmet goodies to drive any hapless shopper to distraction — caviar, truffles, charcuterie, balsamic vinegar, hazelnut oil and more. The Cheese Store is also known for its wine and cheese pairing evenings. At the holidays, the grand Champagne tasting is always a sell-out. In fact most of those evenings sell out quickly: For advance notice, get on the mailing list. 419 N. Beverly Drive, (310) 278-2855; https://www.cheesestorebh.com
Freds at Barneys New York — Sad to say, Barneys Greengrass at Barneys New York has come and gone, with its superlative smoked fish counter and bialys flown in from New York. In its place: Freds, the very same restaurant that's in the original luxe department store in Manhattan. Shopping is exhausting. Once you reach the whimpering stage, take the elevator up to Fred's on the fifth floor and nab a table on the outside terrace, the better to enjoy a Beverly Hills Club sandwich with shrimp, crab, bacon and avocado, Fred's kale and vegetable salad, or a flatbread topped with mushrooms, leeks, zucchini, spring onions and goat cheese. Soothing cocktails or a glass of Chardonnay can be ordered from the bar. 9570 Wilshire Blvd., (310) 777-5877, www.barneys.com.
Japanese Knife Imports — A couple of years ago Jonathan Broida and his wife, Sara, moved their Japanese knife store from Venice to a larger space in Beverly Hills. That means more room to display and store the gorgeous knives sourced from master craftsmen in Japan. Stop in to buy a chef's knife, and you'll end up learning about how blades are forged in Japan, the types of steel used to make them and the differences between them, which knife for which use — and in the end, take home a knife that will make slicing and chopping a pleasure.
Careful, though, you can end up lusting after that $300 petty knife with a burnt chestnut handle or that $2,500 white steel knife. Broida has a big following among knife geeks. You'll meet other obsessives here too, mostly chefs who have come in to have their knives sharpened or just to hang out with Broida, a former chef with a degree in Asian Studies. He also runs an informal jobs board for cooks. It's a great place to find a gift for a cook too — if not a chef's knife, then a Japanese bread knife or a pair of kitchen scissors. 8642 Wilshire Blvd., Beverly Hills (310) 399-0300, www.japaneseknifeimports.com.
Lawry's the Prime Rib — Los Angeles is the home of the original Lawry's the Prime Rib, where rosy beef is carved from a rolling cart by a white-gloved master carver with a heavy gold seal around his neck. You choose the cut and the sides. But first, there's salad. The server in a retro uniform hands everyone a chilled fork and then proceeds to spin a giant salad bowl, all the while drizzling Lawry's special salad dressing onto the lettuce from a great height.
It's quite the show, fun every once in a while and relatively inexpensive compared with high-end steakhouses around town. The French, including one three-star Michelin chef, love to take friends from Europe there and dazzle them with all that beef. Japanese tourists arrive by the busload to revel at the massive quantities of beef served at this 77-year-old restaurant. 100 N. La Cienega Blvd., (310) 652-2827, www.lawrysonline.com
Matsuhisa — This funky little restaurant is where the whole Nobu empire started, when Robert DeNiro came in for dinner one night and met Nobu Matsuhisa. And where on any night of the week you could see a parade of stars lining up to get into the inner sanctum, a seven-seat bar screened off from the rest of us. The original Matsuhisa is nothing like the glamorous Nobu Malibu or even the Nobu further north on La Cienega.
Matsuhisa has wisely kept the place pretty much the way it was, with silhouettes painted on the walls and a long counter where you can sit and talk to the sushi chefs. The place used to seem breathtakingly expensive, but other sushi restaurants have taken prices ever higher. For old times sake, longtime customers still drop in for Matsuhisa's signature dishes: uni shooters, mixed seafood ceviche, tiradito (Peruvian style sashimi), new style sashimi and squid pasta with light garlic sauce. Just remember: omakase can run $200 and up per person. 129 N. La Cienega Blvd., Beverly Hills (310) 659-9639, www.nobumatsuhisa.com
Maude — Curtis Stone is best known in this country as host of the Food Network's "Top Chef Masters," but the Australian chef has some serious chops, honed at Marco Pierre White's restaurants in London. In fact, he was chef de cuisine at White's Quo Vadis when it was awarded three Michelin stars. Curtis' television career took him away from the kitchen until he opened Maude last year in Beverly Hills.
Named after his grandmother, who introduced him to food, Maude is his dream little restaurant, just 25 seats and seven tables. Every month Stone writes a new nine-course menu based on one key ingredient. The restaurant has been so popular that you need to reserve well ahead. Stone has the themes blocked out for the year on his website, so you know that February is parsnip, March is fennel, April asparagus, May almond, June avocado, etc.
Truffle alert: November is dedicated to white truffles, December to black truffles. On the website, you can look over his notes on the key ingredients, revealing what he loves about each. This is one television chef who can cook; he just needs the chance to show you. Reservations usually open two weeks before the month. 212 S. Beverly Drive, Beverly Hills (310) 859-3418, www.mauderestaurant.com
Nate 'n Al Delicatessen — Hard to believe this throwback Jewish deli is going strong after 70 years. Surrounded by fancy stores now, Nate 'n Al is the kind of place where you can slip into a booth and order a bagel with lox, matzo brei or a pastrami or corned beef sandwich -- and a cup of regular coffee from a motherly waitress.
Yes, that's former CNN talk show host Larry King over there having breakfast and probably another recognizable star from the old days at the next table. Although the pastrami doesn't come close to Langer's and the smoked fish is fine but nothing special, family-owned Nate 'n Al is important, if only for its nostalgic appeal. It's a relief sometimes to get away from the trendy and the upscale and have some old-fashioned deli food right in the heart of Beverly Hills. 414 N. Beverly Drive, Beverly Hills (310) 274-0101, www.natenal.com.
The Palm Restaurant — How many steakhouses does Beverly Hills need? Apparently a lot. That didn't stop the famed Palm Restaurant from vacating its WeHo digs and moving into town on the same street as Mastro's Steakhouse and Wolfgang's Steakhouse (not Puck's). Nearby is Morton's Steakhouse, Ruth's Chris Steakhouse, Cut (which is Wolfgang Puck's steakhouse) and the Grill on the Alley. That's a tremendous amount of steak power for one little town. But the Palm comes recommended (and without its signature caricatures).
This location seats 185 serious carnivores. The restaurant is of course known for its prime steaks and chops and crazy giant lobsters (up to 5 pounds and more). Appetizers run the usual steakhouse gamut — shrimp cocktail, baked clams casino, crab cakes, etc. And sides are just as predictable: the only oddity is goat cheese whipped potatoes. Expect lots of big reds on the wine list and classic cocktails. Prices are not shy. 267 N. Canon Drive (310) 550-8811; www.thepalm.com/Beverly-Hills.
Spago — When Spago was in its original location on the Sunset Strip, apartment ads used to boast "Spago-adjacent." Then Wolfgang Puck, America's best known chef at the time, pulled up stakes and moved — to Beverly Hills, which was not exactly a hot spot at the time. It turned out to be a prescient decision: He gained a garden and had the chance to reinvent his flagship restaurant.
Now executive chef Lee Hefter and chef de cuisine Tetsu Yahagi turn out light, graceful dishes, served on gorgeous ceramics specially made in Japan. The tasting menu is really the way to go here, but people still stop in for pizza with cured salmon and dill crème fraîche or a prime beef burger at lunch, and on Fridays Puck's longtime faithful customers show up in droves. The wine list is phenomenal, and pastry chef Della Gossett adds her deft touches to the menu. When Puck is in town, he'll do the rounds of the tables and sometimes hop on the cooking line. 176 N. Canon Drive, Beverly Hills (310) 385-0880; www.wolfgangpuck.com
Sprinkles Cupcake ATM — At night, driving by on Little Santa Monica, you can see cupcake addicts lined up at the Sprinkles Cupcake ATM. Yes, that's right, a machine that dispenses the beloved Sprinkles cupcakes. Actually, it's something like a cross between one of New York's old Automats and an ATM: There's someone back there restocking the device with freshly baked cupcakes in various flavors.
Not all of Sprinkles' vast repertoire of cupcakes is available every night, but surely you can find something to tweak your fancy. And the dog you're walking needn't feel left out, as the 24-hour ATM also dispenses cupcakes for dogs. Need to know which flavors? Check in with atm@sprinkles.com. 9635 S. Santa Monica Blvd., Beverly Hills; www.sprinkles.com.
Wally's Vinoteca — This second location of Wally's in West Los Angeles is both a retail wine shop and a vinoteca or wine bar. The longtime dream of Wally's Christian Navarro, the vinoteca is open until 2 a.m., pouring 150 wines by the glass (in elegant Riedel stemware), and serving up cheeses and salumi at white Carrara marble communal tables. There's also a menu of French-inflected dishes, as well as the Wally's burger and a modern take on bouillabaisse in deference to Navarro's partners, the Marciano brothers of Guess jeans.
The wine selection is vast, with bottles from all over the world housed on dark walnut shelves. Check out the wine vault where the old Bordeaux, Burgundies and California Cabs are housed. Even rare and older bottles can be opened for a $40 surcharge at the bar. It's a great spot for late-night eating, especially considering that you can have a wine by the glass and, if you like it, go home with a bottle or two. 447 N. Canon Drive, (310) 475-3540, https://wallysbeverlyhills.com
Follow @sirenevirbila for more on food and wine.
---
Get our L.A. Goes Out newsletter, with the week's best events, to help you explore and experience our city.
You may occasionally receive promotional content from the Los Angeles Times.