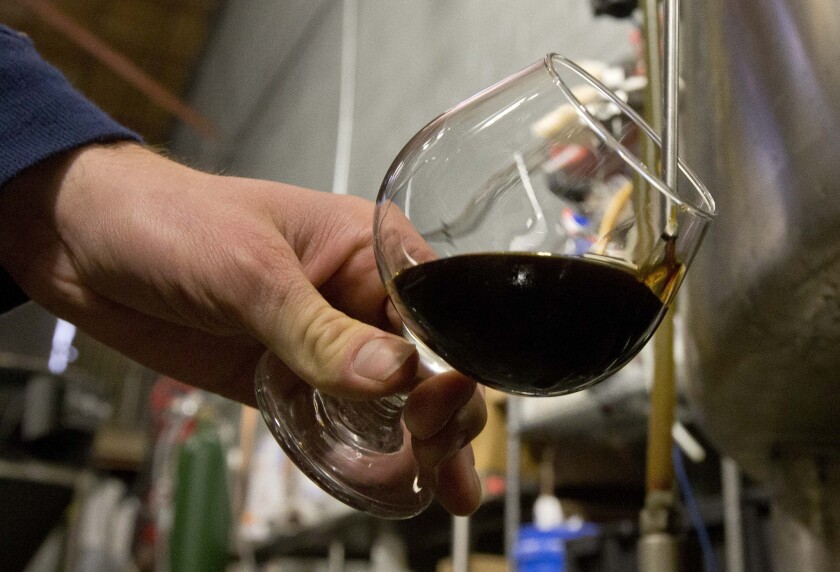 Need a last-minute gift for your Valentine? Chocolates and flowers will only get you so far; try a craft brew to set the romantic tone instead. Whether your lover is a seasoned beer geek or a bit more timid about diving into the sea of craft brews, there's a seductive beer available to pair with the lascivious holiday. Slip one of these brews into the menu you're planning to prepare for your Valentine.
Herbal remedy
Does your beloved fancy hops? The flower-like catkin of the Humulus lupulus vine has a long history in brewing and in folk medicine, and the pungent cones are said to treat everything from stomach ailments to insomnia -- in addition to being an aphrodisiac. There's no dearth of pungent India pale ales and double IPAs to choose from, but the blend of resinous citrus and wine-grape-like aromas in El Segundo Brewing Co's Hop Tanker DIPA is a local example that will knock your socks off.
No hops in this ancient ale
Not everyone swoons at the scent of a hop-heavy ale, and if your sweetheart is none too sweet on bitter, hoppy brews, how about a beer with no real hop character at all? While Delaware's Dogfish Head Brewery uses a small amount of hops (for their preservative effects) in Kvasir, the brew is bittered with brewing herbs even older than hops. Based on "chemical, botanical and pollen evidence taken from a 3,500-year-old Danish drinking vessel", Kvasir is not particularly beer-like, but it is dry, full of cranberry flavor, and surprisingly drinkable with a pleasant tannic finish.
Chocolate's best friend
Going traditional with a box of fine chocolates for your date? Add in a bottle of roasty imperial stout to pair with the chocolate for a thrill. Where wine fumbles, beer excels, and it's almost difficult to make a bad match between chocolate and stout. Try sweeter examples when pairing with dark chocolate, and more roasty beers with sweeter milk chocolate. Or double up on the chocolate (it's Valentine's Day after all) and grab a beer made with chocolate like Hangar 24's Chocolate Porter or Chocolate Sombrero from Clown Shoes Beer.
Pucker up
Soured on the idea of Valentine's Day this year? Protest the stress and expectations of the Hallmark holiday with a sour beer. It's, thankfully, getting easier to find tart, funky "wild ales" and sour beers, and an easy-to-find Belgian import like Duchesse de Bourgogne or Rodenbach are great starting places. These Flanders-style ales balance their vinegar tartness with a caramel sweet malt body, and the complex flavor profiles reward contemplative sipping.
ALSO:
Taste the future of Santa Barbara
Which sardine should you choose?
---