Looking for a new brewpub? Six new breweries to check out now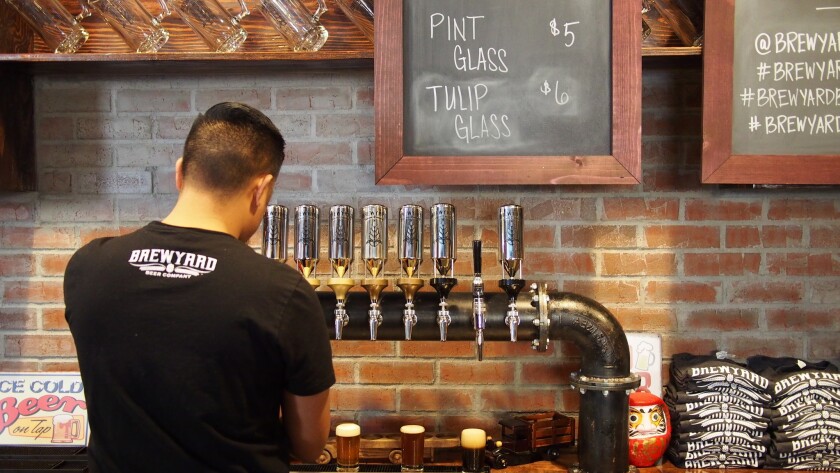 The pace of new craft brewery and taproom openings in Los Angeles continues unabated, and it can be a challenge to keep up with all the action. From the Antelope Valley to the South Bay, half a dozen brew houses have opened their doors or celebrated their official grand openings in just the last few weeks.
Here's a look at the newest wave of producers to join the thriving craft beer scene in Los Angeles.
Two of the more anticipated new breweries opened in downtown L.A. just weeks apart from each other, cementing the Arts District as the city's de facto brewery district. Arts District Brewing is a brewpub and beer bar on Traction Avenue that's already a popular hangout spot featuring Skee-Ball, food from Neal Frasier's Fritzi and some inspired beers from celebrated brewer Devon Randall. Though Randall's IPAs have been getting the most buzz, her Velveteen Rabbit oatmeal stout is one early standout that's dark, roasty and oh-so smooth. Arts District Brewing is open from 4 p.m. to 12 a.m. Monday through Thursday, 4 p.m. to 2 a.m. Friday, 12 p.m. to 2 a.m. Saturday and 12 p.m. to 12 a.m. Sunday. 828 Traction Ave., Los Angeles, (213) 519-5887, www.artsdistrictbrewing.com.
Just a mile due south of the brewpub is Iron Triangle Brewing, which celebrated a grand opening on Jan. 23. With plans to become the largest independently owned production brewery in the county, Iron Triangle boasts a throwback-style tasting room and a handful of classic styles with a progressive twist from brewer Darren Moser (the former director of brewing operations at Maui Brewing Co.). Try the flagship Iron Triangle Ale -- a blond ale that's light and crisp with just enough floral hop character to keep things interesting. Open 5 p.m. to 10 p.m. Monday through Thursday, 5 p.m. to 2 a.m. Friday, 12 p.m. to 2 a.m. Saturday and 12 p.m. to 10 p.m. Sunday. 1581 Industrial St., Los Angeles, www.irontrianglebrewing.com.
>> Your guide to craft beer in L.A.
While the Arts District is emerging as the new center of craft brewing in L.A., local beer has also been thriving in the South Bay region. HopSaint in Torrance is the newest brewpub to open, and it offers Cajun-tinged food alongside a selection of beer styles made on site. Handling the beer-making is Brian Brewer, who earned a faithful following of hop heads during his days running the brew house at Hermosa Beach's Abigaile brewpub. Brewer's new pale ales shine at HopSaint, but don't miss a chance to try his bright and balanced German-style pilsner. Open daily from 4 p.m. 5160 W. 190th Street Torrance, (310) 214-4677, www.hopsaint.com.
Brewyard Beer Company opened in the waning weeks of 2015, just off San Fernando Boulevard in Glendale, a couple of miles north of Golden Road Brewing. There's a spacious tasting room that's already a hit with the locals, and besides the pub game and scheduled food truck stops, Brewyard is showcasing live music in its taproom -- a draw that's all too rare in the L.A. brewery scene. The brewing team has assembled a diverse assortment of flavors for its initial offerings. Standouts include the dark (in color) and light (in body) Black Sunrise and a nicely balanced IPL (a lager version of an India pale ale). Open 4:30 p.m. to 10 p.m. Wednesday through Friday, 1 p.m. to 10 p.m. Saturday and 1 p.m. to 6 p.m. Sunday. 906 Western Ave. Glendale, (818) 409-9448, www.brewyardbeercompany.com.
Two breweries have recently opened on the far side of the Angeles National Forest in Palmdale. Lucky Luke Brewing and Transplants Brewing are separated by just a few hundred yards, and both operations offer a wide variety of styles and creative mashups. The brewmasters at Transplants Brewing are experimenting with some uncommon ingredients such as cucumbers, spruce tips and poppy leaves for some unique brews. The two newcomers join Bravery Brewing and Kinetic Brewery, two well-regarded tasting rooms in Lancaster. Lucky Luke Brewing is open 4 p.m. to 10 p.m. Wednesday through Thursday, 4 p.m. to 11 p.m. Friday, 2 p.m. to 10 p.m. Saturday and 2 p.m. to 7 p.m. Sunday. 610 West Ave O, No. 104, Palmdale, (661) 270-5588, www.luckylukebrewing.com. Transplants Brewing is open 4 p.m. to 10 p.m. Thursday, 4 p.m. to 12 a.m. Friday, 12 p.m. to 12 a.m. Saturday and 12 p.m. to 8 p.m. Sunday. 40242 La Qunita Lane, Unit 101, Palmdale, (661) 266-7911, www.transplantsbrewing.com.
ALSO

Ben & Jerry's cofounder Ben Cohen talks about his new Bernie Sanders ice cream
This Culver City pizza joint has a halal gyro pizza sandwich and saffron ice cream
Meet the new brewer at Abigaile in Hermosa Beach, plus details on the pub's updated brews
---
Get our weekly Tasting Notes newsletter for reviews, news and more.
You may occasionally receive promotional content from the Los Angeles Times.