There's a destination craft brewery opening at the Port of L.A.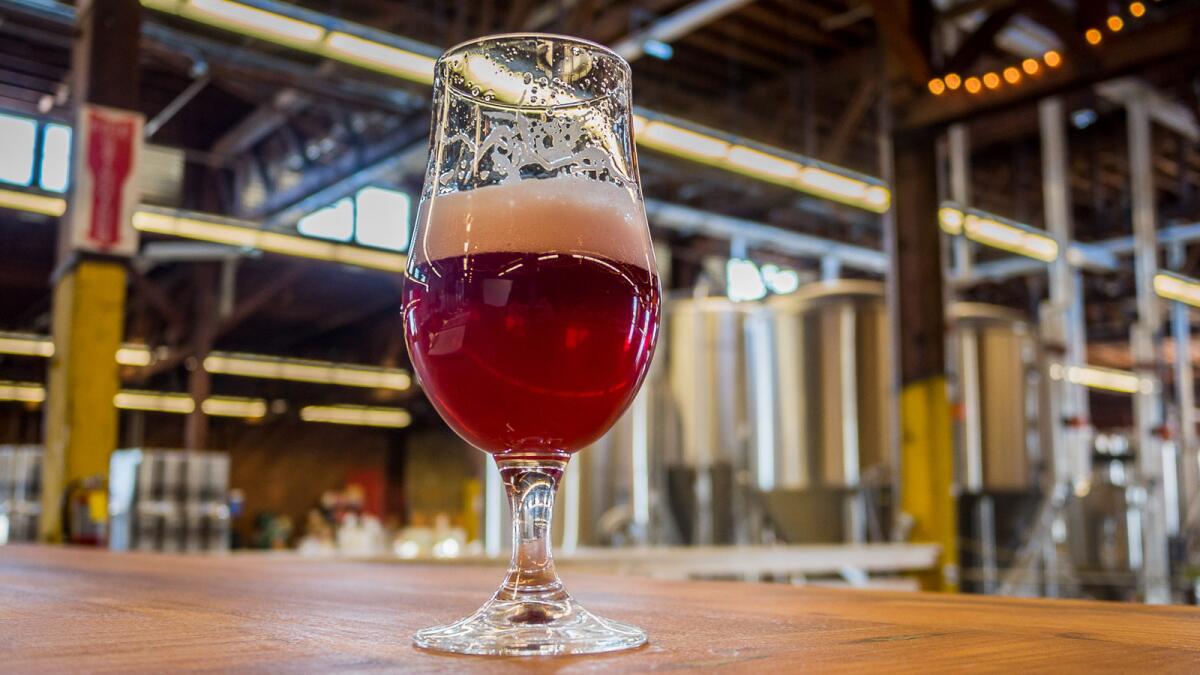 After months of delays and setbacks, Brouwerij West, San Pedro's destination craft brewery, is scheduled to open its tasting room doors Feb. 27.
Known for a line of Belgian-inspired ales packaged in colorful bottles, Brouwerij West has been around since 2010, but its founder Brian Mercer has never had a brewery to call his own. The brand's beers have always been made on a contract basis at other breweries.
The Brouwerij West team has been trying to get the San Pedro production brewery and tasting room off the ground since 2013. The initial concept for the re-appropriation of the former Navy warehouse space included a beer garden and a kitchen and restaurant helmed by Brendan Collins (Birch and the now-closed Waterloo & City), but Mercer says delays and overruns have pushed those plans into phase two.
For now, there's a large area set aside for special events adjacent to the tasting room with communal tables and a long bar top made with reclaimed wood. The brewhouse and fermentation tanks dominate the center of the warehouse, with plenty of room to expand. The beer garden is eventually planned for the courtyard, bordered by World War II-era warehouses.
>>Los Angeles craft beer guide
Head brewer Jeremy Czuleger, who previously brewed at Berkeley's Trumer Brauerei and at Barley Forge Brewing in Costa Mesa, is fine-tuning the equipment and brewing a mix of new styles and established Brouwerij West beers such as My First Rodeo (a farmhouse ale fermented with the wild yeast Brettanomyces) and the magenta-hued Dog Ate My Homework (a saison dosed with blackberries). The new offerings include a traditional Belgian-style white ale spiced with Seville oranges from the Central Coast and more of the wild yeast, and a work in progress called Bitter Blonde ale, which Mercer hopes will capture the unique character of his favorite hoppy Belgian ales.
"We're not an IPA brewery, but we still love hops," said Mercer. "One of my favorite beers is XX Bitter by De Ranke, and I hope our blonde ale can get close to that."
The team wants to explore the trendy saison style family, and plans to use some unconventional ingredients and processes in the new brews. An early test batch of saison featured spelt.
Mercer says he plans to source as much raw material as possible from local sources. There is some technical wizardry happening behind the scenes as well, and the brewery features some specialized equipment more often seen in large European breweries, such as the mash filter, which helps increase brewery efficiency and reduce water usage. A roof covered in solar panels further ups Brouwerij West's green cred.
The grand opening will begin at noon Feb. 27. Following the opening, the tasting room hours will be 4 p.m. to 8 p.m. on Fridays and noon to 8 p.m. on Saturday and Sundays. Brouwerij West is also offering a $175 membership to the Founders Club, which includes six bottles over the course of a year, 10% off in the tasting room, a free growler and fill, and other benefits.
110 E 22nd St., San Pedro, (310) 833-9330, www.brouwerijwest.com.
ALSO:
Three great hamburgers to eat in L.A. right now
These chocolate sparkle cookies will make you happy
Spicy soup and more Korean comfort food at Yook Cal Bop Sang in Koreatown
Get our L.A. Goes Out newsletter, with the week's best events, to help you explore and experience our city.
You may occasionally receive promotional content from the Los Angeles Times.