Another coup for Alma's Ari Taymor: Food & Wine's best new chefs list
Located downtown on Broadway, Alma is unassuming from the outside, to say the least
(Michael Robinson Chavez / Los Angeles Times)
Everything is chosen to let the food shine through.
(Michael Robinson Chavez / Los Angeles Times)
The freshest local ingredients, like these foraged herbs, are the centerpiece of the menu.
(Michael Robinson Chavez / Los Angeles Times)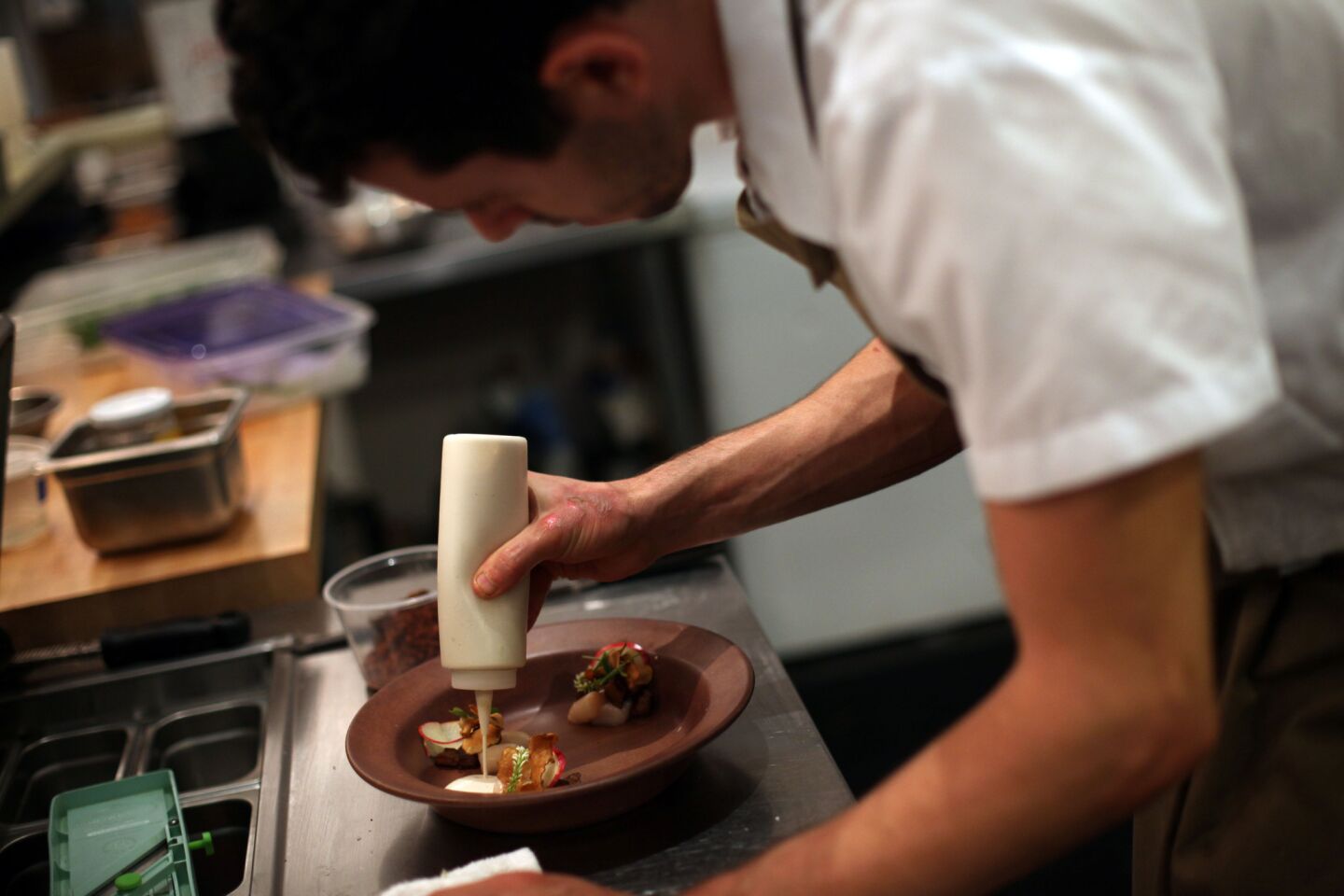 Careful attention is paid to every detail.
(Michael Robinson Chavez / Los Angeles Times)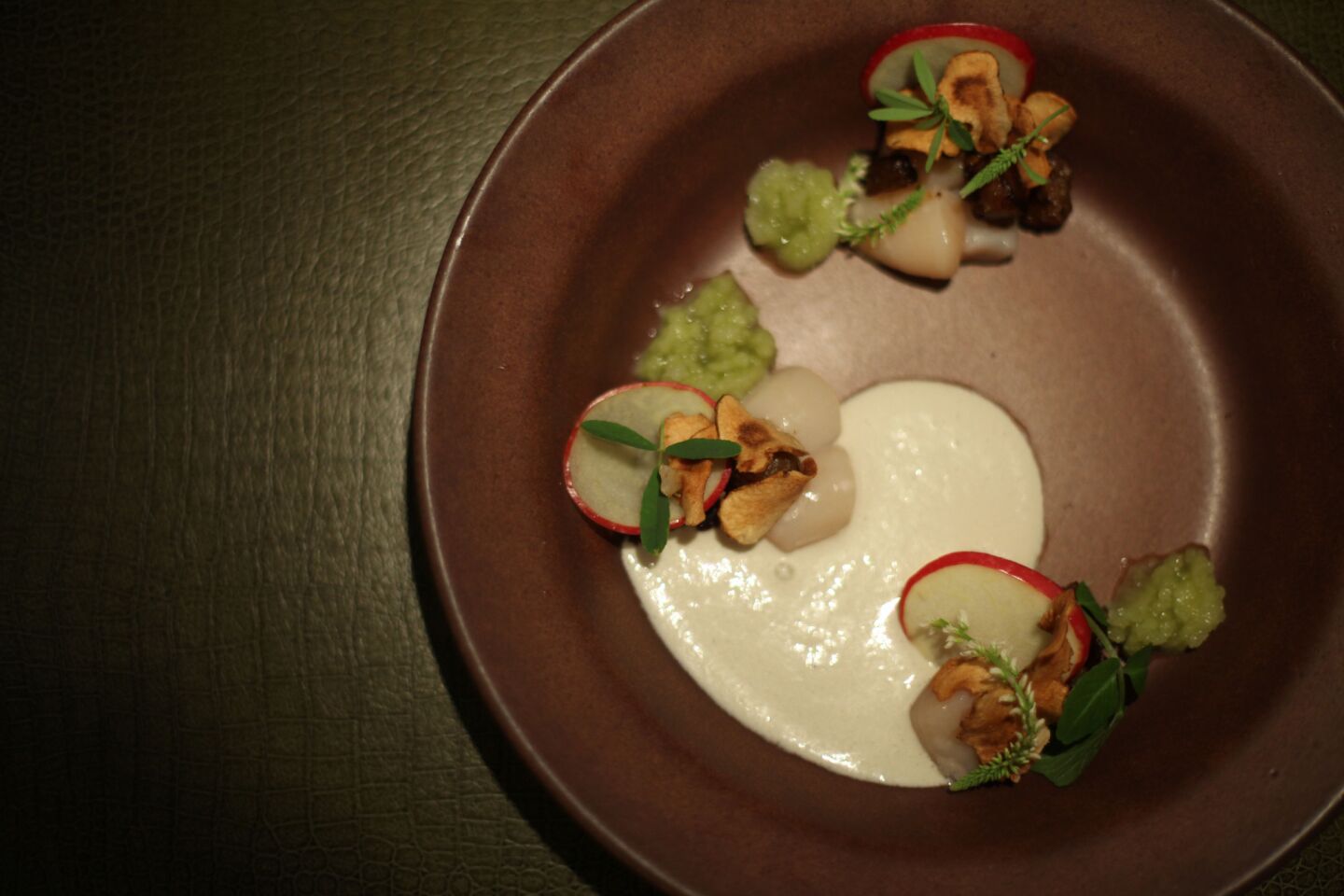 Even the simplest ingredients glow against the right background.
(Michael Robinson Chavez / Los Angeles Times)
But the final result is nothing if not finished.
(Michael Robinson Chavez / Los Angeles Times)
Alma chef Ari Taymor was just named one of Food & Wine Magazine's best new chefs of 2013.
(Michael Robinson Chavez / Los Angeles Times)
And always save room for dessert.
(Michael Robinson Chavez / Los Angeles Times)
This has been a year Ari Taymor will probably never forget. First, Alma, the downtown Los Angeles restaurant he runs with his partner Ashleigh Parsons, was named the best new restaurant of the year by Bon Appetit magazine. And now Tuesday, he was named one of Food & Wine magazine's Best New Chefs of 2013.
"It's been wild,' the 28-year-old Taymor said. "Everything's been crazy and shocking, a real whirlwind for sure.
"But at the end of the day, I'm a cook. That's what it's about, cooking. And while all of these honors are nice, what's really nice about them is it allows us to keep our restaurant working, to keep attracting new customers and to keep paying all of the people who work to help us.
"All of the accolades wonderful and it's certainly nice to be acknowledged, but at the end of the day, what Ashleigh and I are trying to do is build a sustainable business, both in ingredients we use and the way we treat our staff."
Other chefs named by Food & Wine were Matthew Accarino from San Francisco's SPQR; Dave Beran from Chicago's Next; Matt McCallister from FT33 in Dallas; Greg and Gabrielle Denton from Portland, Ore.'s Ox; Eli Culp from Fork in Philadelphia; Joe Ogrodnek and Walker Stern from Brooklyn's Dover; Paul Qui from Qui in Austin, Texas; Justin Yu from Houston's Oxheart and Cara Stadler from Tao Yuan in Brunswick, Maine.
Taymor is not one of those driven young chefs who set out to work in the kitchen from a young age. In fact, it wasn't until he was in college that the bug bit, reportedly after a perfect leg of lamb at Chez Panisse.
That led to a tryout at Suzanne Goin's Lucques, which ended with him getting fired (there are no hard feelings; he told the Downtown News that he was "lazy and annoying"). "It was really important for me to learn that and I completely understand why it happened," he says.
But he bounced back, working at a community kitchen in Berkeley, then at San Francisco pizzeria Flour + Water. His big light-bulb moment was watching a PBS show featuring the French restaurant La Chassagnette. After pestering chef Armand Arnal for several weeks, he was taken on as an intern.
After cooking around for a little while upon his return, he started Alma as a pop-up, then in June 2012 opened for real on a dingy block of Broadway downtown.
Not long after, Times critic Jonathan Gold praised the restaurant, describing one dish as: "You are not quite sure what any one bite you are eating might be, but it tastes gloriously, of early California fall.
"Nobody is cooking quite like this in L.A. at the moment. This is a modest but sure step toward the cuisine most often seen in restaurants with six-month waiting lists and $145 tasting menus."
Taymor isn't quite there yet. You can still get a seat most nights and the top tasting menu is only $110 (for 15 courses; another is only $65 for five courses).
But you get the unmistakable feeling that it might not be long.
ALSO:
Fire and Blood Red Ale is coming
A look at 80 diets from around the world
A brewing kit for coffee lovers who travel

Get our L.A. Goes Out newsletter, with the week's best events, to help you explore and experience our city.
You may occasionally receive promotional content from the Los Angeles Times.