Looking for a wine to go with oysters? Keep it clean, crisp and cold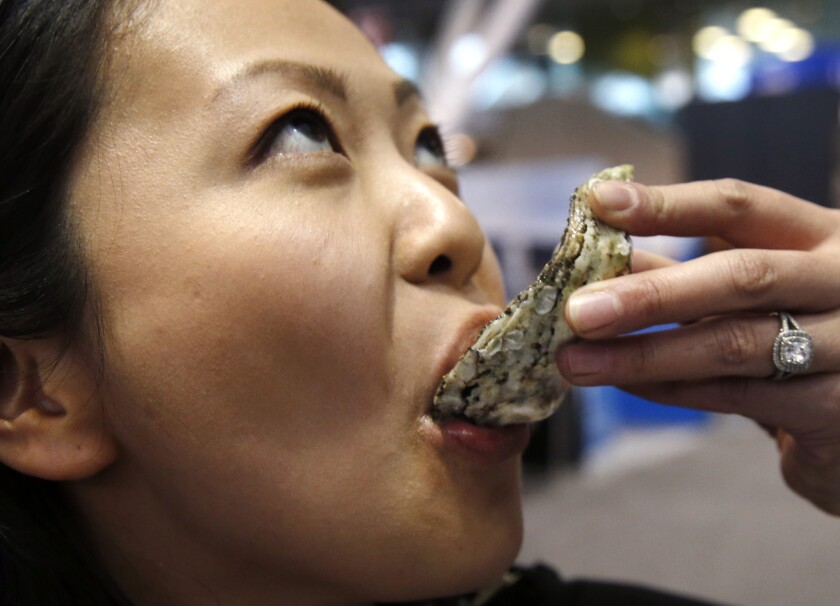 When it comes to a bottle of wine, an oyster's demands are fairly simple. It should be cold, crisp and clean. Anything more is likely to create a clash of some kind. That's just the way it goes with briny shellfish.
That point was made yet again at the 20th annual Pacific Coast Oyster Wine Competition, sponsored by Washington state oyster grower Taylor Shellfish. Judging panels from Los Angeles, San Francisco and Seattle spent afternoons sipping wines and slurping oysters and puzzling out which combinations worked best. The Los Angeles conclave was held at Water Grill downtown.
The traditional wisdom has always been that Muscadet and Chablis were the perfect matches for oysters. Both share a steely quality that balances the richness of the shellfish. Of course, we don't make either of those in the United States, but the wines that do well tend to share those characteristics – Sauvignon Blanc and Pinot Gris with the occasional Pinot Blanc or Chenin Blanc, all preferably made without oak.
The best news is that because these are usually fairly inexpensive grapes and the handling is fairly simple, prices tend to be much lower than they would be for other wines. Most of the award winners are available for less than $12 a bottle.
As usually happens in this competition, a few of the same old faces tend to do well. Seven of the 10 winning wines had won previously. The 2012 Acrobat Pinot Gris, 2012 Foris Pinot Blanc and the 2013 Van Duzer Pinot Gris from Oregon; the 2013 Chateau Ste Michelle Sauvignon Blanc from Washington and the 2013 Geyser Peak Sauvignon Blanc, 2012 Kenwood Pinot Gris and 2013 Kenwood Sauvignon Blanc from California were all multiple winners.
But there were three new faces as well. From California, Sebastiani's 2013 Sauvignon Blanc and Revolution Wines' 2013 Chenin Blanc were first-time winners, as was the 2013 Lost River Pinot Gris from Washington.
You can find a complete rundown of what has one year-by-year on the website.
ALSO:
Tomato ramen at Kanpai in Glendale
31 recipes to help celebrate Passover
Learning to love the fava, with six recipes to help
---
Get our weekly Tasting Notes newsletter for reviews, news and more from critics Bill Addison and Patricia Escárcega.
You may occasionally receive promotional content from the Los Angeles Times.