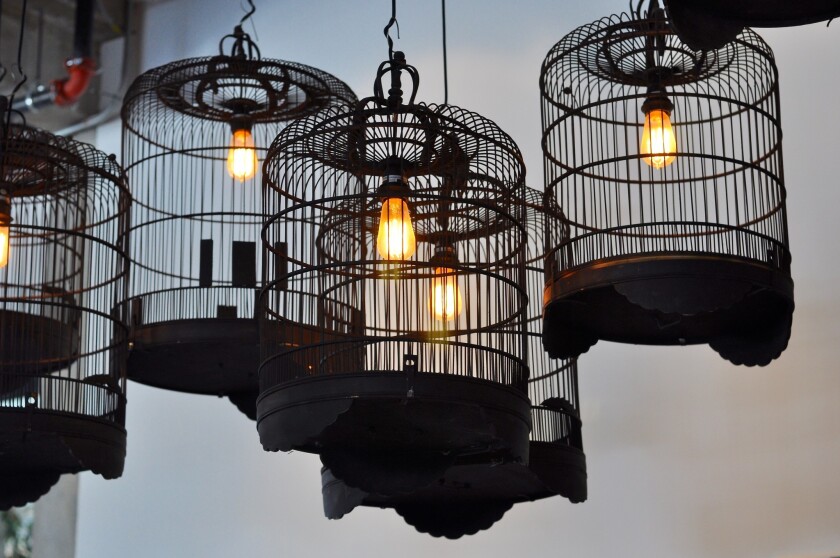 If you, like many of us, have been waiting, oh, a year and a half now for Bryant Ng's downtown L.A. restaurant Spice Table to reopen, we have news for you. No, it's not reopening — but Cassia is instead. The new Santa Monica restaurant is expected to open in the middle of June. And inside Cassia, which Ng is opening with his wife, Kim Luu-Ng, and Josh Loeb and Zoe Nathan, will be a kind of reincarnation of Spice Table, complete with its wood-burning stove and those fantastic bird cage light fixtures hanging from the ceiling.
If you don't dream of Ng's Vietnamese-Singaporean dishes, here's an update. Ng closed his much-loved restaurant Spice Table on New Year's Eve of 2013 — after a highly successful three year run and during which Ng was named a 2012 best new chef by Food & Wine — because the MTA wanted the space for a new train station. Which they got.
While Ng was looking for a place to reopen Spice Table, he was approached by Loeb and Nathan, who together operate Rustic Canyon, Huckleberry, Sweet Rose Creamery and Milo & Olive, about a new project they were working on. Or, rather, a new space they'd found: a gorgeous 1937 Art Deco building in Santa Monica. The Ngs agreed that the location was perfect for a new restaurant, although in the beginning nobody was sure what kind.
Fast forward a year or so, during which time the building got a seismic retrofit, and now we have the imminent opening of Cassia, Ng's new restaurant, and Esters, a new wine shop from longtime Rustic Canyon wine director Kathryn Coker, with snacks from Rustic Canyon chef Jeremy Fox.
All that said, Cassia is not a reboot of Spice Table, although it will include a part of the restaurant that Ng calls "Baby Spice." The menu will have new dishes that combine the Vietnamese-Sinagaporean style of Spice Table with French brasserie influences. There will still be a few Spice Table dishes (kaya and cauliflower, eventually the famous pigs tails), for old time's sake, but the rest of the menu will be a reflection of what Ng's cooking now.
Cassia will seat 140 inside the roughly 5,000-square-foot, lofty ground-floor space, and 60 outside on the patio. The mostly open interior is divided into areas, including a raw bar, a somewhat more secluded section near a private dining room that seats 20, and the area near the old Spice Table grill, which includes a communal table and a bar.
Esters, which is named after a wine term (no, it's not a misspelling of a woman's name), is a roughly 2,000-square-foot space on the other side of the building. It includes a stone bar that seats up to 50 where you can order glasses of wine and Fox's small plates, and shelves for the wine that you can either drink or purchase — or take to drink at Cassia. Esters is set to open about six to eight weeks after Cassia opens.
"We wanted to stagger it," Josh Loeb said recently.
As for Cassia, Loeb says that initially nobody knew what to do with the restaurant — but they knew what they didn't want. "We didn't want a big, glammy restaurant. We thought of Balthazar [in New York], but we didn't want French bistro food." But when Ng came onboard, things gradually fell into place.
Inside Cassia's kitchen Ng has assembled a talented crew: chef de cuisine Matt Armistead (Gjusta, Soho House), sous chef John Stenbakken (who was chef de cuisine at Mozza San Diego) and pastry chefs Laurel Almerinda and Charlotte Doimo-Mueller, as well as Zoe Nathan. Yes, the restaurant has three pastry chefs.
There's also some pretty great equipment for all those chefs to play with, including a smoker, two woks, a fryer and a tandoor. "Zoe and I have been working on breads," says Ng. Of course they have.
Ng has a lot more space than he ever had in the Spice Table kitchen, and he's making use of it — he's planning on using his 16-hour pho broth (oxtail, beef neck, bone marrow, brisket) as a kind of French stock.
As for moving to the Westside from downtown, Ng says he misses Little Tokyo a lot, but is enjoying the proximity to the Santa Monica farmers market. He points out that there's also some historical irony, as years ago, Ng's grandparents ran a Cantonese-Polynesian restaurant in nearby Culver City.
Ng's not offering Cantonese or Polynesian food at Cassia, but there will be a Lava Flow on the menu. This is thanks to Ng's frequent travels in Hawaii and Kim Luu-Ng's love of the tropical cocktail, which apparently borders on the obsessive. Something to order for those who don't drink wine, I suppose.
Because taking pictures of food is almost as much fun as eating it, on Instagram @ascattergood.
---