Lobster rolls, oysters and cocktails with a kick at Catch and Release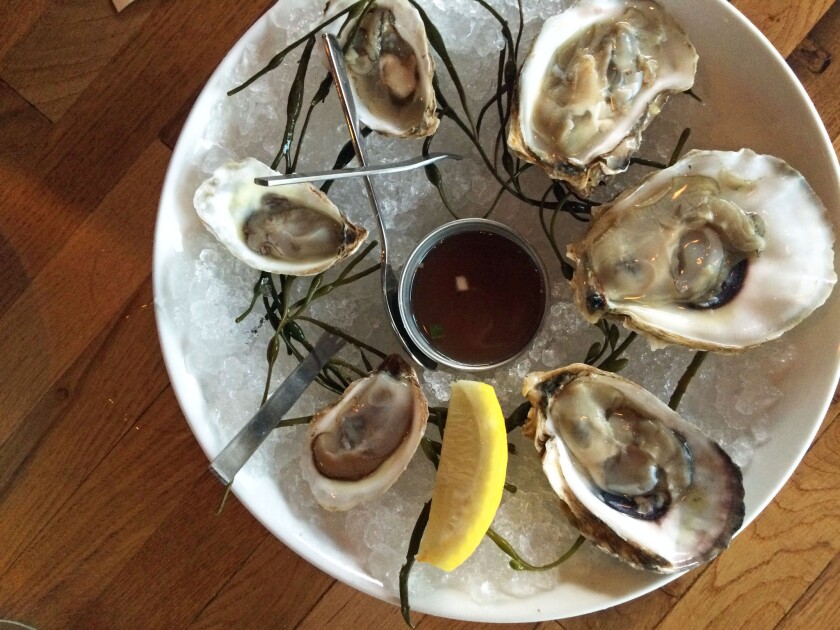 Name: Catch and Release. An ocean-to-table seafood restaurant in Marina del Rey by Jason Neroni (formerly of Superba Snack Bar, Spago and Osteria La Buca), that's meant to channel the chef's childhood memories of summers in Maine.
Concept: There are long communal tables in the dining room, fisherman's rope dangling from the ceiling and a large map of Maine along the back wall. If you can't bear to drive east of the 405 (you know who you are), this could very well be the Connie and Ted's of the Westside.
Dish that represents the restaurant: The lobster roll. A Parker House roll is split and stuffed with bits of tender lobster tossed with Duke's mayonnaise, lemon juice and tarragon. The roll is buttery and golden brown, and the lobster spills out of the top of the sandwich. It comes in small or large ($12 or $24) and with a mountain of crisp French fries covered in Old Bay seasoning.
Runner-up: Wild king salmon tartare with pickled mustard, quail egg, chives and pine nuts. This is not the molded, prissy tartare you may expect from a fancy restaurant. It's a small heap of coarsely chopped, raw salmon, mixed with plump, tangy pickled mustard seeds and pine nuts. On top, a heavily seasoned quail egg, and on the side, a crusty piece of bread.
There's also a raw bar with oysters, Little Neck clams, Dungeness crab, lobster, peel-and-eat shrimp and bay scallops on the half-shell.
What are you drinking: A full-bodied 2013 Toreta Posip from Croatia; the Suffering Bastard cocktail, made with rye whiskey, gin, allspice dram, ginger, lemon, soda and angostura bitters; or the Surf Report, made with gin, cucumber, mint, fresh lime, dry vermouth, anisette and salt air.
Who's at the next table: A young, well-dressed couple out to dinner with parents, politely sipping wine and discussing wedding plans. And on the other side, two older couples on a date night, the women smelling of sweet Jasmine perfume. All four diners loudly slurp oysters between laughs.
Service: Beyond well-informed and borderline pushy, but in a good way. Your server will let you know the salmon tartare is a must, and will keep repeating himself until you've given in and ordered it. And after you bring that last piece of bread, tartare and pickled mustard to your mouth, you'll want to give him a hug.
Info: 13488 Maxella Ave, Marina del Rey, (310) 893-6100, catchandreleasela.com.
Easily won over with oysters and wine. Follow me on Twitter and Instagram @Jenn_Harris_
---
Get our weekly Tasting Notes newsletter for reviews, news and more.
You may occasionally receive promotional content from the Los Angeles Times.