Busy day? Fix this smoked chicken and cantaloupe salad for dinner tonight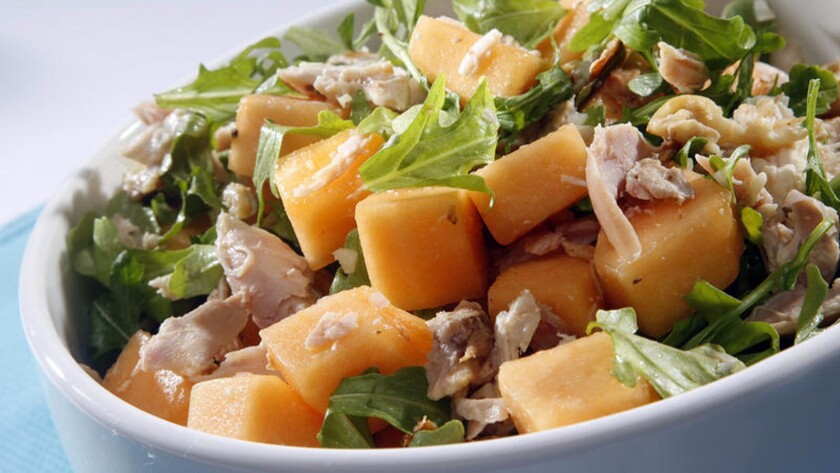 Sometimes, it helps to have a stash of quick and simple go-to recipes for when you don't have the time – or the desire – to even think about what to fix for dinner. Add this recipe to the arsenal.
From former Food columnist Russ Parsons, this easy salad comes together in minutes, using a minimum of ingredients. Whisk together a quick Champagne vinaigrette and toss it with some arugula, fresh cantaloupe and smoked (or rotisserie) chicken you can find at the supermarket. There's no cooking involved — and just like that, dinner is served.
SMOKED CHICKEN AND CANTALOUPE SALAD
Total time: 20 minutes | Serves 4
Note: Whole smoked chickens are available at some fancy grocery stores and delis. If you can't find a whole smoked chicken, use a rotisserie chicken instead.
1 tablespoon minced shallots
2 tablespoons Champagne vinegar
1/2 pound shredded smoked chicken
3/4 pound diced cantaloupe
1 tablespoon oil
Pinch of salt
2 ounces (4 generous cups) torn arugula
Freshly ground black pepper
1. In a small bowl, combine the shallots and the vinegar, and set aside to steep for at least 5 minutes while you're preparing the rest of the ingredients.
2. Combine the chicken and the cantaloupe in a serving bowl, and set aside until ready to serve.
3. When ready to serve, whisk the oil into the vinegar mixture to make a smooth emulsion. Season with a pinch of salt.
4. Add the arugula to the chicken and cantaloupe. Pour dressing over the mixture and stir gently to ensure that everything is evenly coated. Finish with a good grinding of freshly ground black pepper to taste.
Each serving: 161 calories; 15 grams protein; 9 grams carbohydrates; 1 gram fiber; 7 grams fat; 1 gram saturated fat; 43 mg cholesterol; 7 grams sugar; 96 mg sodium.
Love cooking as much as I do? Follow me @noellecarter
ALSO:
You'll love this simple berry bar recipe
This watermelon salad could be the easiest summer dish ever
Farmers market report: Peaches and nectarines are in season. We have recipes
---
Get our weekly Tasting Notes newsletter for reviews, news and more.
You may occasionally receive promotional content from the Los Angeles Times.