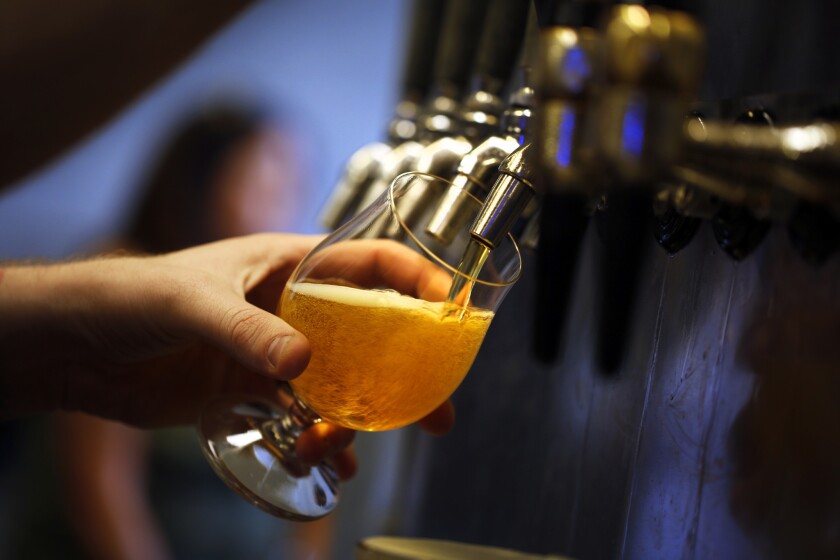 The craft beer industry is making up for lost time in Los Angeles County. We've already seen a half-dozen new breweries open in 2015, and there are more on the way. The growth has been so rapid that it's difficult to get an accurate picture of the industry's size in L.A., but a new study captured some details about just how much money L.A.'s breweries are making and what kind of impact they're having on the local economy.
Prepared by the National University System Institute for Policy Research of San Diego, the report was based on a survey of L.A. County's craft beer companies. The 54 breweries, brewpubs and contract brewing businesses surveyed for the study are projected to have a $66-million direct economic impact on the region in 2015, with industry sales projected to exceed $90 million while generating over $10 million in sales tax revenue.
And those figures should increase significantly in 2016, as more breweries open and craft beer gains a larger market share in L.A. County. The study identified nearly 1,000 workers directly employed by breweries and brewpubs, with only about 20% of them actively working in brew houses.
The figures form a snapshot of a burgeoning local industry that seems poised to grow into an important economic force in the region.
Vince Vasquez, a senior policy analyst at the institute and author of the study, says, "In the last 20 months something phenomenal has happened [in Los Angeles County] that you can't really measure yet." Vasquez points out that nearly half of the brewery licenses in the Los Angeles region have been issued in the last two years, and comparing the fledgling craft beer scene in the L.A. region to the world-renowned beer industry in San Diego, he says "there's more room to run in L.A."
San Diego's beer industry generated upwards of $600 million in economic impact in 2014, and that's based on a population that's less than half of L.A. County's 10 million people.
L.A. County's vast population and the global shipping opportunities afforded by the ports make the region an attractive location for major brewery projects from outside businesses.
Craft giant Lagunitas is pouring tens of millions of dollars into the construction of their new Azuza brewery that should come on line in 2017. "There is a big world of beer lovers emerging all over," says owner Tony Magee. "And being near to L.A. Harbor and to Long Beach is a great thing, right?"
Whether Los Angeles County becomes host to more of the established craft brands such as Lagunitas, develops home-grown industry giants like San Diego's Stone Brewing, Ballast Point, or Green Flash, or simply establishes a community of smaller, neighborhood-focused craft brewing operations, the craft brewing industry could become an important economic engine in the region.
ALSO:
You'll want this chili recipe for game day
Your Los Angeles area ice cream and gelato map
---