Duff Goldman takes a break from making cakes, and bakes bread
"There's a lot of focaccia in the world and most of it is terrible," Duff Goldman says. "People need to learn about the good stuff." The founder of Charm City Cakes shows how to make his version of focaccia. 
"If I wasn't in the kitchen, I'd probably be a mechanic," says Duff Goldman. The owner of Charm City Cakes and longtime Food Network star is known for his imaginative and at times gravity-defying cake creations. "I love messing with things and figuring them out."
Goldman is busy in his home kitchen, baking. His West Los Angeles apartment is like a bachelor's dream pad — a little light on furniture, decorated with guitars on stands, a motorcycle helmet or two in the corner, and custom skateboard decks hanging on the wall. The small kitchen is outfitted with metro shelves full of baking and cooking equipment, and he's just installed a massive aquarium next to the granite countertop. "I can't wait to start adding fish," he says. "It's going to be awesome."
But today there's not a cake in sight – Goldman is baking bread. Focaccia, to be exact. "I've always loved baking bread," he says, kneading the dough. "There's the science to it, and the beauty."
Goldman, 41, was baking bread before he ever got into cakes. While studying at the Culinary Institute of America campus in Napa Valley, he got a job at a local bakery. "It was amazing. I worked with these two guys who were the best bread bakers. They taught me so much. We'd turn out 1,000 baguettes and 2,000 rolls a day."Goldman would show up at the bakery just as the two bakers were finishing mixing and shaping the breads to proof. "They had the hard part. I just baked." Goldman would bake through the night, working with a massive old oven that creaked as it rotated. "It was Zen-like. I was there all night by myself. But here was this visceral satisfaction at the end of each shift, just looking at all the bread on the racks."
Goldman started making focaccia around 1995, when he got a job at what was then Savannah Restaurant in Baltimore under chef Cindy Wolf. "My job was baking cornbread and biscuits, but she let me play around with recipes in my spare time." He credits Wolf with really allowing him to experiment with his own recipes.
Later, Goldman was the bread baker for chef Todd English at Olives in Washington, D.C. "His focaccia is awesome."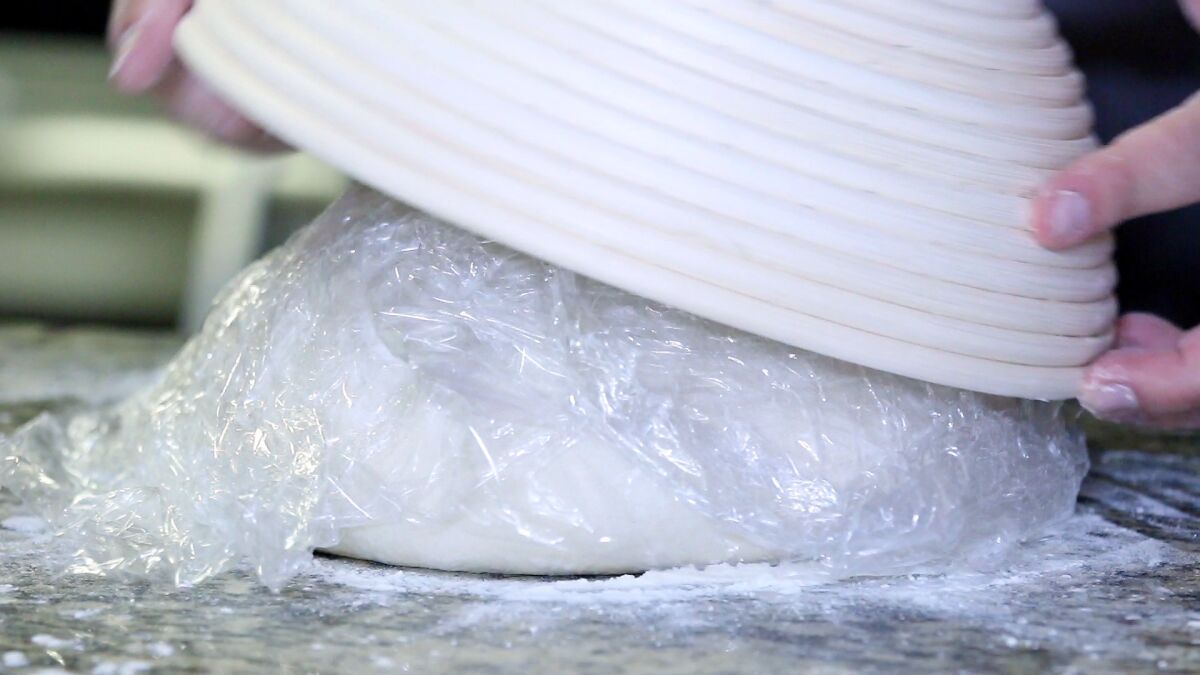 Goldman started Charm City Cakes in Baltimore in 2000. "I was baking cakes out of my apartment while I was in a band to support myself. I'd bake cakes for a while, then take time off to go on tour" with the band. Not long after, Goldman's creations began to get notice, and the rest is Food Network history. Still, his passions haven't strayed from the bread baking of his earlier years.
"If I could stop doing cakes and bake bread and still have the lifestyle I have, I would."
In the kitchen, Goldman is Snapchatting a quick video of the focaccia as it proofs in the pans. "There's a lot of focaccia in the world and most of it is terrible. People need to learn about the good stuff."
Bread may be more of a personal hobby for Goldman now, though he devotes chapters to bread and other baked goods, including pies and pastries, as well as gluten-free and vegan recipes, in his book "Duff Bakes: Think and Bake Like a Pro at Home," co-written with Sara Gonzales.
To give his focaccia added flavor, Goldman starts with a biga, or starter dough. Nothing more than a combination of flour, yeast, water and a touch of sugar, the biga is a soft, wet dough Goldman refrigerates for a while before using. "Give it about three days to ferment. This gives the bread more depth of flavor and helps to make those big holes."
To the biga, he adds more flour – an equal mix of all-purpose and bread flours – and yeast, along with a little oil and salt, mixing everything to combine a soft, smooth dough. "It's important not to mix too fast. You're developing the structure."
When the dough is risen, Goldman prepares the pans with a good coating of oil. "The bread is basically going to deep-fry on the bottom. This is what gives it that amazing crust, almost like fry bread." He divides the dough, stretching and shaping the rounds in the pans.
When it comes to toppings, Goldman likes to coat his dough in a vibrant green basil oil he flavors with Parmesan cheese, covering the entire top of the doughbefore he docks the focaccia with his fingertips.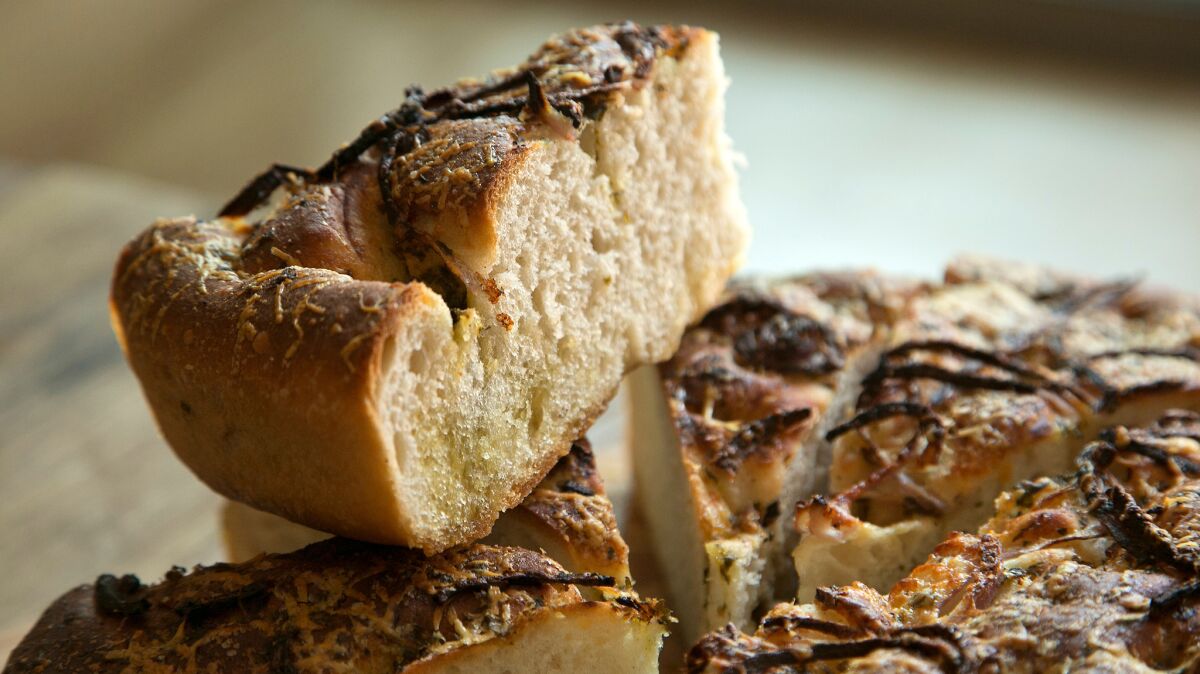 "Then you gotta make the claw with your hands and Bruce Lee the basil oil in the dough so you get these beautiful green streaks in the bread. It's soooooooo good!" A little sliced onion and more Parmesan, and the focaccia is good to go.
No other toppings? "You could put anything on it. Meat. Pork products. I think tomatoes are kind of stupid," says Goldman, "but yours is yours and mine is mine. Make it to suit yourself."
"No matter how many times you bake bread, you're always still stoked. It's amazing. It's magical."
---
Get our weekly Tasting Notes newsletter for reviews, news and more.
You may occasionally receive promotional content from the Los Angeles Times.