Easy dinner recipes: Gloriously cheesy enchilada ideas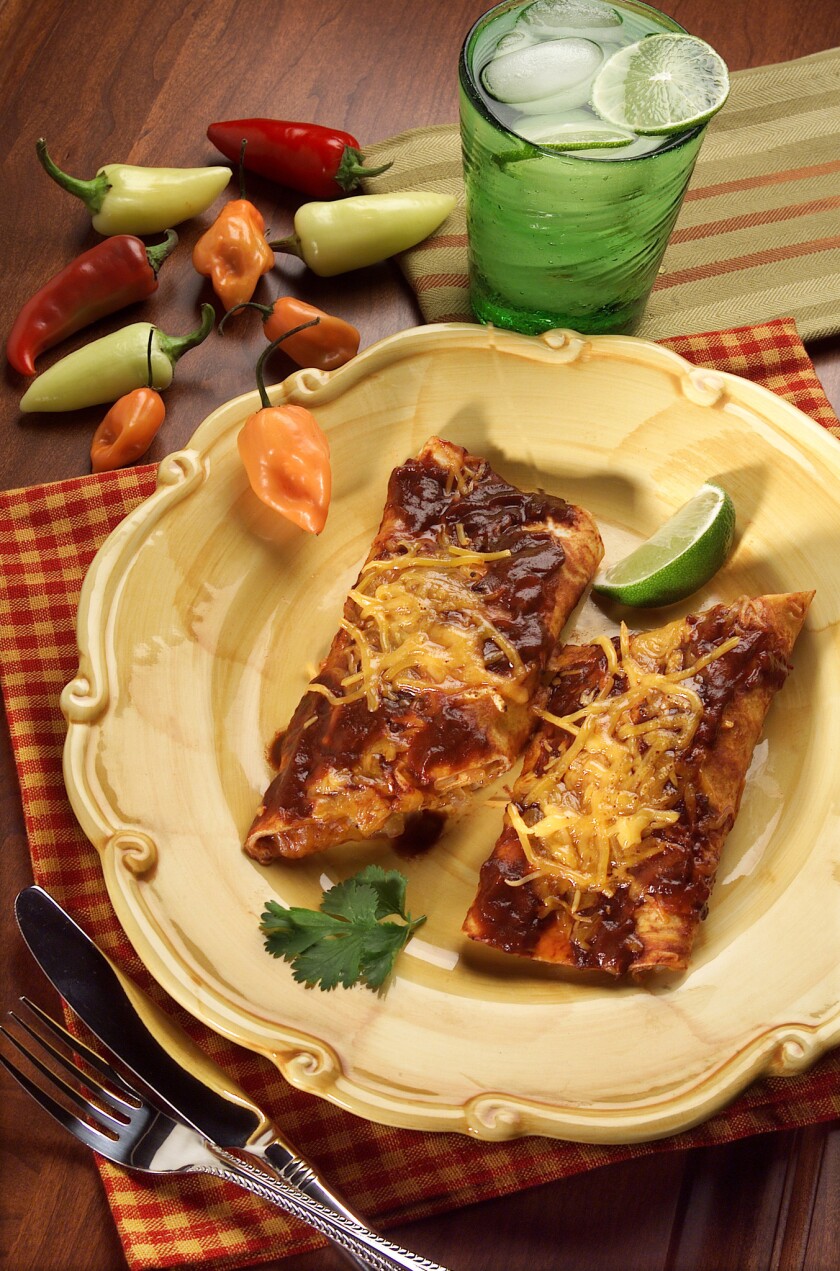 What's not to love about enchiladas? Fill tortillas with a creative filling, shower them with cheese and douse them in a colorful sauce. Enchiladas are beautifully simple that way.
Classic red enchiladas: For a classic red enchilada, look no further than this recipe that has been handed down from generation to generation for 150 years. It may look simple, and it comes together easily, but the flavors are deliciously complex. And if you don't tell your guests, they may not guess it's completely vegetarian.
Green enchiladas: Prefer green enchiladas? We've got you covered. Assemble these enchiladas ahead of time -- perfect if you're short on time and/or are planning for company -- then finish assembling and bake away. They're out of the oven in 15 to 20 minutes.
QUICK & EASY: Terrific recipes in under an hour
In 2009, Food did a story on fresh tofu in Southern California. We included a recipe for fresh, homemade tofu -- very light in flavor, this delicate tofu is almost like a custard with its creamy texture.
The method is simple: Combine some cold soy milk with nigari water (a brine used to set the soy milk) and steam the milk until it sets up like a custard. The whole process takes about 15 minutes.
- See more at: https://latimesblogs.latimes.com/dailydish/2012/03/test-kitchen-tips-homemade-tofu.html#sthash.6Tjk9w9Z.dpHibiscus enchiladas with chipotle sauce: Want to get creative? Jamaica flowers (of the hibiscus family) are typically found in vivid red teas, but these tart dried buds are an unusually delicious filling for enchiladas. They're combined with peppers, onion and zucchini, then rolled in warm tortillas and topped with a spoonful of creamy chipotle sauce.
Hibiscus enchiladas with chipotle sauce: Jamaica flowers (of the hibiscus family) are typically found in vivid red teas, but these tart, dried buds are an unusually delicious filling for enchiladas. They're combined with peppers, onion and zucchini, then rolled in warm tortillas and topped with a spoonful of creamy chipotle sauce.
You can find all three recipes below.
And for more ideas, click through our easy dinner recipes gallery and check out our Dinner Tonight page, devoted to recipes that can be made in an hour or less. Looking for a particular type of recipe? Comment below or email me at noelle.carter@latimes.com.
RECIPES: 99 easy dinner ideas in about an hour or less
CLASSIC RED ENCHILADAS
Active Work Time: 35 minutes * Total Preparation Time: 1 hour * Vegetarian
Note: Try to make the enchiladas the day before you need them because the red chiles will soak into the tortillas and make the enchiladas even better. Buy the thinnest tortillas you can find or use homemade.
Olive oil
5 onions, chopped
Salt, pepper
1 tablespoon dried oregano
4 cups Red Chile Sauce, divided
10 flour tortillas
1 1/2 pounds medium-sharp Cheddar cheese, grated
1 cup pitted black olives or home-cured olives
Oil 2 (15x10-inch) jellyroll pans.
Heat 3 tablespoons of olive oil in a large skillet over low heat. Add the onions; cook, stirring frequently, until softened, about 20 minutes. Season with salt and pepper to taste and the oregano.
Spoon 1 cup of Red Chile Sauce onto a wide dinner plate. Starting with 1 tortilla, dip both sides in the sauce. Place 1/2 cup of grated cheese, 2 olives and 1/3 cup of cooked onions down the middle of the tortilla. (We never added grated hard-boiled eggs, but many rancho families did.) Lastly, roll the sides of each tortilla over the filling. Place the enchilada, folded side down, on one of the pans. Repeat with the remaining tortillas. Pour the remaining Red Chile Sauce over the enchiladas. Sprinkle the remaining cheese in a strip down the middle of each enchilada. Decorate with any remaining olives. Cover the pans and refrigerate the enchiladas until you are ready to bake them. Let them stand at room temperature 1 hour before baking.
Heat the oven to 350 degrees near serving time.
Bake the enchiladas until they are puffed and the cheese has melted, 20 to 25 minutes.
10 enchiladas. Each enchilada: 458 calories; 885 mg sodium; 57 mg cholesterol; 30 grams fat; 13 grams saturated fat; 31 grams carbohydrates; 18 grams protein; 4.74 grams fiber.
Red Chile Sauce
Active Work Time: 20 minutes * Total Preparation Time: 1 1/2 hours
Red Chile Sauce, the pride of the kitchen, was used not only for the famous red enchiladas but countless other favorites such as Chile Colorado and tamales. This sauce differentiates itself by the toasted flour roux used to deepen flavors and the tiny bit of vinegar used to "sweeten" the chile.
18 dried California or New Mexican chiles, or a combination of both
2 ancho chiles
3 cloves garlic
3 1/2 cups water, divided
3 tablespoons light-flavored olive oil
2 tablespoons flour
1 1/2 teaspoons ground oregano
1 tablespoon cider vinegar
1 teaspoon salt
Dash sugar, if necessary
1/2 to 1 cup water or mild chicken broth, to thin sauce
Hold the California and ancho chiles under running water to rinse. Use scissors to cut off the chiles' stems and cut the chiles in half. Shake out the seeds onto a paper towel. (Put the seeds in your garden for the birds.) Place the chiles and garlic in the top half of a steamer set over simmering water. Steam for 25 minutes. This technique, as opposed to soaking dried chiles in boiling water, preserves more of the chile flavor.
Remove the chiles from the heat. Place 1/3 of the chiles in a blender with 1 cup of water. Puree until smooth. Pour the puree into a wire strainer nested over a large bowl. Continue pureeing the rest of the chiles, garlic and water as in the previous step, in batches, so that you add 1/3 of the chiles each time. Push all of the chile puree through the strainer using a spatula or wooden spoon. Be sure to scrape off the chile puree clinging to the bottom of the strainer. Pour the remaining water into the blender and turn it on to help clean the blades. Pour this chile water through the strainer to catch the last bit of goodness. You should now have about 3 1/2 cups chile puree.
Heat the olive oil in a deep skillet over medium heat and add the flour, toasting lightly until light nut brown, stirring, 4 to 5 minutes. Whisk in the chile puree and add the oregano, vinegar and salt. Simmer the sauce for 20 minutes to blend flavors. Taste, and if the sauce seems a bit sharp, add sugar. If the sauce seems thick, add water or broth, simmering again for about 5 minutes.
About 3 to 4 cups. Each 1/4 cup: 33 calories; 165 mg sodium; 0 cholesterol; 3 grams fat; 0 saturated fat; 2 grams carbohydrates; 0 protein; 0.70 gram fiber.
GREEN ENCHILADAS IN THE OVEN
Total time: About 1 hour
Servings: 6
Note: Enchiladas are always better if made individually and served immediately. However, if you are having a party, you can assemble the dish like a casserole ahead of time. Assemble the enchiladas in the baking dish without adding the remaining salsa, cream or cheese. About 30 minutes before you are ready to sit down to dinner, pour the salsa on top of the dish, layer over the cream and cheese and place it in the oven for 15 to 20 minutes. Serve immediately. Chihuahua cheese and Mexican cream can be found in Latin markets.
Homemade green salsa
24 tomatillos, cleaned and husked
1/2 onion, chopped
8 to 10 serrano chiles, stemmed (and seeded for less heat, or to taste)
1 1/2 cups washed, stemmed leaves of cilantro (from about ¼ of a large bunch)
1 1/2 teaspoons salt, or to taste
1. Bring a large pot of water to boil. Add the tomatillos and boil just until they darken to an olive shade, about 5 minutes. Remove from heat, drain and set aside until cool enough to handle.
2. In a food processor, combine the boiled tomatillos with the onion, chiles, cilantro and salt. Pulse until the ingredients are blended to form a salsa. This makes a generous 6 cups of salsa, which can be covered and refrigerated until ready to use, up to 1 week.
Enchiladas assembly
Green salsa
2 to 4 tablespoons olive oil
12 small corn tortillas
2 to 4 cups boiled, shredded chicken
2/3 cup Mexican cream
2 cups grated Monterey Jack cheese (or Chihuahua cheese)
Salt to taste
1. Heat the oven to 350 degrees. Gently heat the salsa in a large saucepan until it is warm. When the salsa is warm, spoon about 1 cup of it to cover the bottom of a 13-by-9-inch baking dish.
2. In a medium skillet, heat the olive oil over medium heat until hot. Gently dip both sides of the tortillas into the oil to soften, then quickly dip each of them into the salsa to coat. (For a lower-fat enchilada, skip the oil. Simply heat the tortillas in a microwave until they are soft and pliable.)
3. Place the tortilla on a plate and fill with a scant 3 tablespoons shredded chicken. Roll or fold the tortilla over like a taco and place in the baking dish. Repeat until all of the tortillas are assembled.
4. Cover the assembled tortillas with the remaining salsa and dot with teaspoon-sized dollops of the Mexican cream. Sprinkle over the cheese.
5. Place the baking dish in the oven and heat until the cheese is melted and the enchiladas are warm, about 15 minutes. Remove from heat and serve immediately.
Each serving: 640 calories; 43 grams protein; 36 grams carbohydrates; 7 grams fiber; 37 grams fat; 14 grams saturated fat; 122 mg cholesterol; 10 grams sugar; 900 mg sodium.
AMARANTA COCINA'S HIBISCUS ENCHILADAS WITH CHIPOTLE SAUCE
Total time: About 1 hour, plus rehydrating time
Servings: 6
Note: Adapted from a recipe by executive chef Sarah Rocio Gomez of Amaranta Cocina Mexicana. Dried jamaica (hibiscus) flowers can be found at Latino and health-food markets, as well as Surfas in Culver City and Nicole's Gourmet in South Pasadena.
CHIPOTLE SAUCE
2 tablespoons diced onions
1 teaspoon chopped garlic
2 tablespoons olive oil
1 cup tomato puree
1 chipotle pepper (canned in adobo sauce), chopped
1/4 cup plus 2 tablespoons heavy whipping cream
1. In a large sauté pan over medium heat, cook the onions and garlic until the onion is translucent, 3 to 5 minutes.
2. Stir in the tomato purée and chipotle pepper and bring to a simmer over medium heat. Continue to cook for 15 minutes, stirring occasionally, to allow the flavors to blend and the sauce to reduce slightly; lower the heat if the bottom of the pan gets too hot so the sauce doesn't burn.
3. Remove the pan from the heat and whisk in the cream, then set aside. Makes about 1 1/4 cups sauce.
ENCHILADAS AND ASSEMBLY
2 1/2 cups (4 ounces) dried jamaica flowers
4 tablespoons ( 1/2 stick) butter
1/3 cup finely diced onion
1/2 cup finely diced zucchini
1/2 cup finely diced bell pepper (combination of red, yellow and green)
Salt, pepper
1/2 cup canola oil
1 1/2 cups olive oil
12 corn tortillas
3/4 cup sour cream
Chipotle sauce
3/4 cup crumbled queso fresco, ranchero or other fresh cheese
1. In a medium saucepan, combine the jamaica flowers with 4 cups of water over high heat and bring to a boil. Reduce the heat to a simmer, and simmer the flowers for 30 minutes to rehydrate completely. Strain the flowers, then allow them to cool to room temperature. Finely dice and set aside.
2. In a large sauté pan, melt the butter over high heat and add the onions. Sauté, stirring frequently, until the onions are translucent. Reduce the heat to medium and add the diced flowers, zucchini and bell pepper, stirring occasionally and cooking until thoroughly warmed. Season with 1 teaspoon salt and one-fourth teaspoon pepper, or to taste. Set aside in a warm place.
3. Reheat the chipotle sauce in a medium sauté pan over medium heat until warmed, stirring frequently. The warmed sauce should be pourable; if too thick, add just enough water to thin to the desired consistency. Keep warm.
3. In a medium sauté pan, combine the oils and heat until a thermometer inserted reads 360 degrees. Dip the tortillas into the oil, one at a time, for just 1 second to warm through, then remove to a paper-towel-lined tray to absorb the excess oil.
4. To assemble the enchiladas, spoon one-half cup filling into the center of each tortilla, then roll the tortilla to form an enchilada. Place two enchiladas onto a plate for each serving, and divide the warmed chipotle sauce evenly over each serving. Spoon 2 tablespoons of sour cream over each serving, and sprinkle over 2 tablespoons crumbled queso fresco, or to taste. Serve immediately.
Each serving: 525 calories; 9 grams protein; 33 grams carbohydrates; 5 grams fiber; 41 grams fat; 16 grams saturated fat; 63 mg. cholesterol; 644 mg. sodium.
ALSO:
Quick couscous options for dinner tonight
---
Get our weekly Tasting Notes newsletter for reviews, news and more.
You may occasionally receive promotional content from the Los Angeles Times.