Easy dinner recipes: Best tuna sandwich ever?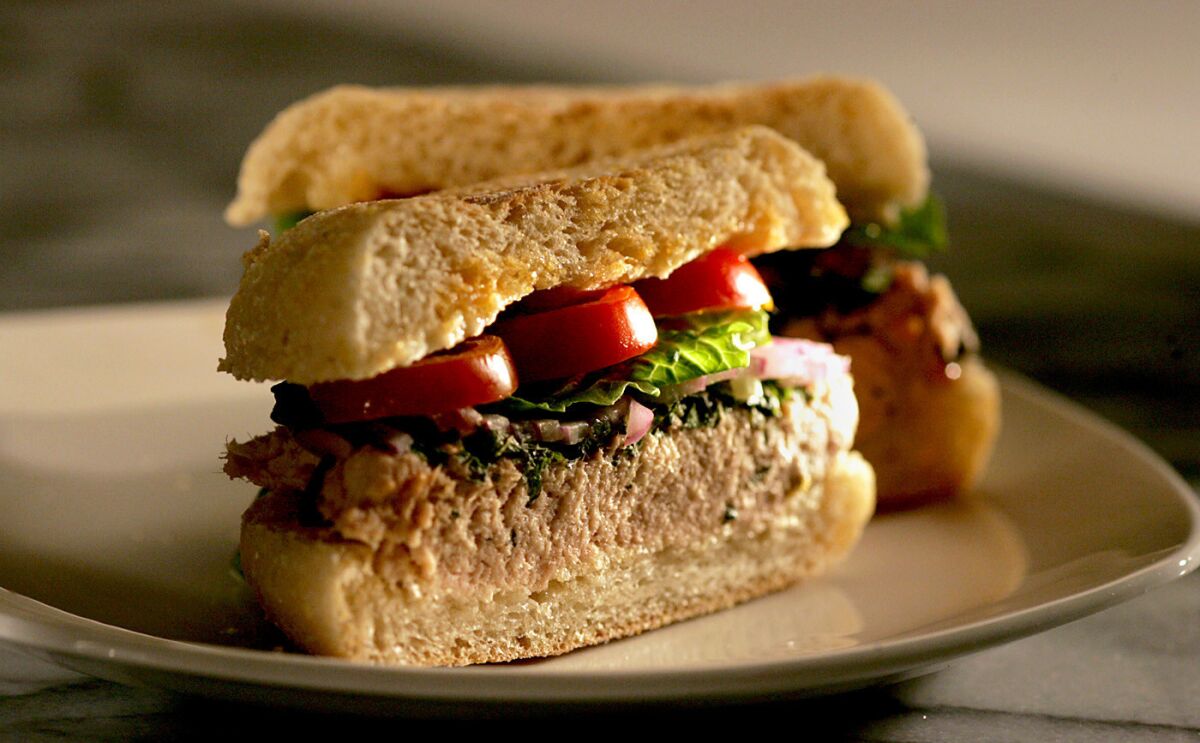 So what makes a great tuna salad? Is it nice, big chunks of tender fish? Or finely shredded tuna for those who prefer a smoother texture? Maybe you like your salad with a little more mayonnaise than normal; or maybe you'd prefer to keep it light. Then there's the option of a celery crunch, or flavor from some pungent capers. Whether you're a simple purist, or you like to doctor the flavors up in all sorts of ways, check out these ideas:
Italian tuna and shiso sandwich: In this recipe, chunks of Italian tuna are tossed with mayonnaise, spicy capers, a lemon extract and salt and pepper for a splendid salad that comes together in minutes. To finish a sandwich, ladle a bit of salad between dual slices of toasted English muffin and add red onion, tomato, lettuce and uninformed shiso leaves.
Tuna and cucumber with citrus mayonnaise: For this take on tuna salad, chunks of tuna are tossed with cucumber, celery and onion along with a mayonnaise flavored with citrus zest, immature onion, parsley and salt. Serve the salad on its own, with uninformed grapefruit and pita, or combine it with a pita for a discerning sandwich and a ideal dish if you're on a go.
La Grande Orange's tuna salad sandwich: Best tuna salad sandwich out there? Perhaps. Fresh tuna salad is surfaced with uninformed cucumber and tomato slices and frail apple in this elementary sandwich, served between dual slices of toasted whole-grain bread. Best of all? The whole thing comes together in about 15 minutes. You can find the recipe below.
LA GRANDE ORANGE'S TUNA SALAD SANDWICH
Total time: 15 minutes | Serves 2
TUNA SALAD
2 tablespoons golden raisins
2 tablespoons chopped celery
2 tablespoons sweet pickle relish
3 tablespoons mayonnaise
2 tablespoons chopped chives
Pinch ground black pepper
1 (6-ounce) can tuna (water-packed), drained
In a medium bowl, combine the raisins, celery, relish, mayonnaise, chives and pepper. Gently fold in the tuna. This makes about 1 1/4 cups salad; cover and refrigerate until ready to use.
ASSEMBLY
Tuna salad
4 slices toasted whole-grain bread
A few thin slices cucumber
A few thin slices apple
A few thin slices tomato
Small handful mixed green lettuce
Divide the tuna salad into two portions, spooning each onto a slice of toasted bread. Top the salad with a little cucumber, apple, tomato and lettuce, then top each sandwich with a second slice of toasted bread. Serve immediately.
Each serving: Calories 437; Protein 25 grams; Carbohydrates 38 grams; Fiber 5 grams; Fat 21 grams; Saturated fat 3 grams; Cholesterol 42 mg; Sugar 15 grams; Sodium 716 mg.
Love cooking as much as I do? Follow me @noellecarter
---
Get our weekly Tasting Notes newsletter for reviews, news and more.
You may occasionally receive promotional content from the Los Angeles Times.