Easy dinner recipes: Breakfast for dinner with pancakes 3 ways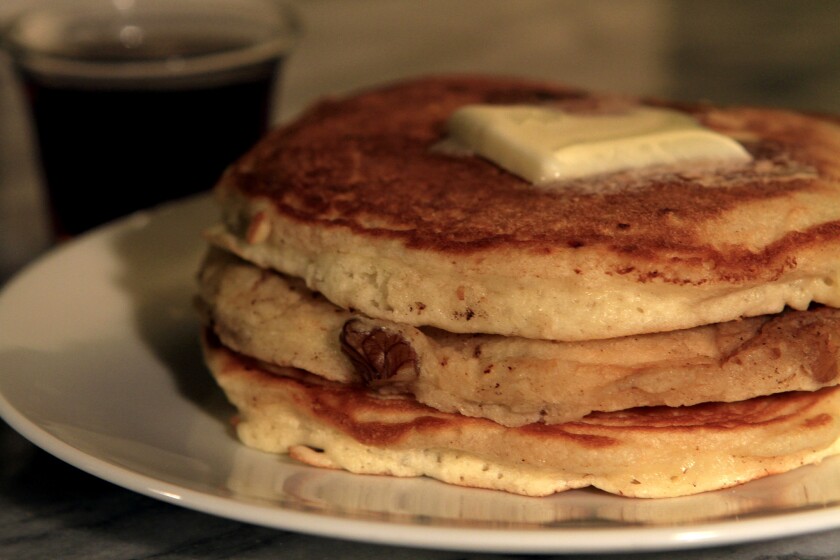 Breakfast for dinner? You bet! Sometimes there's nothing better than a plate of pancakes -- any time of the day.
Neil's pancakes from Clinton Street: These are some serious pancakes. Rich in flavor but light in texture (thanks to whipped egg whites), these pancakes are packed with fruit and nuts and dusted with sugar — a perfect breakfast. You can make them with either blueberries or bananas. Or both. Every day should start -- or end -- like this.
Blueberry ricotta pancakes: Ricotta cheese adds richness and a gentle tang to these hearty pancakes, studded with plump blueberries. Hungry yet? Start to finish, they come together in just 45 minutes.
Olive oil pancakes: Light and fluffy, these pancakes have that perfect buttermilk tang. But what sets them apart is a touch of olive oil -- rich and fruity. A good olive oil adds wonderful fragrant notes. And chopped dark chocolate adds pure magic to every bite. (Doesn't chopped dark chocolate add a little magic to just about anything?) Drizzle the pancakes with a little honey and fresh mint -- or garnish however you'd like -- and dig in.
OLIVE OIL PANCAKES
Total time: 30 minutes | Serves 4
Note: To make lemon honey, combine one-fourth cup honey with one-half teaspoon lemon zest in a small saucepan. Steep the honey for several minutes over low heat and strain before using. Spanish chocolate is available at select stores and specialty markets.
1 3/4 cups flour
2 tablespoons sugar
2 teaspoons baking powder
1/2 teaspoon baking soda
1/4 teaspoon salt
1 egg, lightly beaten
1 1/2 cups buttermilk
4 tablespoons best-quality olive oil, preferably Spanish, plus more for frying
1/3 cup chopped dark chocolate, preferably Spanish
1/4 cup honey, preferably lemon
Fresh mint leaves
1. In a large bowl, whisk together the flour, sugar, baking powder, baking soda and salt. Whisk in the egg, buttermilk and 2 tablespoons olive oil until the batter is smooth, then stir in the chocolate pieces.
2. Heat the remaining 2 tablespoons of olive oil in a medium saute pan over medium-low heat. Ladle one-fourth cup of the pancake batter into the pan and cook until golden brown, about 2 minutes. Flip the pancake with a spatula and cook until golden brown on the second side, 1 to 2 more minutes. Place the pancakes in a warm oven until all are cooked and ready to serve. Repeat with the remaining batter, adding more olive oil to the pan as needed.
3. To serve, drizzle the pancakes with honey and garnish with mint.
Each of 4 servings: 540 calories; 11 grams protein; 79 grams carbohydrates; 3 grams fiber; 21 grams fat; 6 grams saturated fat; 58 mg. cholesterol; 663 mg. sodium.
Love cooking as much as I do? Follow me @noellecarter
---
Get our weekly Tasting Notes newsletter for reviews, news and more.
You may occasionally receive promotional content from the Los Angeles Times.