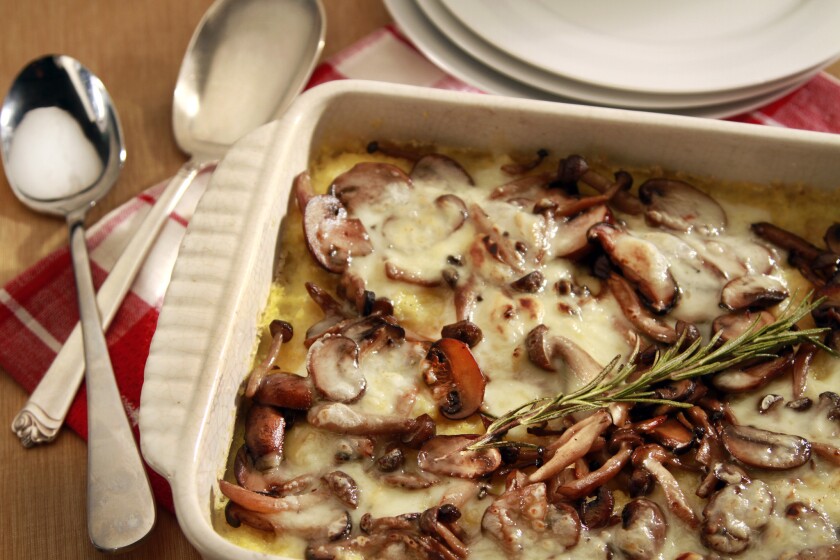 Craving something comforting? You can't go wrong with a rich gratin, dressing or tortino -- not to mention that they're perfect for Meatless Monday. Check out these ideas:
Polenta gratin with mushrooms and Fontina: Cook polenta the easy way using this recipe. Polenta is slowly cooked in the oven with this simple gratin, the creamy dish topped with a variety of mushrooms, fresh rosemary and Fontina cheese.
Wild rice dressing: You don't need to wait until Thanksgiving to enjoy this hearty dish. Wild rice is flavored with mushrooms, fresh sage and garlic in this creamy dressing. It's rich enough your friends might never guess it's vegetarian.
Nani's tortino di fagiolini: A great make-ahead recipe when you're expecting company, this tortino from Nani's combines fresh green beans, grated Parmigiano and a touch of garlic in a baked egg tart similar to a frittata. You can find the recipe below.
NANI'S TORTINO DI FAGIOLINI

Total time: 1 hour, 10 minutes / Servings: 8 to 12
Note: Adapted from Nani's Cucina Italiana in Jackson Hole, Wyo. This recipe requires a 9-inch springform pan. To make ciabatta crumbs, dry out slices of the bread and pulse in a food processor. The restaurant serves this dish with roasted tomatoes and roasted almonds.
1 1/2 pounds green beans, cleaned
Salt
2 tablespoons extra-virgin olive oil
1 red onion, sliced into thin strips
1 small garlic clove, chopped
5 eggs
1/2 cup grated Parmigiano-Reggiano
1/4 cup milk
Freshly ground pepper
1 cup ciabatta crumbs
1. Bring a large pot of salted water to boil. Add the green beans and boil just until tender, 2 to 3 minutes. Drain the beans, and immediately shock them in a bowl of ice water to stop the cooking. When the beans are just cool, drain again. Coarsely chop the beans into pieces approximately 1 1/2 inches in length and place in a large bowl.
2. In a large sauté pan, heat the olive oil over medium high heat until hot. Add the onion and cook, stirring frequently, until the onions are translucent and begin to color, 8 to 10 minutes.
3. Stir in the chopped garlic and continue to cook until the onion is caramelized, 6 to 8 minutes. Remove the pan from heat and cool slightly, then toss the onions and garlic with the green beans.
4. Meanwhile, make the egg base: In a medium bowl, whisk together the eggs, Parmigiano-Reggiano, milk, 1/4 teaspoon salt and several grinds of pepper.
5. Stir the egg base in with the beans and onion mixture.
6. Heat the oven to 350 degrees. Prepare the pan: Line a 9-inch springform pan with foil, and grease the foil.
7. Pour the bean mixture into the pan and sprinkle over the bread crumbs. Bake the tortino until set (it should barely jiggle, and a knife inserted will come out clean), 30 to 40 minutes. Remove and cool the tortino, still in the pan, on a rack.
8. When the tortino is cool, cover the pan and refrigerate it until chilled (chilling the tortino will make it easier to slice). Serve the sliced tortino cool or at room temperature.
Each of 12 servings: 122 calories; 5 grams protein; 12 grams carbohydrates; 2 grams fiber; 6 grams fat; 2 grams saturated fat; 91 mg. cholesterol; 3 grams sugar; 122 mg. sodium
Love cooking as much as I do? Follow me @noellecarter
---