Easy dinner recipes: Refreshing salad ideas and more for Meatless Monday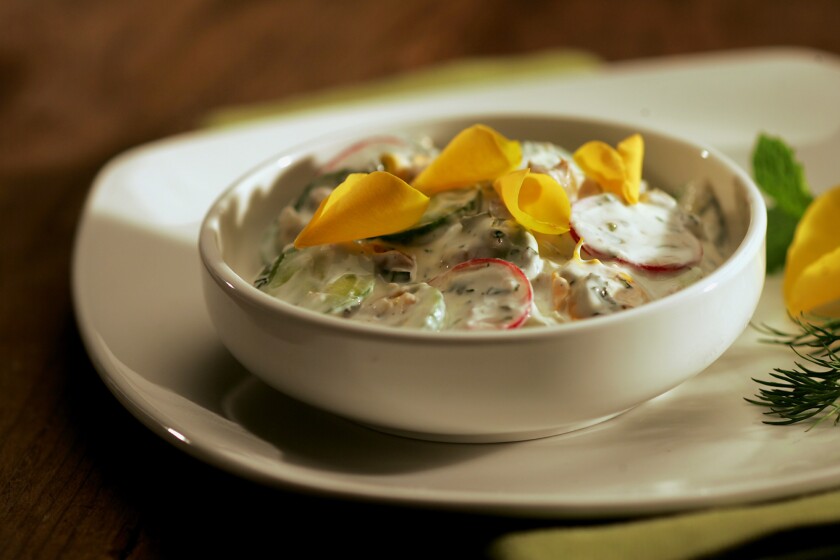 Keep it simple this Meatless Monday with refreshing salad ideas and more that come together in minutes:
Spinach and strawberry salad with thyme-infused vinaigrette: Make the most of the glorious strawberries to be found in the markets right now, tossing them with a simple spinach salad flavored with a fresh, bright, thyme-infused vinaigrette. You can find the recipe below.
Persian-style herb and cheese platter: Fresh herbs, rich feta cheese, flatbreads, halvah, spring onions and radishes make a colorful platter, perfect when you want something light and easy to end the day.
Persian cucumber salad with walnuts and golden raisins: Sliced cucumber and radishes are tossed with a tangy yogurt dressing, with crunchy walnuts and golden raisins folded in at the last minute before serving.
SPINACH AND STRAWBERRY SALAD WITH THYME-INFUSED VINAIGRETTE
Total time: 30 minutes, plus steeping time | Serves 4 to 6
Note: This makes three-fourths cup dressing. Save the remaining dressing, refrigerated and covered, for 1 week.
1/2 cup best-quality olive oil
2 tablespoons chopped fresh thyme leaves, divided (any variety of strongly flavored thyme will work; lemon thyme gives a particularly nice flavor)
4 tablespoons white balsamic vinegar
1/4 teaspoon Dijon mustard
1 small shallot, finely minced (1 generous tablespoon)
1 teaspoon sea salt, or to taste
1/2 teaspoon freshly ground black pepper, or to taste
1/2 pound baby spinach leaves (about 12 cups), stemmed, washed and dried well, and any large leaves torn into bite-size pieces
1 1/2 pints fresh strawberries, preferably red and yellow, washed, dried, hulled and sliced lengthwise
4 sprigs thyme or strawberry blossoms for garnish
1. Pour the olive oil into a small saucepan and heat over low heat until warm, about 2 minutes, then remove the saucepan from the heat. Pour the oil into a small nonreactive bowl. Stir in 1 tablespoon thyme, and allow the mixture to cool and steep, at least 30 minutes and up to 24 hours.
2. Whisk the vinegar into the cooled thyme-oil mixture until well-blended, then whisk in the mustard, shallot, remaining chopped herbs and salt and pepper. Check the seasoning and adjust to taste.
3. Place the spinach in a large salad bowl and drizzle the vinaigrette over by spoonfuls, tossing after each addition until the leaves are just slightly glossy with the coating. Pile the salad evenly among 4 chilled plates, and arrange the strawberry slices evenly on top of each. Garnish with strawberry blossoms if available, or with a sprig of fresh thyme.
Each serving: 159 calories; 1 gram protein; 9 grams carbohydrates; 2 grams fiber; 14 grams fat; 2 grams saturated fat; 0 cholesterol; 316 mg. sodium.
---
Get our weekly Tasting Notes newsletter for reviews, news and more from critics Bill Addison and Patricia Escárcega.
You may occasionally receive promotional content from the Los Angeles Times.