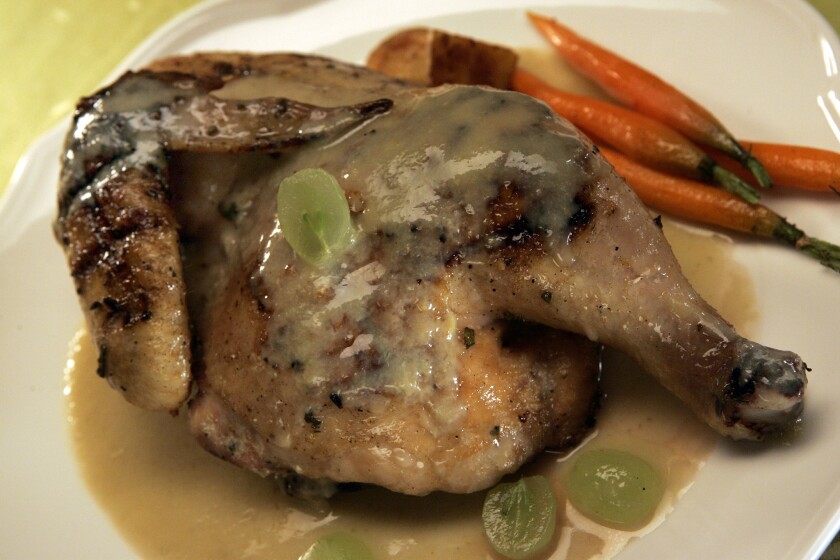 You can never have too many easy dinner recipes for chicken. It's such a versatile bird, and lends itself to so many flavorings. And did I mention how easy it is to prepare? Check out these options:
Roasted chicken with grape sauce: This recipe turns green grapes into a light but savory sauce, drizzled over freshly roasted chicken. The sauce is bright with the flavor of grapes and a little lemon zest, balanced by sage, chile and garlic.
Chicken thighs with honey, olives and oregano: Chicken thighs are marinated with a simple medley of flavors: red wine vinegar, olive oil, capers, garlic, oregano and olives. Just before baking, the chicken is topped with a little wine and honey, the flavors slowly harmonizing as the thighs bake to golden brown perfection. Don't be intimidated by the total time on the recipe; while it does require a little advanced preparation and marinating time (this can be done first thing in the morning before you start your day), there is very little active time involved. You can find the recipe below.
Old Venice's Greek lemon chicken: It only takes a handful of ingredients to make this tempting dish, roasted chicken and potatoes flavored simply with fresh lemon, oregano and rich olive oil. Serve the chicken and potatoes with a little of the flavored oil spooned over the top. You can find the recipe below.
OLD VENICE'S GREEK LEMON CHICKEN
Total time: 1 hour, 20 minutes | Serves 4 to 6
Note: Adapted from Old Venice in Manhattan Beach.
1 (3 1/2- to 4 1/2-pound) chicken
Salt and pepper
2 pounds boiling potatoes

2 large lemons
Heaping tablespoon Greek oregano
1 cup olive oil
1 1/2 cups water
1. Heat the oven to 375 degrees. Wash and dry the chicken. Halve or quarter it and season with 1 teaspoon salt and one-half teaspoon pepper, or to taste.
2. Peel and cut the potatoes into wedges. Place them in a bowl and toss with three-fourths teaspoon each of salt and pepper, or to taste.
3. Place the chicken, skin-side down, in a roasting pan, and scatter the potatoes around it. Halve the lemons and squeeze them over the chicken and potatoes. Sprinkle over the oregano. Drizzle over the oil and water.
4. Roast the chicken for 20 minutes, then turn it skin-side up. Continue to roast for 40 more minutes. Increase the temperature to 400 degrees and continue to roast about 8 to 10 more minutes until the chicken is golden and crisp, and a thermometer inserted deep into the thigh reads 165 degrees.
5. Cool slightly before serving. Serve the chicken and potatoes together, spooning a little sauce over each serving.
Each of 6 servings: 545 calories; 34 grams protein; 28 grams carbohydrates; 3 grams fiber; 33 grams fat; 7 grams saturated fat; 122 mg cholesterol; 2 grams sugar; 781 mg sodium.
Love cooking as much as I do? Follow me @noellecarter
---