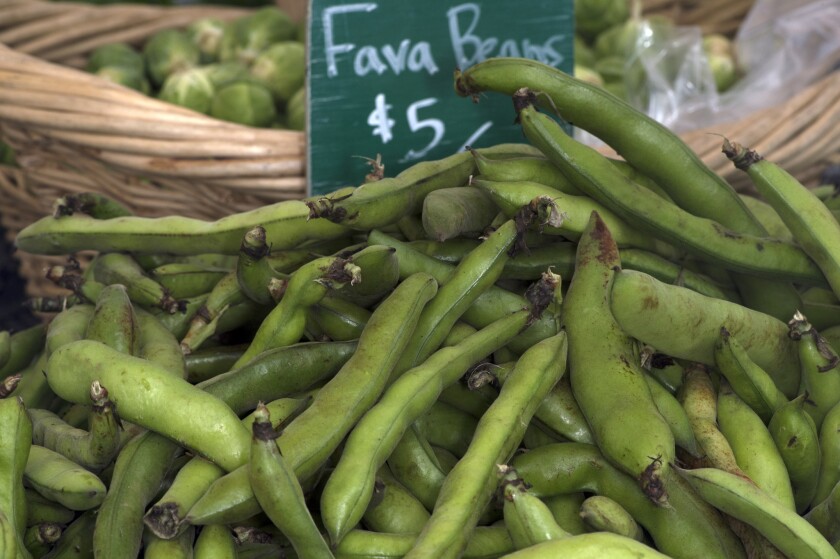 What's in season: Known for their vibrant color and buttery, almost earthy notes, favas are one of the most prized beans of spring — and one of the most high-maintenance. Fava beans need to be shucked to remove the thick-skinned pod and frequently require a second peeling to remove the tough outer skin around each bean. When all the work is done, a pound of whole favas might yield only one-third to one-half cup of beans. Favas may be an undertaking, but the results are worth it.
What to cook: Fava beans can be used both cooked and raw, lending rich, nutty flavors to salads, pastas and rice dishes. Saute the beans with a little oil and garlic, or serve them creamed with a touch of tarragon. If you can find younger beans, or ones that don't have white individual skins, the beans don't have to be shucked a second time before using. Or you can just grill whole young fava pods and let your guests do the work.
What's on the horizon: Though tomatoes are more of a summer buy, they're already showing up at many farmers markets. If purchasing, look for smaller grape or cherry tomatoes, which ripen earlier than larger varieties.
Chicken fricassee with spring vegetables
(Rick Loomis / Los Angeles Times)
FAVA BEAN SALAD WITH MINT, BURRATA AND PISTACHIOS
Total time: 20 minutes, plus about 1 hour for shucking and peeling the favas | Serves 6
4 pounds fava beans in pod
Olive oil
1/3 cup chopped green onion (green part only)
1 teaspoon lemon zest

1/2 cup white wine
Salt
1 tablespoon chopped fresh mint
2 (4-ounce) balls fresh burrata
Freshly ground pepper
1/4 cup chopped toasted pistachios
1. Shuck the beans into a work bowl. Cover the beans with boiling water and set aside until cool enough to handle. Cut a nick in the bottom of the skin of each bean with your thumbnail and squeeze the inside beans from the skin. You should have 2 1/2 to 3 cups fava beans.
2. In a large skillet, heat one-fourth cup olive oil over medium heat and add the green onion and lemon zest. Add the fava beans, the white wine and 1 teaspoon salt, and simmer until the beans are just tender, about 7 to 10 minutes. Remove from the heat, stir in the mint and cool until ready to serve.
3. When ready to serve, mound the favas on a plate. Cut each burrata ball into quarters and arrange them over the top. Season the burrata with a little more salt and freshly ground pepper, and drizzle lightly with olive oil. Scatter the chopped pistachios over the top and serve.
Each serving: Calories 321; Protein 14 grams; Carbohydrates 19 grams; Fiber 5 grams; Fat 20 grams; Saturated fat 7 grams; Cholesterol 30 mg; Sugar 2 grams; Sodium 394 mg.
Love cooking as much as I do? Follow me @noellecarter
ALSO
This is the only veggie burger recipe you'll ever need
You need to make these double-chocolate espresso cookies
Here's the recipe for rice with roasted cauliflower from Ad Hoc
---