Farmers market report: Green beans are in season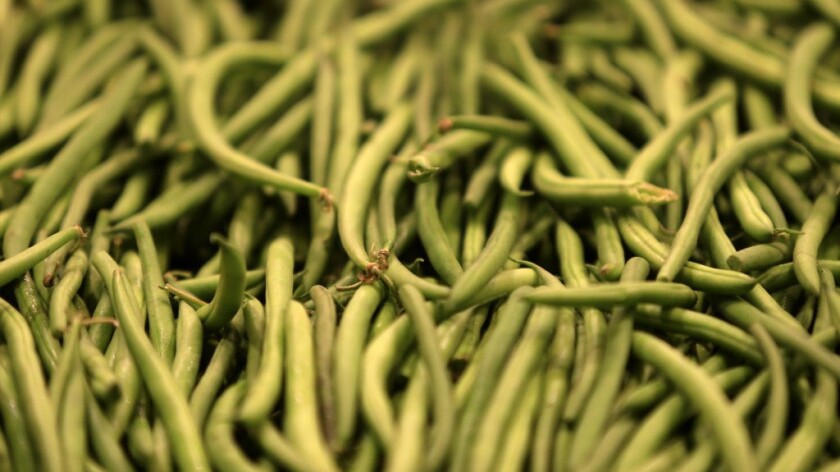 What's in season: Green beans are showing up by the mound at various market stands. From round to flat, varieties include haricots verts, Blue Lake, Romano and pale yellow wax beans. The season will vary due to the weather, but green beans are generally available through August.
What to cook: Small round beans can be cooked quickly with a short simmer or a few minutes in a saute pan or on the grill. Larger flat beans benefit from slow cooking over a longer period to coax out their tenderness. Braise flat Romano beans with pancetta and cherry tomatoes, or add blanched wax beans or delicate haricots verts to a Nicoise salad. Or try baking green beans in a tortino, an egg tart similar to a frittata but cooked in a springform pan, flavored with Parmigiano-Reggiano and a touch of garlic.
What's on the horizon: Zucchini and other summer squash are really beginning to make a show.
NANI'S TORTINO DI FAGIOLINI
Total time: 1 hour, 10 minutes | Serves 8 to 12
Note: Adapted from Nani's Cucina Italiana in Jackson Hole, Wyo. This recipe requires a 9-inch springform pan. To make ciabatta crumbs, dry out slices of the bread and pulse in a food processor. The restaurant serves this dish with roasted tomatoes and roasted almonds.
1 1/2 pounds green beans, cleaned
Salt
2 tablespoons extra-virgin olive oil
1 red onion, sliced into thin strips
1 small garlic clove, chopped
5 eggs
1/2 cup grated Parmigiano-Reggiano
1/4 cup milk
Freshly ground pepper
1 cup ciabatta crumbs
1. Bring a large pot of salted water to the boil. Add the green beans and boil just until tender, 2 to 3 minutes. Drain the beans, and immediately shock them in a bowl of ice water to stop the cooking. When the beans are just cool, drain again. Coarsely chop the beans into pieces approximately 1 1/2 inches in length and place in a large bowl.
2. In a large sauté pan, heat the olive oil over medium high heat until hot. Add the onion and cook, stirring frequently, until the onions are translucent and begin to color, 8 to 10 minutes.
3. Stir in the chopped garlic and continue to cook until the onion is caramelized, 6 to 8 minutes. Remove the pan from heat and cool slightly, then toss the onions and garlic with the green beans.
4. Meanwhile, make the egg base: In a medium bowl, whisk together the eggs, Parmigiano-Reggiano, milk, one-fourth teaspoon salt and several grinds of pepper.
5. Stir the egg base in with the beans and onion mixture.
6. Heat the oven to 350 degrees. Prepare the pan: Line a 9-inch springform pan with foil, and grease the foil.
7. Pour the bean mixture into the pan and sprinkle over the bread crumbs. Bake the tortino until set (it should barely jiggle, and a knife inserted will come out clean), 30 to 40 minutes. Remove and cool the tortino, still in the pan, on a rack.
8. When the tortino is cool, cover the pan and refrigerate it until chilled (chilling the tortino will make it easier to slice). Serve the sliced tortino cool or at room temperature.
Each of 12 servings: 122 calories; 5 grams protein; 12 grams carbohydrates; 2 grams fiber; 6 grams fat; 2 grams saturated fat; 91 mg cholesterol; 3 grams sugar; 122 mg sodium.
---
Get our weekly Tasting Notes newsletter for reviews, news and more.
You may occasionally receive promotional content from the Los Angeles Times.