11 great fish recipe ideas under 400 calories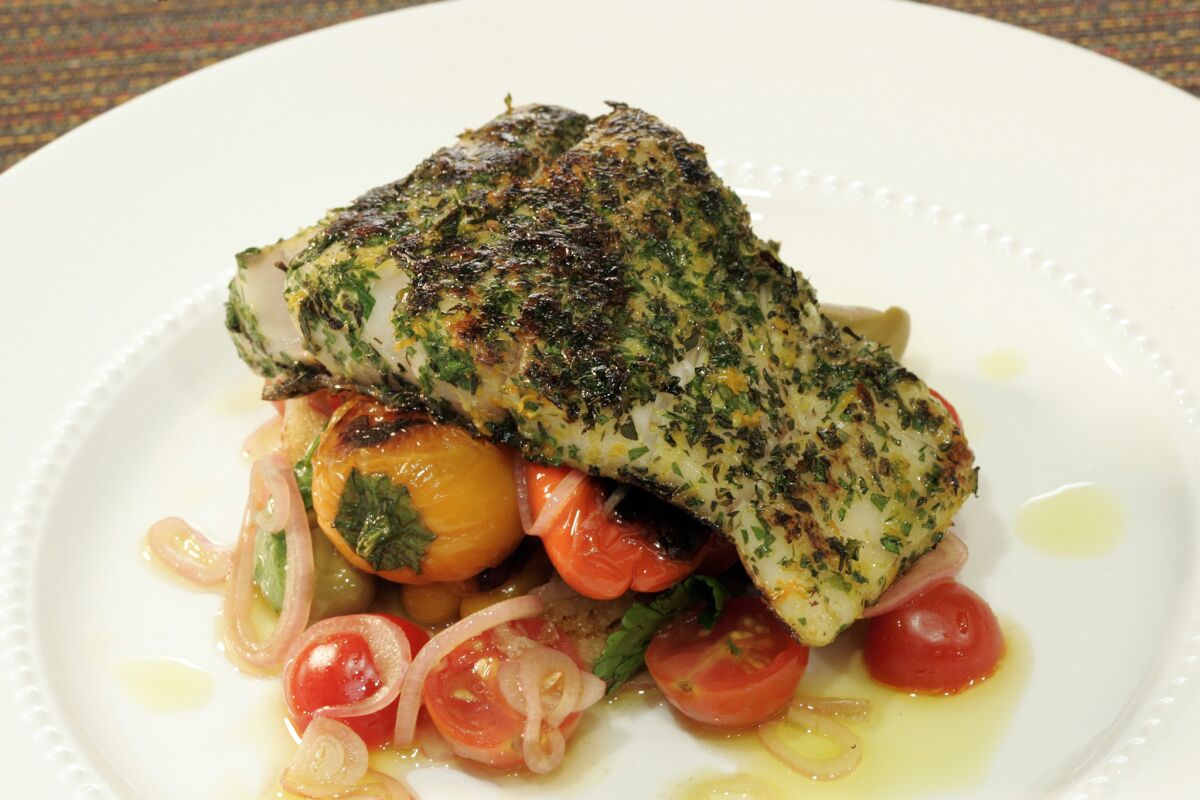 Looking for something great and low in calories? Oh, and you want it fast, too? Check out these great fish recipes, eleven of them, all under 400 calories.
Canele's pan-seared snapper: At Canele in Atwater Village, chef Corina Weibel serves a perfectly seared snapper fillet perched atop a stack of vegetables and house-made croutons — a bread salad of sorts. Each fillet is seasoned with fresh herbs and lemon and orange zest. The "salad" is a vibrant display of grilled sweet Italian peppers tossed with cracked Picholine olives, cherry tomatoes, parsley, shallots and those crispy croutons, finished with a drizzle of good olive oil and red wine vinegar.
Peel 'n' eat shrimp: If you don't mind getting your hands dirty at dinner, try the peel 'n' eat shrimp recipe chef David Lentz of the Hungry Cat shared with us a few years back: large Mexican white shrimp steamed in a spicy beer reduction. They take an hour or two to marinate, so you'll need to plan ahead, but once you get the dish cooking, it will take only about half an hour — plenty of time for you to lay out the newspaper over the table and ready a stack of napkins.
Salmon and corn chowder: Craving something a little richer? This quick chowder makes use of leftover salmon, tossing the flaked fish in at the end to round out the flavors of bacon and freshly toasted corn.
Salmon skewers with tamarind sauce: Tamarind, a fruit pod native to Asia and northern Africa, is a perfect ingredient when you want to add zing to a dish. Like this recipe for salmon skewers with tamarind sauce, adapted from a recipe by chef Marcus Samuelsson.
Crab salad with cucumber: Fresh chunks of crabmeat are tossed with a bright lemon vinaigrette, then layered with very thinly sliced cucumber on a plate. It's a beautiful presentation that's perfect for company, but also simple enough to serve as a weeknight family meal.
Grilled shrimp skewers with charmoula: Take advantage of the weather and cook outdoors this evening. Whip up a quick batch of charmoula (a North African spice blend combining bright, fresh flavors including lemon, garlic, ginger, cilantro, paprika and a little olive oil), then marinate some jumbo shrimp to infuse the flavor (the recipe calls for a couple of hours of marinating time, but the flavor infuses in as little as 30 minutes). Skewer the shrimp, grill them a couple of minutes on each side and you're good to go. Serve the rest of the charmoula tableside if you want to add a little extra flavor.
Swordfish with tomatoes and fennel: Dinner doesn't get much easier — or better — than swordfish steaks. Cook a couple of swordfish steaks in garlic and fennel for a few minutes on each side, then add a little white wine and whole cherry tomatoes and let the dish simmer away until the steaks are done. Remove the steaks and cook down the liquid with a little slivered fresh basil until it's nicely thickened (yes, the aroma is amazing). Pour the sauce over the swordfish and you're good to go.
Chipotle roasted salmon: Salmon quickly picks up the flavors of this chipotle marinade, the fiery chiles married with tequila, a touch of sesame, and fresh notes of garlic, cilantro and green onion. Simply spoon the marinade over the fish and let it sit while the oven heats up, then roast for 12 to 15 minutes until done.
Atun del diablo (Seared albacore tuna with pumpkin seed-sesame sauce and pickled red onions): Thick albacore steaks are dressed up in this recipe, served with a rich warm sauce of pumpkin and sesame seeds flavored with toasted chiles, garlic and a touch of vinegar. Top the dish with fresh pickled red onion for a little tang and a sprinkling of chopped cilantro.
Romaine salad with shrimp and Green Goddess dressing: Crisp romaine is tossed with plump shrimp in a bright and tangy Green Goddess dressing.
Albacore ceviche salad: Albacore is quickly marinated in lime and tangerine juices, then mixed with a confetti of diced cilantro, cucumber, radish and corn, and served mounded on greens in this bright salad, full of color and texture. You can find the recipe below.
ALBACORE CEVICHE SALAD
Total time: 30 minutes | Serves 6
Note: From Abigail Wolfe and Ian Torres at Chloe in Playa del Rey.
1 cup sweet corn kernels, cut from 1 to 2 cobs
3/4 cup plus 2 teaspoons extra virgin olive oil, divided
Salt, pepper
12 ounces raw albacore tuna
1/2 cup lime juice
4 tablespoons tangerine juice
1 1/3 cups peeled, seeded and diced cucumber
1 cup red radish, julienned
4 tablespoons chopped cilantro
12 leaves red leaf lettuce
2 tablespoons fresh cilantro leaves
Cook the corn kernels in 2 teaspoons of oil in a small saute pan for 2 to 3 minutes on low heat until crisp-tender. Season with salt and pepper; place in a small bowl and chill.
Remove the sinew from the fish and cut the meat into small dice.
Combine the lime and tangerine juices with salt and pepper to taste, then whisk in the remaining 3/4 cup olive oil. Marinate the fish in this mixture for 3 to 5 minutes.
Combine the marinated fish with the chilled corn and the cucumber, radish and chopped cilantro. Season with salt and pepper to taste.
To serve, place 2 lettuce leaves on each salad plate. Spoon some of the juices onto the leaves. Using a slotted spoon, mound the ceviche onto each plate. Garnish with cilantro.
Each serving: 356 calories; 15 grams protein; 10 grams carbohydrates; 2 grams fiber; 30 grams fat; 4 grams saturated fat; 26 mg. cholesterol; 38 mg. sodium.
Love cooking as much as I do? Follow me @noellecarter
SEE ALSO:
Buy This Now: Figs, with 12 recipes
8 great iced coffee drinks for summer
---
Get our weekly Tasting Notes newsletter for reviews, news and more.
You may occasionally receive promotional content from the Los Angeles Times.