How to choose fresh fish, plus 7 recipes
For some, cruising the local grocery store's seafood aisle can be more than a little intimidating, especially if you don't cook fish that frequently. What makes a good fish, and how easy is it to tell if the fish is fresh? More important, what are some tell-signs of a fish gone bad?
Next time you go shopping, keep the following tips in mind:
1. Smell: The fish (and by extension, the fish market or seafood aisle) should smell fresh and clean. You should never encounter any "fishy" smell. A bad, or off, odor is the first sign something is not right.
2. Check the eyes: If you're buying a whole fish, the eyes should be bright and shiny. Dull or cloudy eyes are a good indicator the fish is past its prime.
3. Bright skin and scales: Fresh fish will have bright skin, with a nice metallic sheen. If the skin is dull, even in patches, the fish may have been sitting around too long, or was not handled with care.
4. Clean and bright gills: Fresh fish will have bright, red gills. Avoid fish with gills that are beginning to brown or are slimy.
5. Firm flesh: Feel the fish, if you can, pressing the flesh to make sure it is firm. It should spring back from your touch. If buying steaks or fillets, check the flesh to make sure it is smooth and intact, not broken or flaky. The steaks or fillets might be moist, but the moisture should be clear, and the flesh should never feel slimy.
Now that you know how to choose a fish, here are seven recipes:
CRISP-SKINNED SALMON WITH LENTILS, BACON AND DANDELION GREENS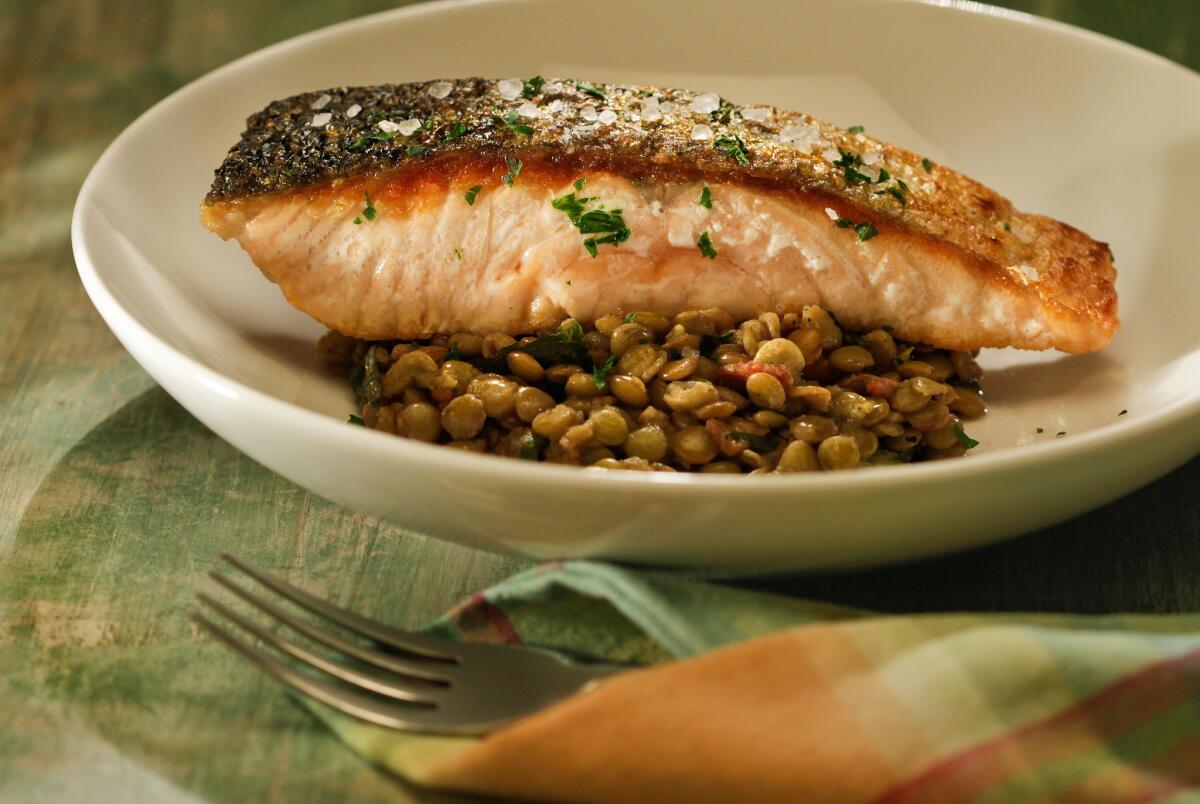 It's all about the crisp skin with this salmon dish. Serve the fish over a mound of lentils flavored with rich bacon and dandelion greens for a simple meal.
CAFE DES ARTISTES' FILLET OF SOLE PROVENCAL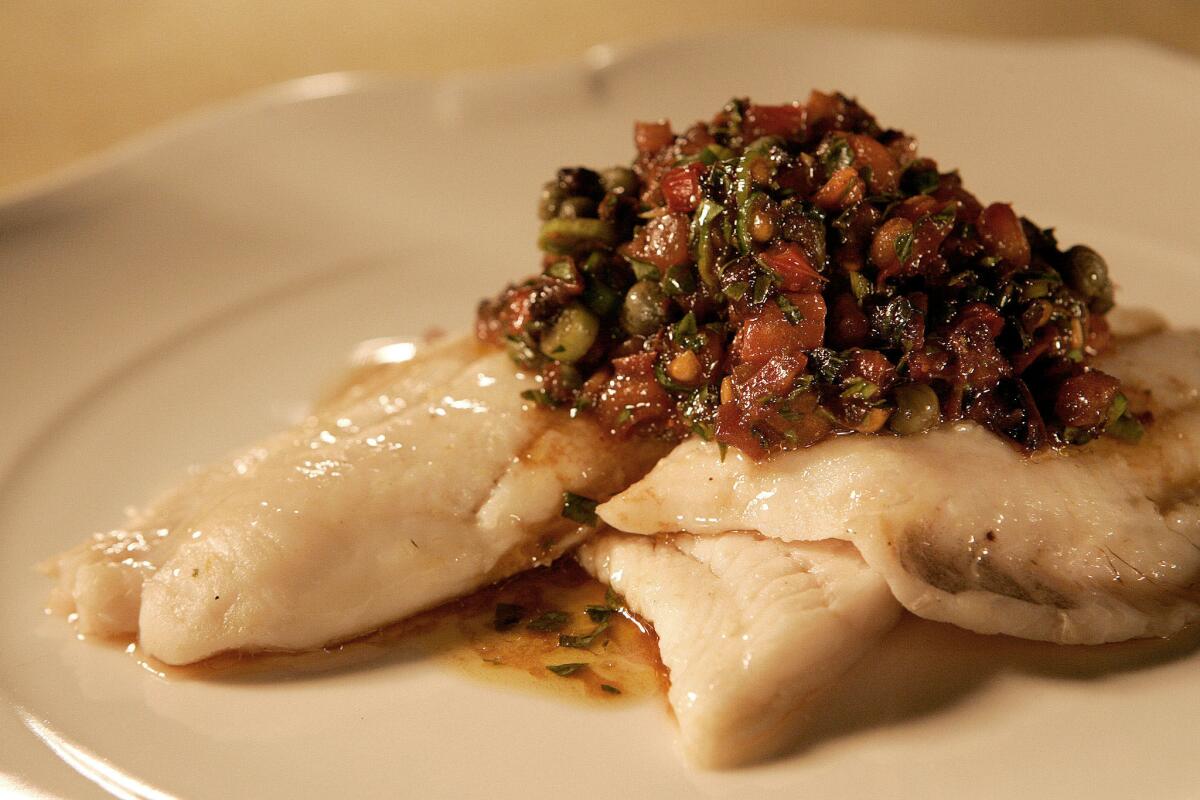 This fish dish is colorful and full of bright flavor. And the sauce itself -- a Provencal-style salsa of Moroccan olives, capers, tomatoes and fresh basil -- works well with almost any kind of fish.
You could easily fix this dinner over a campfire, or your kitchen stove. Seasoned and lightly floured whole trout are sauteed in bacon grease, then finished with a little butter and a squeeze of lime. It's heaven, no matter where you are.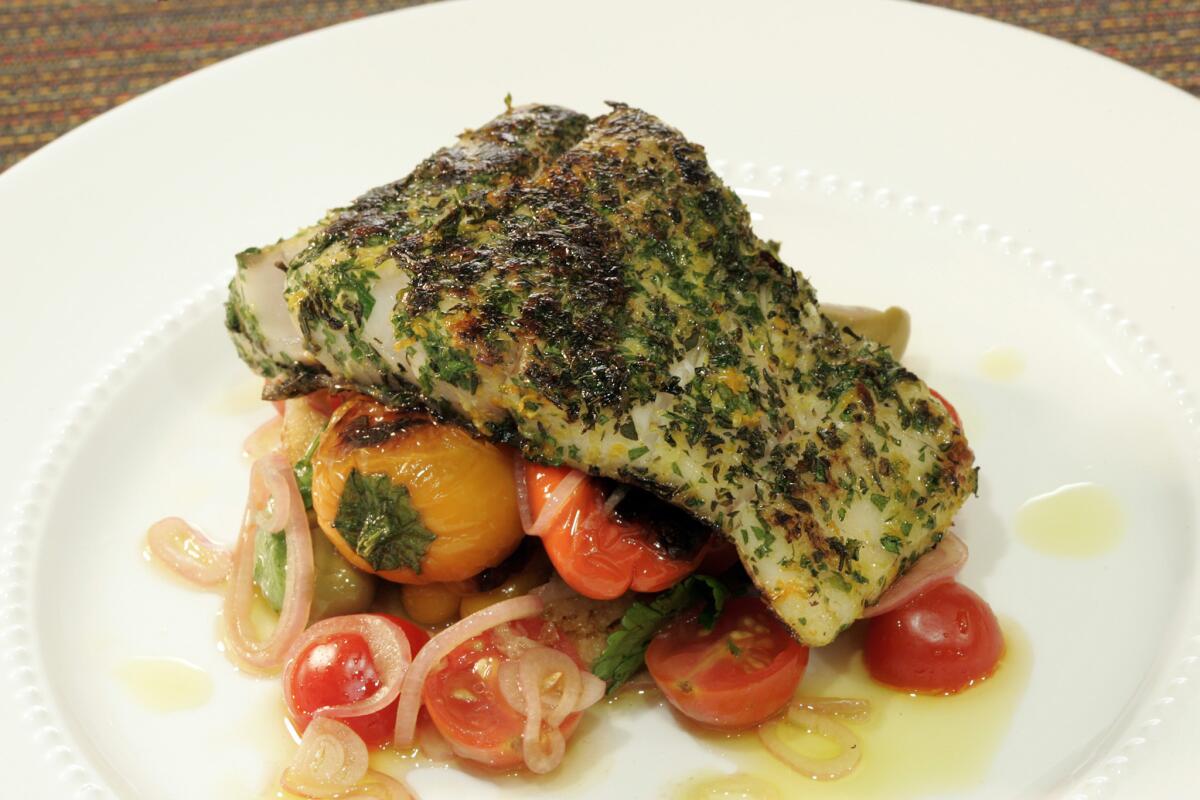 Snapper fillets are lightly flavored with fresh herbs along with a little orange and lemon zest, then seared and served over a vibrant "salad" of lightly dressed grilled sweet Italian peppers, cracked Picholine olives, cherry tomatoes, parsley, shallots and crispy croutons.
GRILLED FRESH MAHI-MAHI WITH JALAPENO CILANTRO SAUCE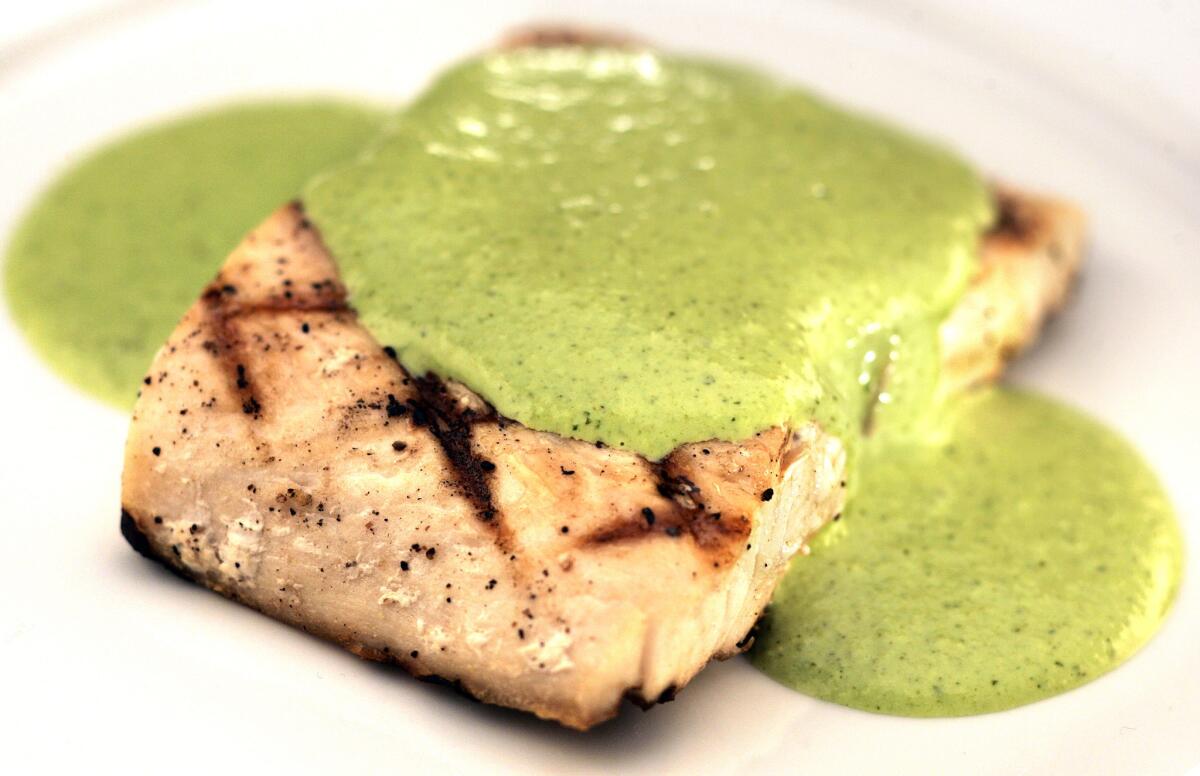 Grilled mahi-mahi steaks with a gently spiced cream sauce that pairs fresh cilantro and jalapeno along with a touch of garlic and dry white wine.
HALIBUT WITH LEEKS, TOMATOES AND OLIVES
Halibut steaks are gently stewed in a quick tomato sauce made with leeks, garlic, thyme and bay leaf, a pinch of hot pepper flakes and mild green olives.
This stunning presentation uses only a handful of ingredients. A whole fish -- grouper, snapper or bass work well -- is stuffed with fresh ginger, green onion and cilantro, then steamed. Serve the fish with a drizzle of soy sauce, sesame and chile oil, then garnish with extra cilantro and green onion before serving.
Love cooking as much as I do? Follow me @noellecarter
ALSO
Here's the recipe for rice with roasted cauliflower from Ad Hoc
Farmers market report: Artichokes are in season. Here are 9 great recipes
The California minimum wage increase: What it would mean for restaurants and your dinner bill
Get our L.A. Goes Out newsletter, with the week's best events, to help you explore and experience our city.
You may occasionally receive promotional content from the Los Angeles Times.