Make these gluten-free almond macaroons for Passover, or any time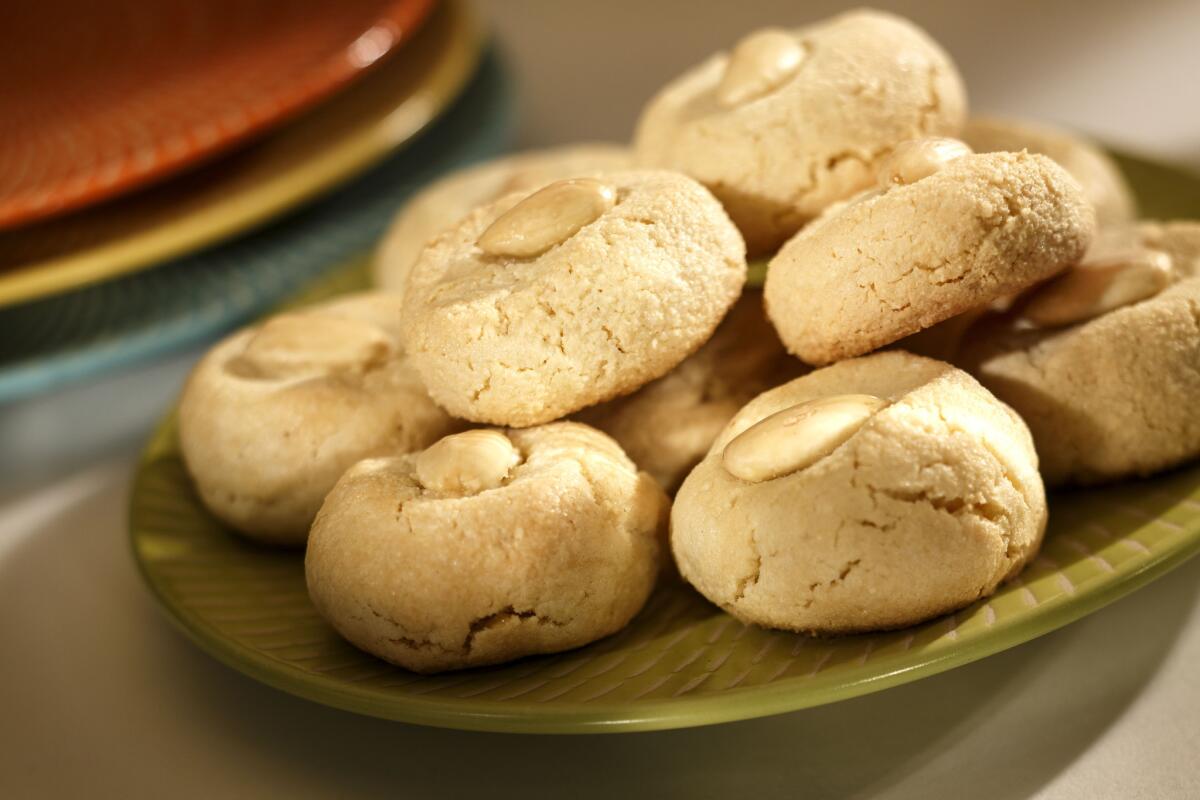 What uses only five ingredients, is gluten-free and makes a perfect Passover treat? These French country-style almond macaroons.
Blanched almonds are blended together in a food processor along with sugar, egg whites, vanilla extract and almond extract to make a quick dough, which is then formed into little cookie rounds. Press a blanched almond in the center of each cookie before baking, then store the cooled cookies in airtight containers.
The recipe, from Faye and Yakir Levy, makes about two dozen cookies.
If you are sensitive to gluten, check all ingredients to make sure they are gluten-free before using, as many may contain trace gluten (such as spices, a number of which include flour as an anti-caking agent), and/or are produced in facilities that also process gluten-based products.
FRENCH COUNTRY-STYLE ALMOND MACAROONS
Total time: 45 minutes, plus drying time for the almonds | Makes about 2 dozen
Note: Passover vanilla extract can be found at select kosher markets and online.
1 2/3 cups whole almonds
3/4 cup plus 2 tablespoons sugar, divided
Whites of 2 eggs
1 teaspoon vanilla extract
1 1/2 teaspoons almond extract
1. Blanch the almonds: Place the almonds in a large saucepan of boiling water and boil for about 10 seconds. Remove an almond with a slotted spoon, and press on one end of the almond with your thumb and index finger; the almond should pop out of its skin. If it doesn't, boil them a few more seconds and try again. When the almonds can be peeled easily, drain them and peel the rest.
2. Spread the blanched almonds in one layer on a shallow tray or dish lined with a kitchen towel or paper towels, and set aside for at least 30 minutes to dry (the almonds should be thoroughly dry before grinding).
3. Position a rack in the upper third of the oven and heat the oven to 350 degrees. Line a baking sheet with parchment paper or waxed paper; oil the paper.
4. Set aside 24 of the almonds to use as garnish. Grind the remaining almonds with ¼ cup of the sugar in a food processor to fine, even crumbs. Add the egg whites, vanilla and almond extracts, and process to incorporate, then add the remaining sugar in two batches and process until smooth. Transfer the mixture to a bowl.
5. With moistened hands, roll about 1 tablespoon of the dough between your palms into a smooth ball and place it on the prepared baking sheet. Continue with the remaining dough, spacing the cookies about 1 inch apart.
6. With moistened fingers, press to flatten each macaroon slightly so it is about ½ inch high. Brush the entire surface of each macaroon lightly with water. Set a blanched almond on the center of each macaroon and press lightly so it adheres.
7. Bake the macaroons until they brown very lightly but evenly and their centers are still soft, about 15 minutes, rotating the sheet halfway through for even baking. Meanwhile, prepare 2 small cups with 2 to 3 tablespoons water in each.
8. When the macaroons are done, remove the baking sheet from the oven. To help remove the macaroons easily, immediately lift one end of the paper and pour about 2 or 3 tablespoons water under it, onto the baking sheet; the water will boil on contact with the hot baking sheet. Lift the other end of the paper and quickly pour about 2 or 3 tablespoons water under it. Tilt the baking sheet slightly so the water reaches the whole surface of the pan. When the water stops boiling, gently remove the macaroons from the paper, with the aid of a metal spatula if necessary. Transfer the cookies to a rack to cool. Store them in airtight containers.
Each of 24 cookies: Calories 89; Protein 2 grams; Carbohydrates 10 grams; Fiber 1 gram; Fat 5 grams; Saturated fat 0; Cholesterol 0; Sugar 8 grams; Sodium 5 mg
Love cooking as much as I do? Follow me @noellecarter
To read this article in Spanish click here
ALSO
Cheese lover? You have to try this fondue recipe
Try this quick and easy fruit gratin recipe for dessert tonight
Farmers market report: Strawberries are in season. Here are 9 recipes
Get our L.A. Goes Out newsletter, with the week's best events, to help you explore and experience our city.
You may occasionally receive promotional content from the Los Angeles Times.