Go Get Em Tiger's new 'coffee regular': your sugar and milk, calibrated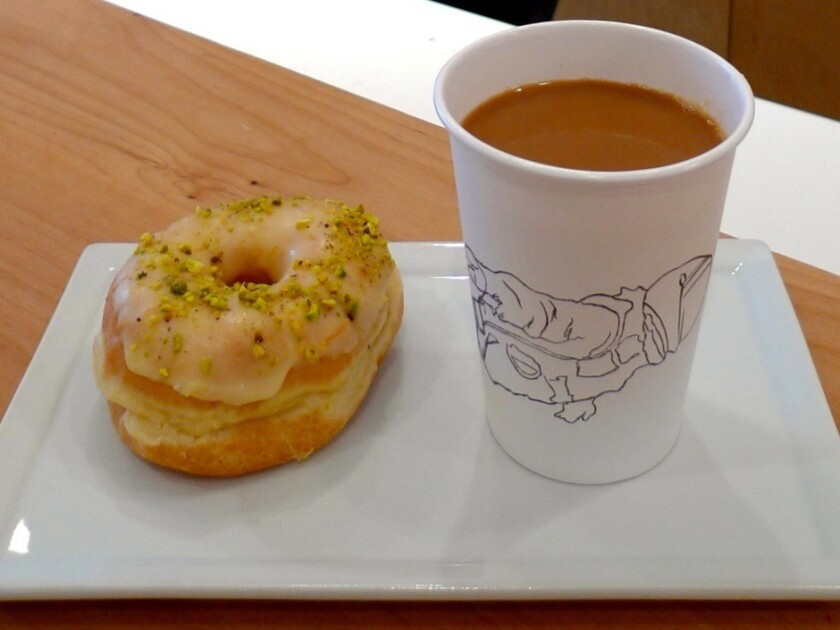 Coffee and a doughnut get a major upgrade at Go Get Em Tiger.
The Larchmont Village cafe known for its fastidious attention to coffee has introduced its version of a "coffee regular" for $3.75. In much of the country a "regular coffee," also known as "coffee regular," generally means a cup of black coffee with cream and two packets of sugar.
But, first of all, Go Get Em Tiger (or GGET) doesn't have packets of sugar; the staff hands a bottle of simple syrup to anyone who wants sweetener. And second of all, co-owner Kyle Glanville says, "We've tasted plenty of delicate, lightly roasted East African coffees with cream and sugar and we believe it to be a disappointing experience. Coffees that don't offer enough bitterness to mesh effectively with the cream will drown out and everything will taste a bit watery."
So ordering a coffee regular at GGET translates to a 12-ounce cup of roasted Colombian coffee from Vancouver-based roaster Forty Ninth Parallel that Glanville and his partner Charles Babinski brew at a higher concentration than their daily single origin offerings.
They then add 20 grams of organic Straus Family Creamery half and half and 20 grams of house-made simple syrup. The result, rich, creamy and slightly sweet, has the comforting taste of possibly the ultimate cup of doughnut shop coffee.
Though a coffee and doughnut may run under $3 at Dunkin' Donuts and Krispy Kreme, a doughnut and a coffee regular at GGET will cost you $7.75. The doughnut is from Donut Snob, made in seasonal flavors including blood orange and pistachio.
And the coffee? "The way we prepare coffee regular is a beautiful and worthy drink for service in our coffee bar," added Glanville. "We've approached this drink with [quality control] standards as rigorous as anything on our menu and we're proud of the outcome."
230 N. Larchmont Blvd., Los Angeles, (323) 380-5359, ggetla.com.
ALSO:
Dogfish Head Brewing launches its own line of sausages
---
Get our weekly Tasting Notes newsletter for reviews, news and more.
You may occasionally receive promotional content from the Los Angeles Times.