There's a new Greek restaurant in Los Feliz, and it has gyro fries
Gyro feta fries from Good Greek Grill in Los Feliz.
(Jenn Harris / Los Angeles Times)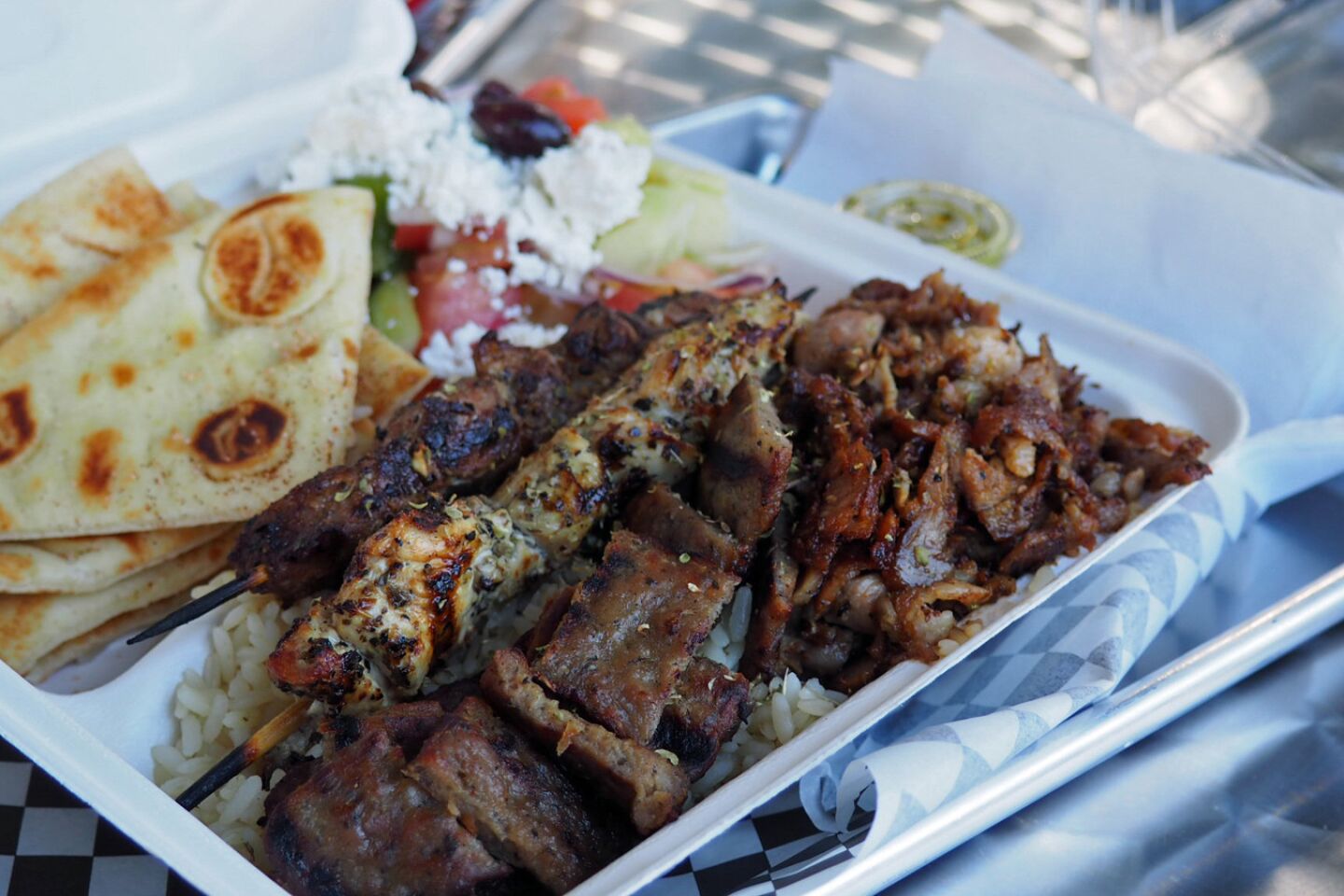 The meat-lovers plate at Good Greek Grill in Los Feliz comes with two kinds of kebabs, pork gyro and lamb-and-beef gyro with fries, salad and pita bread.
(Jenn Harris / Los Angeles Times)
A Greek salad topped with pork gyro at Good Greek Grill in Los Feliz.
(Jenn Harris / Los Angeles Times)
A gyro wrap comes with French fries inside the sandwich at Good Greek Grill in Los Feliz.
(Jenn Harris / Los Angeles Times)
The meat used in traditional pork gyros is similar to that used for al pastor, but dusted with oregano and served in a pita rather than a tortilla. And at Good Greek Grill in Los Feliz, the recently opened brick-and-mortar restaurant from the folks behind the Good Greek Grub food truck, they're putting it not only in pita wraps — but on top of French fries.
The pork spins on a vertical roasting spit and is shaved for serving only after the meat has caramelized and the entire exterior layer turns a burnished brown. This results in small bits of meat that are crisp, well-seasoned and ideal for topping an order of French fries. So if you order the feta fries, and aren't a vegetarian, add the pork gyro. (Yes, this reminds us of poutine too, but it may be better, as it doesn't get as soggy.)
A heaping spoonful of the crispy pork sits on top of the fries, along with tzatziki sauce, crumbled tart feta, tomatoes and slivered red onion. It's carne asada fries gone Greek, and the yogurt sauce combines with the feta to create an extra layer of schmootz. There's also a bottle of Sriracha at the counter, and yes, you should use it.
The restaurant, which includes a few outdoor tables and a counter to sit inside, is making all of the dishes the food truck is known for, and then some.
If you want your gyro in a fluffy pita with French fries inside, you can still get it. You also can order a meat-lovers plate with the beef and lamb gyro most Greek American restaurants serve, along with two kinds of kebab and that pork gyro.
And as appetizers: spanikopita bites and saganaki cheese bites. Think spanikopita and cheese doughnuts, in which homemade dough is wrapped around bits of salty cheese for the saganaki bites — and spinach and cheese for the spanikopita ones — and then deep fried.
For dessert, that same dough is wrapped around the sweetened, spiced nuts you'd find in traditional baklava, and then, of course, deep fried.
Good Greek Grill is open from 11 a.m. to 9 p.m. daily.
1820 N. Vermont Blvd., Los Feliz, (323) 326-7228, www.goodgreekgrill.com.
.
Spicy feta fries are my jam. Follow me on Twitter @Jenn_Harris_
ALSO:
Christopher Kimball out at America's Test Kitchen
Like free food? Where to get free bibimbap and kale burgers
Burgers and vegan burgers at Burgerlords in Chinatown, made by vegetarians
Get our L.A. Goes Out newsletter, with the week's best events, to help you explore and experience our city.
You may occasionally receive promotional content from the Los Angeles Times.