Don't fight over Nutella. Just make it yourself.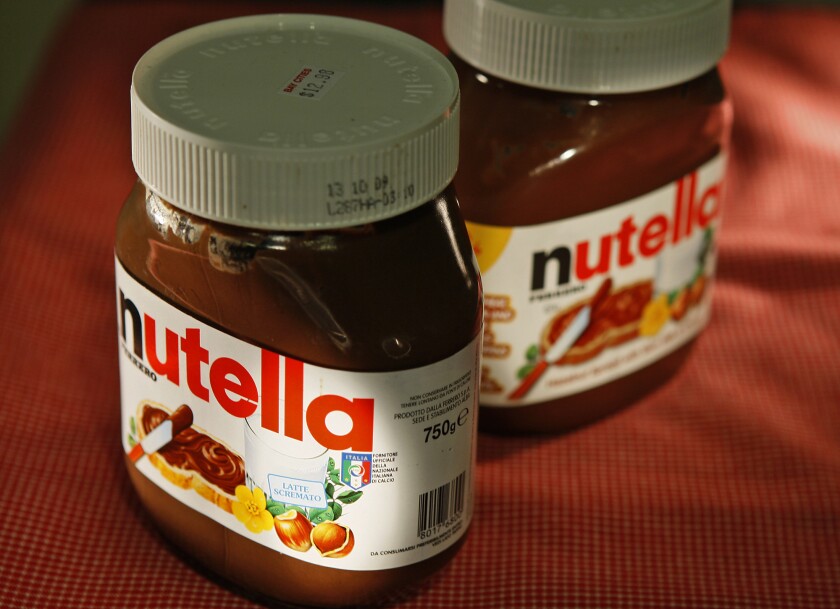 Nutella has been all over the news lately. Lovers of the addictive Italian chocolate-hazelnut spread have been trying to figure out the right way to pronounce the name and fighting over who gets the samples at Costco. Maybe instead of fighting over it, just make it yourself.
It's actually really easy to make. All you do is grind up hazelnuts in a food processor, add cocoa powder, powdered sugar, vanilla extract and hazelnut oil. That's pretty much it — here's the recipe. It's amazing how therapeutic can be to grind stuff into a paste — which is probably a way better use of your time than fighting at Costco.
Eat your homemade spread straight out of the bowl — you'd be surprised how many pastry chefs confess to this behavior — or consider some creative outdoor cooking. Slather Nutella between two slices of poundcake, like a sandwich, and grill the slices. Maybe even serve the sandwich topped with ice cream and a little grated chocolate.
GRILLED NUTELLA AND PECAN POUND CAKE 'SANDWICHES'

Total time: 1 hour, 30 minutes, plus cooling time | Serves 8
Note: The pound cake recipe makes more cake than is needed for the sandwiches. The pound cake recipe comes from my grandmother, Elaine Smith. It's delicious even without the embellishment of grilling and chocolate.
ELAINE SMITH'S POUND CAKE
1 1/2 cups (3 sticks) unsweetened butter, at room temperature
3 3/4 cups (1 pound) powdered sugar
6 eggs
2 teaspoons vanilla extract
1/2 teaspoon baking soda
2 3/4 cups sifted cake flour
1. Heat the oven to 325 degrees. Generously butter a 10-inch tube or bundt pan. Dust with flour, tapping out all excess. Set aside.
2. In the bowl of a stand mixer (or use a large bowl and hand-held electric mixer), beat the butter until creamy and pale. Sift the powdered sugar and gradually add it to the butter, beating continuously until the mixture is very light and fluffy.
3. Beat in the eggs, one at a time, making sure to blend well after each addition. Beat in the vanilla. In a separate bowl, mix the baking soda with the cake flour and beat it into the butter mixture, half a cup at a time, until the batter is smooth and velvety.
4. Pour the batter into the prepared pan and smooth the top. Bake for 55 to 65 minutes, or until a wooden pick inserted in the center comes out clean. Cool for 10 minutes in the pan, then turn out onto a rack to cool completely before slicing.
SANDWICH ASSEMBLY
1/3 cup finely chopped pecans
3/4 cup Nutella, divided
16 ( 1/3 -inch-thick) slices pound cake
1/2 pint premium ice cream or gelato (try vanilla or butter pecan)
1/4 cup coarsely grated chocolate, divided
1. In a small skillet over medium-low heat, toast the chopped pecans, stirring or shaking the pan frequently, 1 or 2 minutes, until aromatic. Set aside.
2. Spread 1 1/2 tablespoons Nutella on each of eight slices of the cake, then top each slice with a heaped teaspoon of nuts. Top each prepared slice with a remaining slice of cake to form a sandwich.
3. Using a flat, thin, long-handled metal spatula, gently place each of the sandwiches on a clean, well-oiled grill over medium heat. Cook for 1 to 2 minutes on each side until lightly golden, rotating each sandwich 90 degrees halfway through, to get good grill marks. Flip each sandwich; repeat on the other side.
4. To serve, place a grilled sandwich on each of eight plates with a small scoop ( 1/8 cup) of ice cream. Garnish evenly with any remaining nuts, and sprinkle 1 1/2 teaspoons of chocolate over each serving. Serve immediately.
Each serving: 724 calories; 8 grams protein; 83 grams carbohydrates; 2 grams fiber; 40 grams fat; 20 grams saturated fat; 182 mg. cholesterol; 112 mg. sodium.
Love cooking as much as I do? Follow me @noellecarter
ALSO:
Churros and Nutella from a food truck. Need we say more?
Craft brewing could be the next boom industry in Los Angeles County
Southern cooking, weird wine and taxidermy at Hatchet Hall in Culver City
---
Get our weekly Tasting Notes newsletter for reviews, news and more.
You may occasionally receive promotional content from the Los Angeles Times.