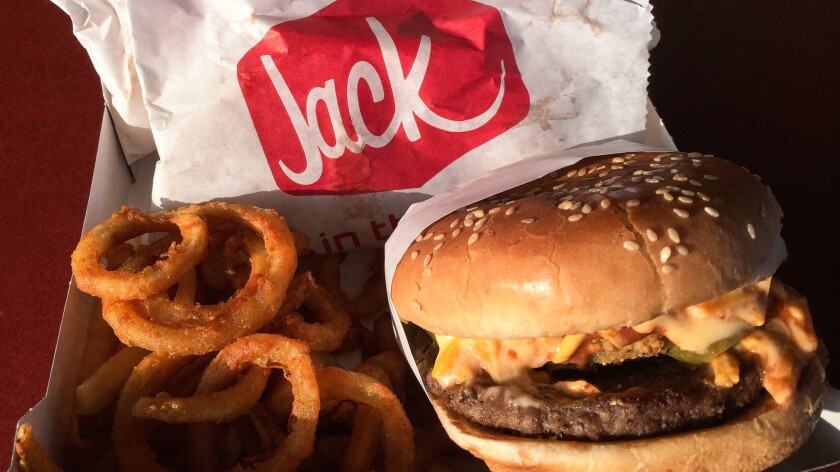 Jack in the Box threw a grand media rollout for its new summer menu items yesterday. Yes, Jack in the Box. There were VIP parking spaces out front, blocked off with wavering yellow danger tape. Inside: a red velvet rope — velvet rope! — separating the half-dozen tables in the tasting area. Attendees even had to RSVP; spots were limited.
First item, the new Mango Mayhem and Strawberry Twist, which are basically lemon-lime sodas dosed with fruit puree — "light, effervescent, refreshing" in the words of innovation manager Karl Arend. They're too sweet to qualify as refreshing, but innocuous enough if you're a sweet soda drinker.
According to the tasting menu, there were three more items to come. Two were variations on the Ultimate Cheeseburger, which Arend pointed out has become a cult burger with Jack fans. It's basically two seasoned beef patties (about 1/4-inch thin), with two slices of American cheese and one slice of Swiss-style cheese on a toasted sesame seed bun.
The new BBQ Ultimate Cheeseburger adds grilled onions and a viscous mahogany barbecue sauce that's short on heat and heavy on the sweet. For all the fuss, you'd think they could have come up with something more revolutionary or punchy. This is kind of an insult to true barbecue.
The second variation accessorizes the Ultimate Cheeseburger with Ranch dressing and pickled jalapeño. Those crunchy green chile peppers add some much-needed lift to an otherwise bland burger. Jack in the Box has a large R&D kitchen in San Diego, where the chain is based, innovation manager Katherine Cerrito explained. And they tried this combination every which way — with different amounts of jalapeño, with different Ranch dressings. After all that, they decided eight slices of jalapeño were just right.
The event also debuted a new "Munchie Meal," a spin on the concept that was introduced in September and has been very successful for the burger chain. Inside the "Hella-peño Munchie Meal" box is an order of "halfies" — half regular fries and half seasoned curly fries (how do they make those anyway?) — two fried tacos made with some indeterminate meat paste and plenty of lettuce, and yet another jalapeño burger, this one heaped with three cheese-stuffed jalapeño poppers and more sliced pickled peppers.
Instead of cheese slices, this burger is drowned in a sauce all too reminiscent of Cheese Whiz, quite gooey and awful. If they'd gone for a cleaner, brighter taste, eliminating the cheese sauce and piling on more of the jalapeños, they might have something worthy of the clever Hella-peño moniker. But this is pretty tame.
I can see how if you were wasted, though, this Munchie Meal might seem like a gift from the gods at $6.
The new menu items launch Thursday and will be available through the summer.
Follow @sirenevirbila for more on food and wine.
---