Jonathan Gold's favorite Los Angeles burgers (not made in a lab)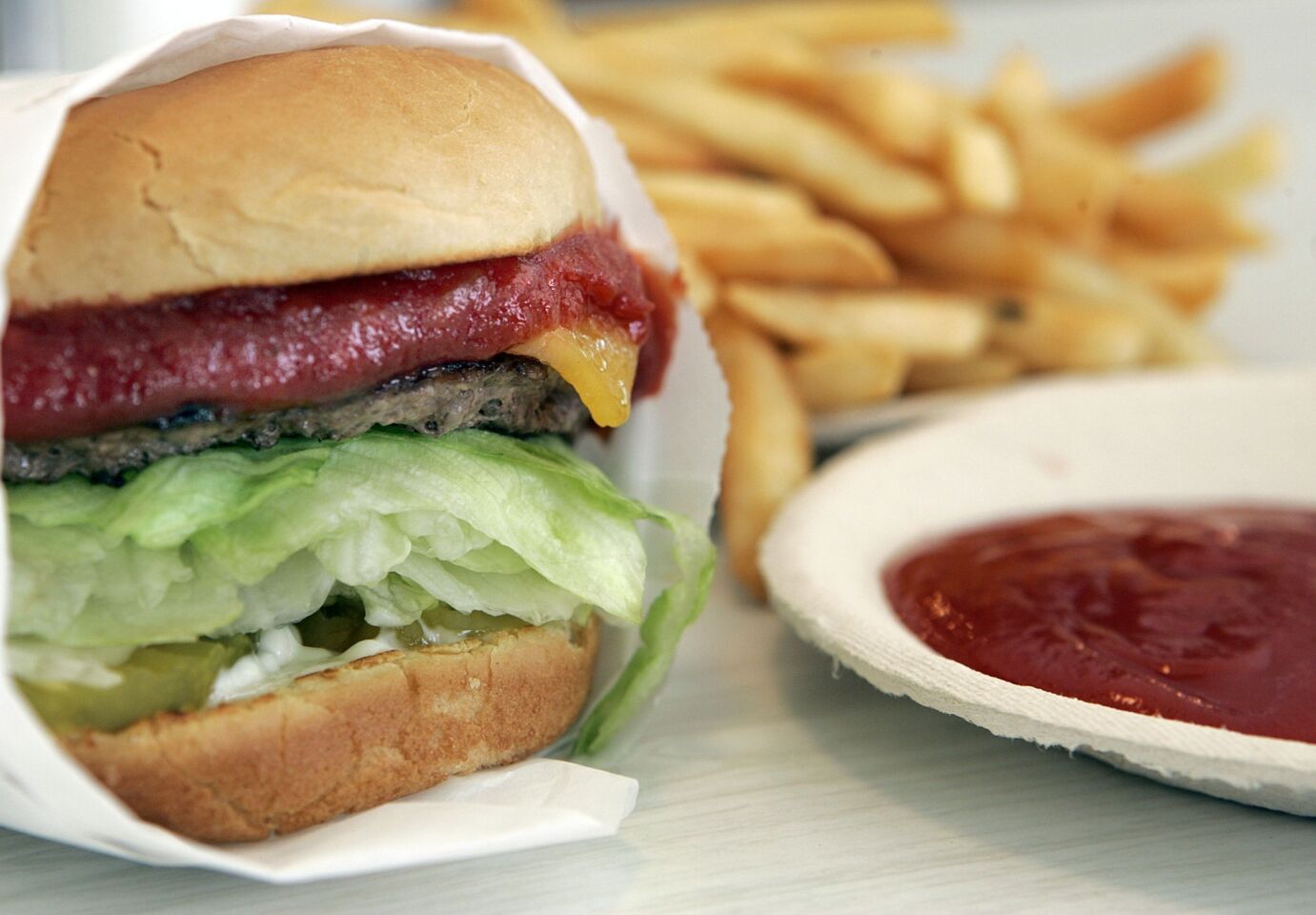 The classic Apple Pan burger.
(Carlos Chavez / Los Angeles Times)
The Father's Office burger with sweet potato fries.
(Lawrence K. Ho / Los Angeles Times)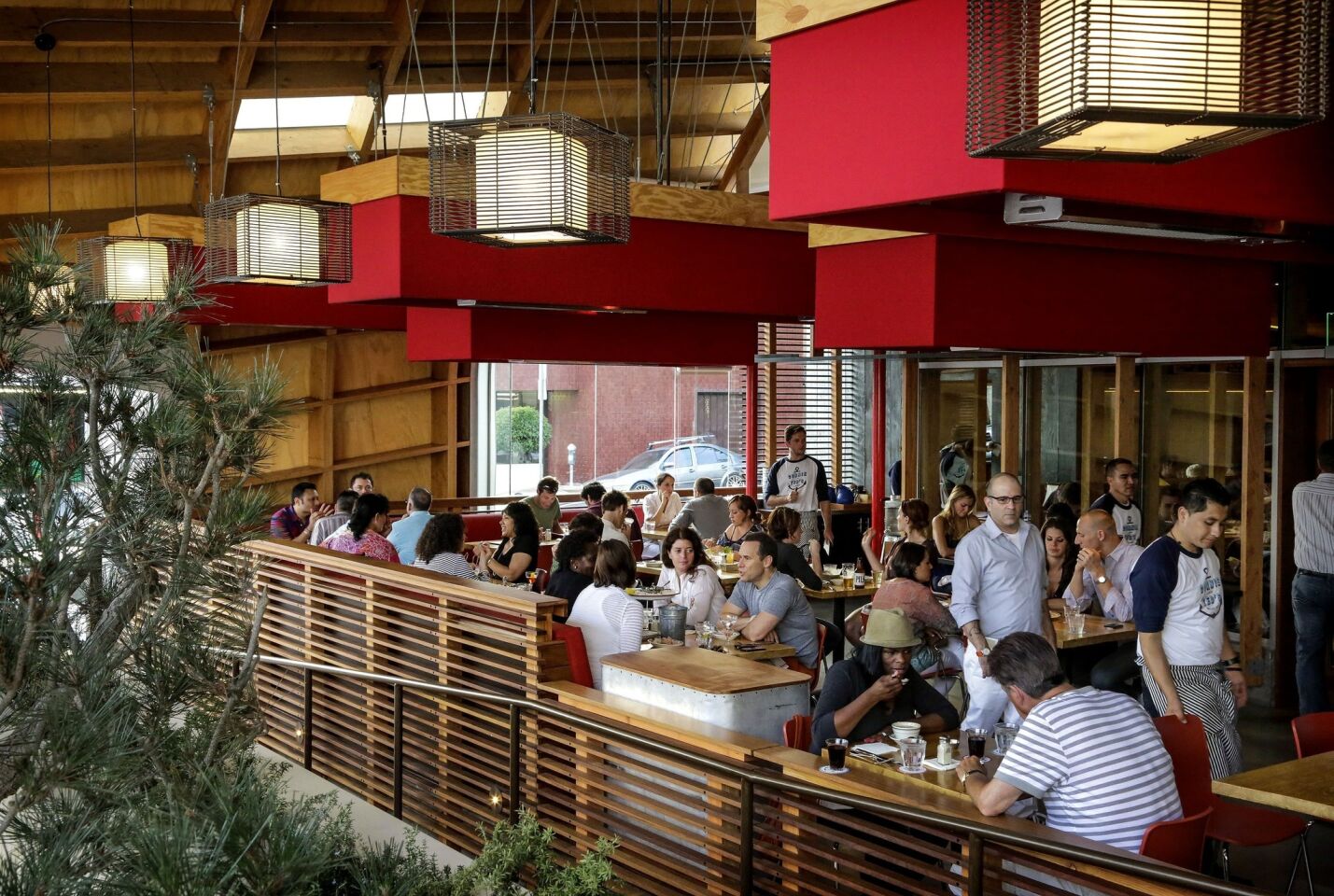 The burger at this seafood joint has a square bun,and it comes lavishly greased with Hook¿s cheddar.
(Ricardo DeAratanha / Los Angeles Times)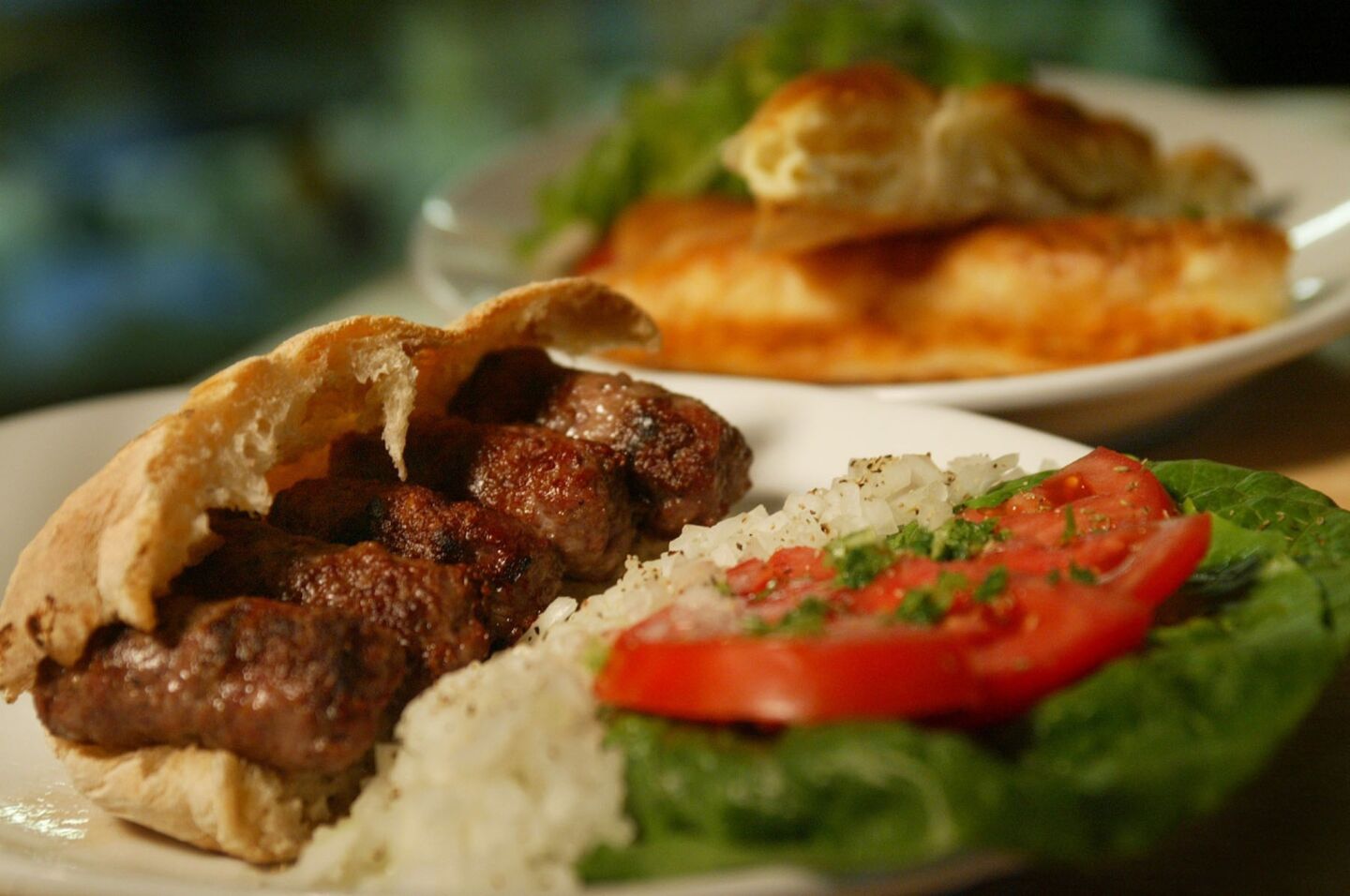 The restaurant serves a Bosnian style hamburger.
(Lori Shepler / Los Angeles Times)
The chiliburgers here are painted with yellow mustard and sluiced with a meaty, emulsified chili a few degrees spicier than the rest.
(Anne Cusack / Los Angeles Times)
The Plan Check burger is a griddled patty layered with translucent ketchup leather, a microscopically thin layer of crisp, fried cheese, and shaved pickle.
(Anne Cusack / Los Angeles Times)
The burgers here come with soft grilled onions, cheese and special sauce.
(Bryan Chan / Los Angeles Times)
The eyes of the world this week have been focused on what surely must be the most repulsive hamburger in the history of mankind: 10,000 bits of cloned cow stem-cell tissue formed into a patty, seared in foaming butter and served to three food scientists in front of a crowd of decidedly unhungry journalists.
If you would rather eat a hamburger than grimace at what your great-grandchildren might be forced to consider lunch, you can do better. Cheer up: Here are 10 of the best hamburgers in L.A.
The Apple Pan
One of L.A.'s greatest culinary legacies is the California lunchroom burger, the multi-layered composition of iceberg lettuce, onion and pickles slicked with a sweet, thick dressing, on a lightly toasted bun. The thin, slightly charred beef patty becomes basically another texture in this sandwich, more valuable for its crunch than for its juice -- the lunchroom burger is essentially a short-form essay on crispness. When you are seeking greatness, turn to the Apple Pan, a homey 1940s institution imitated everywhere from Duluth, Minn., to Bahrain. Is the Hickoryburger, touched with a bit of smoke in the sauce, the one to get? In my opinion, yes. 10801 W. Pico Blvd., West L.A.; (310) 475-3585.
Aroma Cafe
I once sneered at Chicago magazine for suggesting that a Bosnian flatbread, no matter how delectable, might be part of the pizza debate in one of the greatest pizza towns in the country. And here I am, suggesting that a Bosnian hamburger, pljeskavica, is among the best options in the great hamburger city of Los Angeles. Am I a hypocrite? Of course! But pljeskavica, a thin, Balkan hamburger, as big and round as a phonograph record, flavored with salt and onions and peppers, briefly cooked over a hot charcoal fire and stuffed into a focaccia, is an awe-inspiring unit of consumption, almost as daunting in its appearance as it is difficult to pronounce. Aroma Café, 2530 Overland Ave., West Los Angeles; (310) 836-2919, aromacafe.la.
Chroni's Famous Sandwich Shop
The chiliburger has been a Los Angeles thing for nearly a century, invented at Ptomaine Tommy's in the 1920s and nurtured by generations of local hamburger men ever since. The lines outside Tommy's on Beverly at Rampart are still formidable. But I submit that the burgers at the Eastside institution Chroni's, painted with yellow mustard and sluiced with a meaty, emulsified chili a few degrees spicier than the rest, may be the best Los Angeles-style chiliburgers in town: robust, tasting distinctly of the grill, piled high with ripe tomatoes and crisp sheaves of lettuce. And the chili-cheese dogs may be even better. 5825 E. Whittier Blvd., Los Angeles; (323) 728-7806.
Comme Ça
In a bistro-starved Los Angeles, Comme Ça is a reliable bastion of onion soup, skate grenobloise and frisée aux lardons. But it is also home to a thick, dripping, loosely packed puck of bloody-rare beef, glazed with a quarter inch of good cheddar, barely but adequately contained in a soft, shiny-crusted bun -- a burger from an older tradition where ingredients are allowed to speak for themselves. These are unfussy hamburgers that taste like good aged meat. When prodded, chef David Myers may confess: "It's basically my mother's hamburger. It's what I grew up eating in Ohio." 8479 Melrose Ave., West Hollywood, (323) 782-1104, commecarestaurant.com.
Connie & Ted's
Michael Cimarusti's new restaurant would seem an odd place to order a cheeseburger. It is what might have been called the Landlubber's Delite, the single nonoceanic item on an otherwise all-seafood menu. It has a square bun, as if veering from the oysters and the grilled bluefish weren't ridiculous enough, and it comes lavishly greased with Hook's cheddar, which both encourages the nautical jokes, and comes from Wisconsin, which is about as far from the sea as a self-respecting cheese can get. But there is no arguing with a thick patty of well-aged beef, cooked to a bloody medium rare, served with a basket of fries. Your move, Mr. Smee. 8171 Santa Monica Blvd., West Hollywood, (323) 848-2722, connieandteds.com.
Cora's Coffee Shoppe
When I started doing these best-burger roundups for The Times in the early '90s, the winning hamburger was always the one Bruce Marder served at his West Beach Café, which tasted of good meat, only of good meat, and went very nicely with the half-bottles of '82 Ridge Monte Bello that were somehow within my budget back then. Marder's restaurant Cora's, a once-sketchy surfers' dive transformed into a leafy Tuscan patio, is not the West Beach, even on its best days. But Marder has always been a hamburger man, and Cora's burgers are magnificent, drippy constructions of loosely packed Wagyu cow. Good enough. 1802 Ocean Ave., Santa Monica, (310) 451-9562.
Father's Office
Umami Burger may be the outlet now exploding into a national chain. But it is Father's Office that set the template for the modernist hamburger in L.A. with its famous no-substitutions cheeseburger -- a soft, oozing patty garnished with blue cheese, a pinch of bacon and a thick blanket of deeply caramelized onions, served with a dense thicket of arugula on a hard-crusted French roll. Is it OK to ask for ketchup, have it without the blue cheese or bring the kids to Sang Yoon's beer bars? Not now; not ever. 1018 Montana Ave., Santa Monica, (310) 736-2224; 3229 Helms Ave., Los Angeles, (310) 736-2224, fathersoffice.com.
Pie 'n Burger
As with all good hamburgers, a Pie 'n Burger burger is about texture, the crunchy sheaf of lettuce, the charred surface of the meat, the outer rim of the bun crisped to almost the consistency of toast. When compressed by the act of eating, the hamburger leaks thick, pink dressing that is somewhat more tart than it may look. Soft, grilled onions, available upon request -- please do-- add both a certain squishiness and a caramelly sweetness. The slice of American cheese, if you have ordered a cheeseburger, does not melt into the patty, but stands glossily aloof from it, as if it were mocking the richness of the sandwich rather than adding to the general effect. The burgers here come jacketed in white paper and are compact enough to generally remain intact through three-quarters of their life -- it's kind of a genteel thing, a Pie 'n Burger burger, a Pasadena thing. 913 E. California Blvd., Pasadena, (626) 795-1123.
Plan Check
Not a test tube burger, but a burger as reimagined by a gearhead working alone in his kitchen instead of by a team of technicians in a lab, Ernesto Uchimura's Plan Check burger is a griddled patty layered with translucent ketchup leather, a microscopically thin layer of crisp, fried cheese, and shaved pickle. The feather-light bun, distinctly not made from brioche, is sprinkled with white specks that look like sesame seeds but crunch like breakfast cereal. A fudgy layer of house-made American cheese, which incorporates a subtle, almost indiscernible umami jolt of Japanese kombu seaweed, frosts the patty, but what you are aware of when you bite into the burger is salt and juice and the crunchy char of well-cooked meat. The Plan Check Burger has been carefully engineered to resemble the great bar burgers of your youth, in the way that a designer at Ford might try to capture everything you love about a 1968 Mustang in an ultramodern car. 1800 Sawtelle Blvd., Los Angeles, (310) 288-6500, plancheckbar.com.
Spice Table
Am I a fan of gimmicky hamburgers? I generally am not. A mediocre burger does not improve when its patty is plumped out with ground bacon, when it is reimagined as a currywurst or when it is slathered with sriracha aioli. But I will make an exception for the cheeseburger at Spice Table, which gives the impression of an In-N-Out burger with better meat, enriched with the funky Indonesian chile sambal instead of secret spread. Why? Because I like it. Foolish consistency, as Emerson said, is the hobgoblin of little minds. 114 S. Central Ave., Los Angeles, (213) 620-1840, thespicetable.com.
---
Get our L.A. Goes Out newsletter, with the week's best events, to help you explore and experience our city.
You may occasionally receive promotional content from the Los Angeles Times.