Kitchen gadget: Whisks 101 (and a recipe)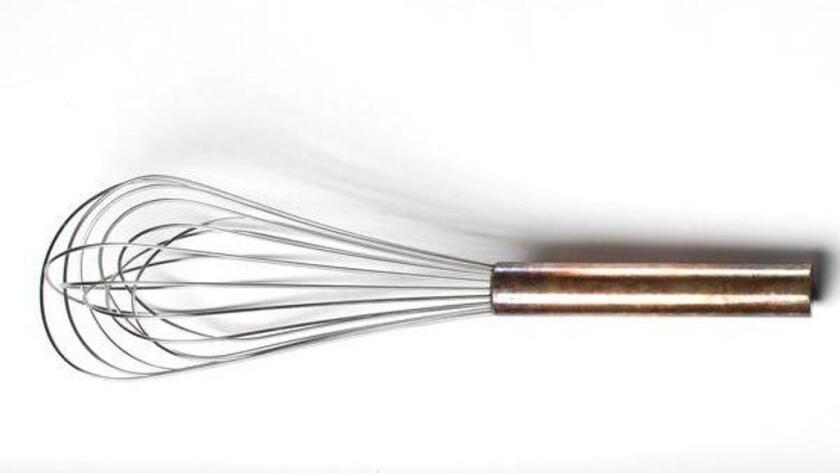 A whisk is one of those indispensable tools in the kitchen, simple as it may appear -- essentially nothing more than long looped wires joined at the end with a handle. Sometimes called a whip, whisks come in a variety of shapes and sizes to handle the kitchen task at hand.
Balloon whisks have a very large, round head, and are used to whip or beat air into various ingredients, such as egg whites or cream, increasing their volume. Balloon whisks are perfectly suited for combining dry ingredients (such as flour, leavener and spices) in baking recipes; not only do they combine ingredients much more thoroughly than simply sifting, a whisk also helps to add air to the dry ingredients, lightening them before they are added to a batter.
Straight whisks have much more slender heads, with stiff, less flexible wires. While they're not built for incorporating air like balloon whisks, straight whisks are perfect for stirring and smoothing sauces, gravies and batters.
Flat whisks are also great for mixing sauces and scraping any flavoring from the bottom of a skillet or saute pan. A flat whisk is also perfect for whisking flour into melted butter when making a roux.
Prices for whisks vary depending on type and material, ranging from around $2 for a basic whisk to over $20. Whisks can generally be found at home and kitchen supply stores; specialized whisks can be found at cooking and baking supply stores, as well as online.
Cooking is fun – at least it should be. No matter how long you've been in the kitchen, there is always something new to learn, whether it's a simple twist on an old technique, or a handy tip to save time and energy. In this series of short videos, I demonstrate a variety of kitchen tips, ranging from how to hold a chef's knife for maximum control to using a spoon to peel fresh ginger. If you have any gadgets, kitchen tips or questions you'd like me to explore, leave a comment below or shoot me an email at noelle.carter@latimes.com.
Total time: 25 minutes, plus cooling and chilling times | Servings: 8
Note: Adapted from Bob Heilman's Beachcomber Restaurant in Clearwater, Fla. The restaurant uses Eagle Brand condensed milk in the recipe and serves the pie topped with whipped cream, though meringue can be substituted. Make the pie using a prepared crust; the restaurant recommends a "short" pastry crust. As it says, "A graham cracker crust is inappropriate."
4 egg yolks, beaten
2 cups condensed milk
2/3 cup Key lime juice (from about 1 pound of Key limes)
Zest from 1 Key lime
1 prebaked (8- to 9-inch) pie shell, preferably a short crust
Whipped cream or meringue, for topping
1. Heat the oven to 350 degrees.
2. In a large bowl, whisk together the egg yolks and condensed milk until combined. Mix in the lime juice and zest until thoroughly combined. This makes a scant 3 cups of filling.
3. Pour the filling into the prepared pie shell and place the pie in the oven. Bake just until the filling is set and jiggles only slightly when tapped, 10 to 15 minutes. Remove from the heat and cool on a rack, then refrigerate the pie, uncovered, until completely set, preferably overnight.
4. Top as desired and serve.
Each serving (without topping): 377 calories; 9 grams protein; 54 grams carbohydrates; 1 gram fiber; 15 grams fat; 7 grams saturated fat; 118 mg cholesterol; 42 grams sugar; 190 mg sodium.
Love cooking as much as I do? Follow me @noellecarter
---
Get our weekly Tasting Notes newsletter for reviews, news and more.
You may occasionally receive promotional content from the Los Angeles Times.