Four great places to get mooncakes in Los Angeles
Kee Wah Bakery's red bean mooncake with mandarin orange zest.
(Clarissa Wei / For The Times)
Inside I Fu Tang's mooncake are red bean with a salted egg yolk.
(Clarissa Wei / For The Times)
Taiwanese-style mooncakes are spherical.
(Clarissa Wei / For The Times)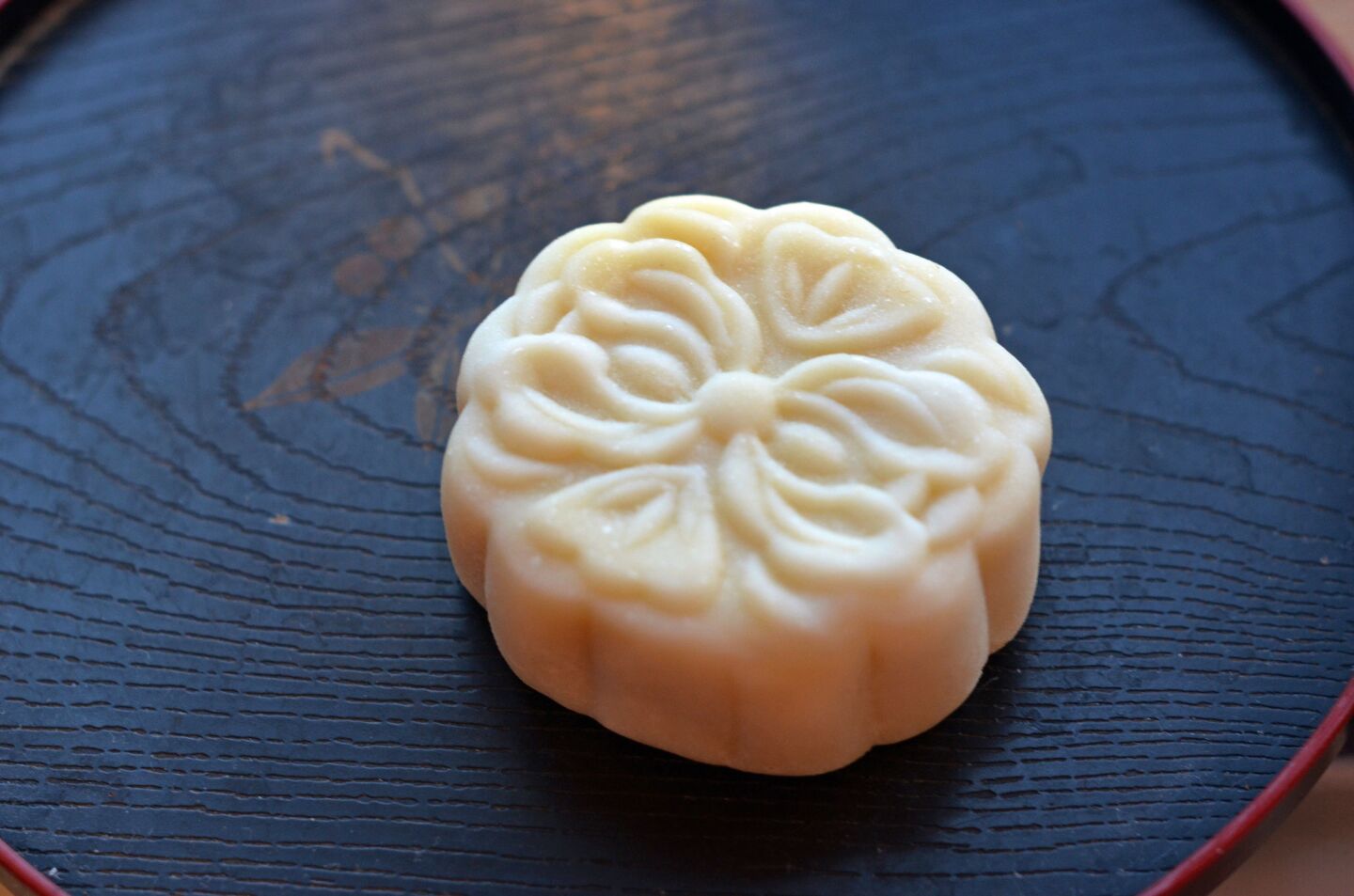 Snow skin durian-stuffed mooncake from Sunny Bakery.
(Clarissa Wei / For The Times)
JJ Bakery's mini-mooncake is flavored with lotus.
(Clarissa Wei / For The Times)
<i>This post has been corrected. See the note below for details.</i>
If you happen to stumble into a Chinese bakery in the coming days, you might encounter stacks of miniature cakes piled up a mile high. Workers are behind counters, frantically taking calls for pre-orders and stuffing cakes into slick, adorned boxes.
This is all in preparation for the Chinese mid-autumn Moon Festival, or zhong qiu jie, an annual Chinese soiree that falls on Thursday.
It's the days preceding the festival that are the busiest. Families are stocking up on these cakes aptly called mooncakes -- small pastries stuffed with lotus, dates or red bean with or without a salted duck egg yolk stuffed inside. They're the Chinese equivalent of a fruitcake – you never actually buy it for yourself. They're meant as gifts for friends and family.
Enjoy in moderation. They're a gut-busting snack. A typical 6.3-ounce mooncake has about 800 calories.
Here's a round-up of four great places to get mooncakes in Los Angeles.
JJ Bakery
Individually packaged mooncakes average about $2.65 a pop, and JJ carries both traditional and Taiwanese variations. Traditional versions tout a thin crust and are shaped into squares or circles – sort of like an enormous hockey puck. Taiwanese varieties are spherical, the exterior is flaky and stuffed with fillings such as taro, red bean or mung bean. 1130 S. Baldwin Ave., Arcadia, (626) 836-6888, jjbakeryusa.com.
Sunny Bakery
While Sunny does offer regular mooncakes, it stands out from its competitors for its durian-flavored mooncake wrapped in a beautiful, translucent, snowy skin. The white exterior is made of glutinous rice flour and has a texture reminiscent of mochi. It's expensive at $6.25 a pop but is stuffed with a hefty amount of fresh durian paste. These gems need to be refrigerated. Also beware -- durian is best known for being a putrid-smelling fruit. 743 E. Valley Blvd., San Gabriel, (626) 307-7381.
I Fu Tang Bakery
During the weeks surrounding the moon festival, Taiwanese chain I Fu Tang gets converted to a mooncake-making factory. Cakes are piled up sky high in a selection of flavors including mango and more traditional ones such as red bean, lotus and dates. The egg yolk is optional but adds a savory contrast to the otherwise sweet dessert. The cakes that are square-shaped are embedded with a salted egg yolk and the ones without the yolk are circular. 1611 S. San Gabriel Blvd., San Gabriel, (626) 288-8007, iftang.com.
Kee Wah Bakery
Hong Kong-based Kee Wah Bakery is known internationally for its mooncakes and flavor permutations. The moon cakes here are also the priciest. Each is about $9 and some have more than one egg yolk stuffed inside. The ones with four egg yolks, which cost about $11 each, represents the four phases of the moon. The crust is remarkably thin and interesting varieties include red bean with mandarin zest, egg custard, ham, and pineapple paste with walnuts. Pre-wrapped boxes have eight pieces inside and are $30 a package. 150 W. Valley Blvd., San Gabriel, (626) 280-2515, keewah.us.
[For the Record, 9:36 a.m. PDT Sept. 19: An earlier version of this post stated that the Moon Festival was Wednesday. It takes place on Thursday.]
ALSO:
At Marugame Monzo, it's about the udon
Chengdu Taste serves down-home Sichuan
---
Get our L.A. Goes Out newsletter, with the week's best events, to help you explore and experience our city.
You may occasionally receive promotional content from the Los Angeles Times.