Glow-in-the-dark barware, whiskey library, in new downtown gallery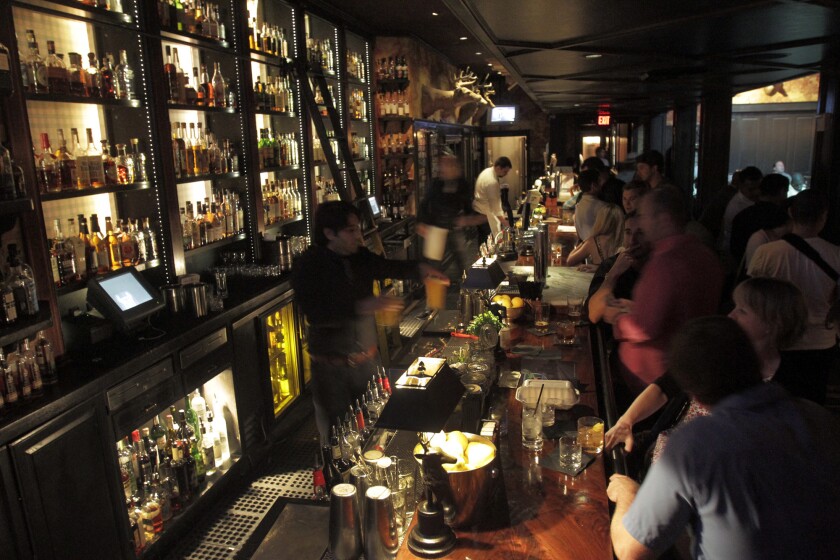 "I thought I was just going to dinner," says Joe Keeper, owner of Bar Keeper in Silver Lake, with a laugh. But over spaghetti and meatballs at Little Dom's, Philip M. Dobard of MOTAC (the Museum of the American Cocktail) in New Orleans, persuaded Keeper to take on a special project. He wanted him to find vintage cocktail and whiskey artifacts for a MOTAC Whisk(e)y Gallery in Los Angeles.
Cedd Moses offered to donate space for the gallery at Seven Grand, his downtown L.A. whiskey bar. "They had all these locking glass-front cases that seemed built for gallery display," says Dobard.
Joe Keeper is deep into cocktail lore, having spent the past decade scouring the Midwest for vintage barware for Bar Keeper. He loved the idea of the Whisk(e)y Gallery and signed on to search out rare and whimsical artifacts, first-edition cocktail books and other crazy, endearing finds.
The project involved extended trips to the Midwest, which has been and still is a center for glass making and glass collecting. He put the word out to his contacts that he was looking for certain kinds of things. He bought so much, in fact, it took Keeper and Dobard two weeks to sort through Keeper's finds to create groupings and themes.
The MOTAC Whisk(e)y Gallery officially opened on June 22. Now the curious visitor can patrol Seven Grand, a classic old fashioned or sazerac in hand, perusing all the fascinating stuff Keeper has turned up.
He points out tall highball glasses in a case at the top of the stairs, covered with decals of voluptuous ladies. "The early ones didn't have nipples," he explains. "You bought the decals in a package and applied them yourself." And sure enough, tucked in among the glasses is one of the original packages with decals still inside, something Keeper is thrilled to have found.
Throughout the bar, behind the counter or high up on the walls are more vitrines; several hold vintage glassware. The flat green coupes are made of what's called "vaseline glass." Made with uranium, they actually glow in the dark, says Keeper.
The yellow glass coupes with statuettes holding the bowl were so popular with collectors that when the company went out of business, collectors bought the molds so they could continue to be made.
There's a charming cocktail shaker and glasses from the 1930s decorated with a pert bellhop; only one glass in the set has ever been used. (Keeper explains that's very common with the sets he buys.) In some families, it was a ritual for the father of the family to have a drink when he got home from work.
From the row of glass cases near the ceiling Keeper takes out a highball glass commemorating the Cecil B. DeMille film "The Greatest Show on Earth," which won the Oscar in 1952. There's also a GoGo Girl Cocktail Mixer with its original box — she wears a tray around her neck, like a cigarette girl. The tray has a metal band with a switch that pokes out from under it. When a rocks glass is placed in the "tray," the arm engages the switch, which causes the GoGo Girl to shimmy and shake, explains Keeper. "And it still works!"
The hallway outside Jackalope, the whiskey bar at the back of Seven Grand, is lined with wood-framed shadowboxes. In these, Keeper has created vignettes with mostly first-edition cocktail books, antique bottle openers and such. Along with a third edition of the "Savoy Cocktail Book," a Trader Vic's tome and other classics is a 1933 women's cocktail book called "Bacchus Behave! The Lost Art of Polite Drinking" by Alma Fullford Whitaker.
Next to the door to Jackalope are two vitrines stacked top to bottom with bottles of whiskey.
"One of the things we want to do with this gallery is make it clear to whiskey lovers that whiskey is produced virtually everywhere in the world," says Dobard. "Those two cases constitute an international whiskey library. There are examples of whiskeys from every country where whiskey is made, which includes Wales and England, which we do not associate with whiskey. But also Australia, India, Taiwan and Japan."
In a month or so, Dobard plans to initiate a monthly series of guided talks and tastings to show off MOTAC Whisk(e)y Gallery. Keeper will, of course, do some of them. And the collection won't be static — they'll be changing out some of it every few months. Now that Keeper is on the prowl for museum-worthy artifacts, he's sure to come up with some fascinating finds.
MOTAC Whisk(e)y Gallery at Seven Grand Whiskey Bar, 515 West 7th Street, Los Angeles, (213) 614—0736, www.sevengrandbars.com. Open 7 days a week. Happy hour nightly until 8 p.m.
Follow @sirenevirbila for more on food and wine.
---
Get our weekly Tasting Notes newsletter for reviews, news and more from critics Bill Addison and Patricia Escárcega.
You may occasionally receive promotional content from the Los Angeles Times.