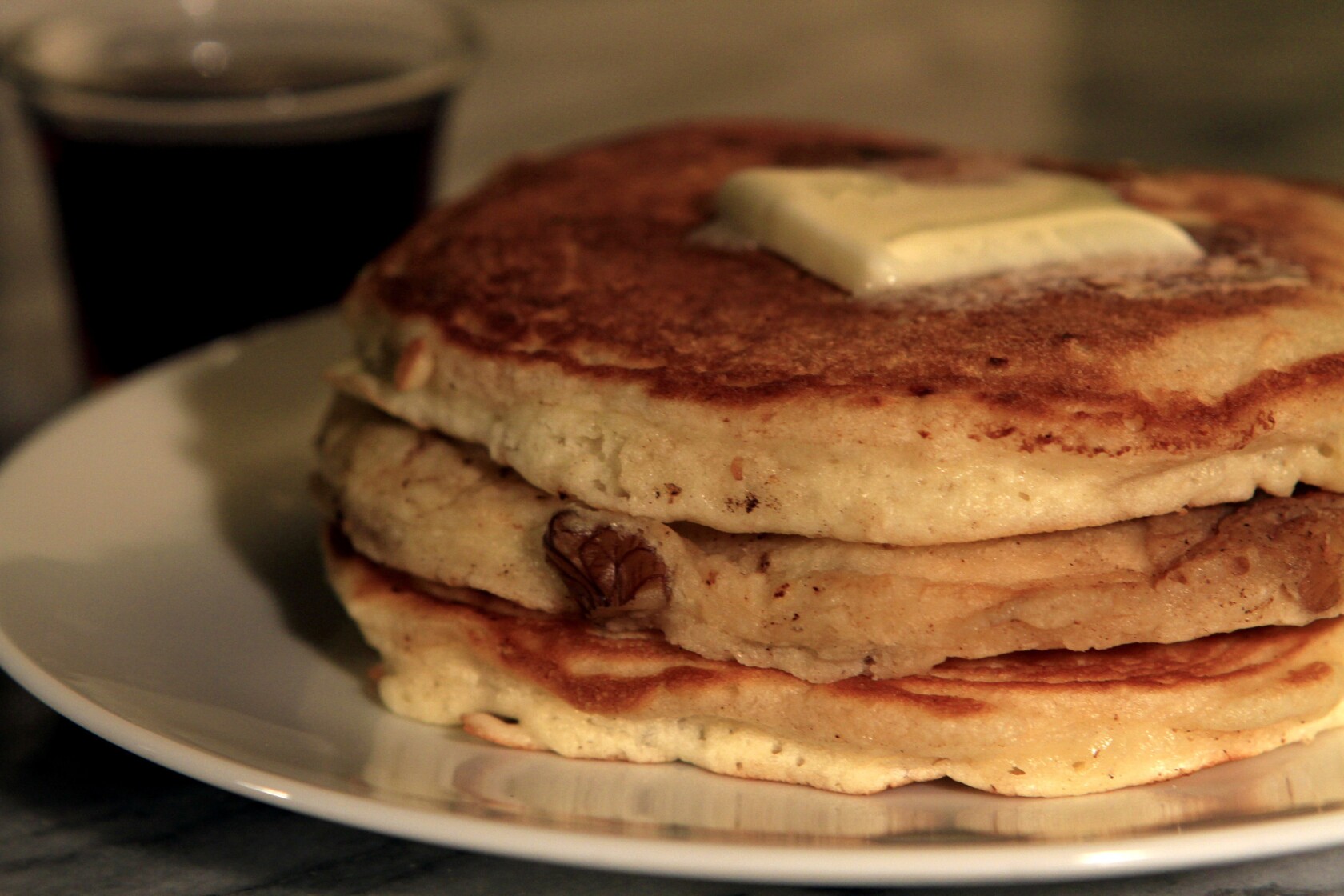 A recipe for walnut pancakes from Clinton Street in New York City.
(Glenn Koenig / Los Angeles Times)
Tuesday is National Pancake Day, a time to celebrate the classic, comforting breakfast food.
Traditionally, National Pancake Day is on Fat Tuesday, also known as Shrove Tuesday, the day before Lent begins. It only seems fitting to indulge in a stack of fluffy pancakes before you're expected to go through a six-week period of atonement and self-denial.
To celebrate, IHOP is offering customers a free short stack of buttermilk pancakes Tuesday. The pancake restaurant chain has been giving away free pancakes on National Pancake Day since 2006. They are asking guests to consider leaving a donation to the Children's Miracle Network Hospital or other designated local charities.
If you're in the mood to make pancakes at home Tuesday, the possibilities are endless. To get you started, here's a recipe for pancakes with walnuts and blueberries from Clinton Street in New York City or another recipe for blueberry ricotta pancakes from BLD in Los Angeles.
Try whipping up a batch of cornmeal pancakes, or try this recipe for Country' Gourmet's whole wheat pancakes. And if you're a pumpkin fan, here's a recipe for spiced pumpkin pancakes with a little ginger, allspice and cinnamon. Just don't forget to dust a little powdered sugar over the top.
And who says you can't have breakfast for dinner? Make a stack any time of the day, or night, and enjoy!
Want more recipes? Follow me on Twitter: @Jenn_Harris_
ALSO:
For Mardi Gras, maker of brioughnut unleashes beignetto
Mardi Gras: Celebrate with king cake and 16 additional recipes!
Easy dinner recipes: Simple chicken ideas in 40 minutes or less

---