3 Las Vegas restaurants to try now, and they're not all on the Strip
It can be argued that more than any other city in the U.S., it is easiest to find a great meal in Las Vegas. The city is home to restaurants by some of the best chefs in the world, including Joël Robuchon and Jean-Georges Vongerichten. If there's a successful chain somewhere, you're sure to find a location in Vegas. And if you're looking for a way to spend a lot of cash in one sitting, a fancy restaurant — or a blackjack table — is probably the way to do it.
Here are three newcomers to the Las Vegas dining scene to check out the next time you're in town for a bachelorette party, a pizza conference, a nightclub convention or whatever else brings you to Sin City.
And don't worry, we've included a restaurant in the Spring Valley area too. Because not all the action happens on the Strip.
Harvest by Roy Ellamar at Bellagio
This is the restaurant you expect to find at a luxury hotel in Vegas, complete with a gorgeous bar, hosts who wear matching cocktail dresses, a dining room so clean it sparkles, a large open kitchen with about 50 people inside and a cocktail menu presented digitally on a tablet. This is Harvest, the restaurant that replaced Sensi at the Bellagio hotel, with food by Roy Ellamar.
The Hawaii native was previously the chef at Sensi, and before that, chef de partie at L'Atelier de Joël Robuchon at the MGM. And he's attempting farm-to-table in the desert.
The vegetable and seafood-heavy menu will change seasonally, as will a traveling snack wagon, where each diner is presented with a cart full of that evening's special small bites. One night there may be tuna poke and galbi-marinated kobe beef skewers, another night, smoked salmon belly dip.
And the cocktails, by Ricardo Murcia, who oversees cocktails for the hotel, also include fresh produce. A vodka infusion meant for two is created with whatever is in season, including oranges and lemon grass, served in a porthole infusion jar.
3600 S. Las Vegas Blvd., Las Vegas, (866) 259-7111, www.bellagio.com.
Other Mama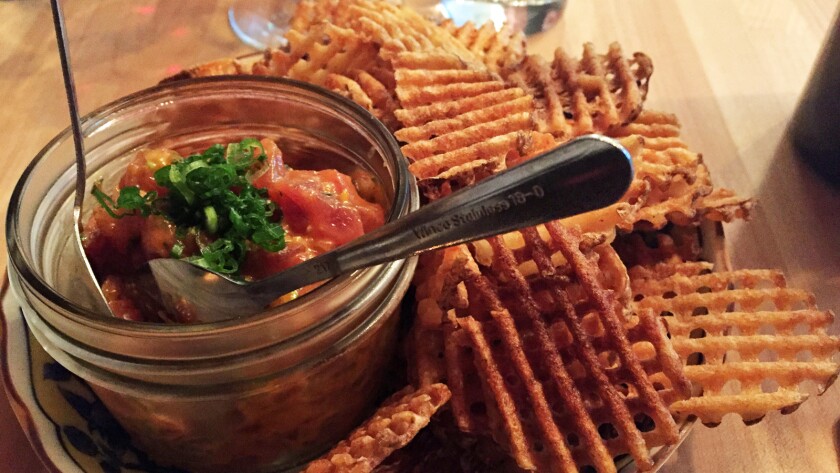 This is the kind of oyster bar and craft cocktail restaurant you'd find on Abbot Kinney in Venice, only this place is in Las Vegas, in a strip mall, along with a dog groomer, beauty salon and a tattoo parlor that specializes in body piercings. Your Uber driver may start frantically tapping away at his GPS, thinking he's got the wrong address, but just assure him that he's in the right place.
You may be 18 minutes off the Strip, but this is where you'll find a daily selection of fresh oysters, ceviche, sashimi and crab-and-jalapeno hush puppies (order these). It's also where you'll find Asian-skewed bar food, with togarashi waffle fries, asparagus tempura, pork belly kimchi fried rice and spicy yuzu chicken wings.
And although the bar is small, it's thoughtful in its tiny selection of spirits. There's Japanese whiskey and a cocktail menu that features house-infused liquors. One cocktail may feature an apricot bourbon, while another is made with an orange-and-cinnamon-infused Buffalo Trace.
3655 S. Durango Drive, Unit 6, Las Vegas, (702) 463-8382, www.othermamalv.com.
Carbone at Aria
The Las Vegas outlet of this old-school New York City restaurant has the swagger and charm of the original, but with a Las Vegas dress code. That is to say, it has no dress code. Families of four wearing cargo shorts and polo shirts are seated next to men in suits, women in sparkly cocktail dresses and a group of college kids in club wear, celebrating a 21st birthday.
And they're all eating monster portions of spicy rigatoni with vodka sauce, and pork chops with peppers and Caesar salad. The salad, like the bananas flambe, is made tableside. A waiter will present a large cart full of everything needed to make a spectacular Caesar salad. The lettuce is crisp, the dressing creamy and tart, and the croutons — large rectangular strips of crisp, garlicky, buttery brioche — are a revelation. And the entire salad gets topped with as much grated cheese as you'd like. Just tell your server when to stop.
3730 S. Las Vegas Blvd., Las Vegas, (877) 230-2742, www.aria.com.
I'm an eater, not a gambler. Follow me on Twitter and Instagram @Jenn_Harris_
ALSO:
Start your day with this Dutch apple walnut bread recipe
Golden Road Brewing brings pints and pirogi to Grand Central Market
Exclusive: Acclaimed French chef Jean-Georges Vongerichten to open a restaurant in Beverly Hills
---
Get our weekly Tasting Notes newsletter for reviews, news and more.
You may occasionally receive promotional content from the Los Angeles Times.