What wine to drink on a food truck crawl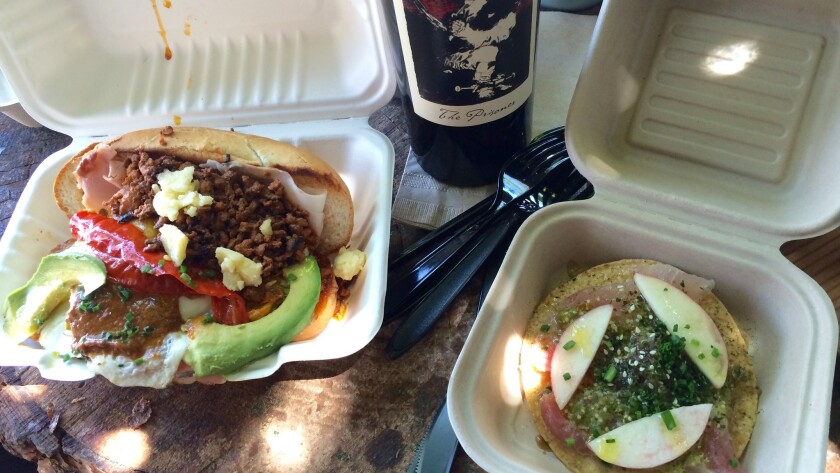 Jen Beloz, winemaker at Prisoner Wine Company knows food trucks. The Napa Valley winery doesn't have a tasting room, so when she's presenting wines to the wine trade, she usually has a taco truck come and park in the vineyard. They taste the wines right there at a picnic table.
When she was in Los Angeles recently, she wanted to do a taco food truck crawl here and explore her wines with tacos that went beyond the basics. She and colleague Jason Edwards thought it would be fun to rent a vintage 1984 VW Westphalia van from Vintage Surfari Wagons in Orange County. (He was the designated driver for the day.)
The eye-catching lime green VW van came with a pop-up roof and was outfitted with a table — the better to taste wines with the food. They'd also brought along a cooler for the wines, acrylic wine glasses, silverware and plenty of napkins.
First stop: Mariscos Jalisco truck on Olympic Boulevard in East L.A.
Beloz orders a heap of the signature dorados de camaron (fried shrimp tacos), a blazing hot tostada de aguachile, and another tostada topped with fish ceviche. Beloz makes just one white wine, a Chardonnay blend called Blindfold, that includes Viognier, Roussanne, Marsanne and Grenache Blanc and two other grapes. With seafood, this has got to be the one. But which dish?
The 2013 is floral, fruity, subtle, yet holds its own against the rich funk of the shrimp taco topped with creamy avocado. No wonder Mariscos Jalisco is a must-stop for taco lovers. No wine could stand up to the fiery, but delicious aguachile tostada. This one needs beer and plenty of it. Blindfold isn't a good match with the ceviche either — its delicacy requires a wine that's equally delicate.
Best match: Blindfold with fried shrimp tacos
Second stop: Guerilla Tacos truck in front of Blacktop Coffee on E. Third Street
The bright blue truck is parked in front of Blacktop Coffee on East Third Street in the downtown Arts District. Beloz reads the chalkboard menu, which changes almost every day, and makes her order. She's got two wines that make sense with Wes Avila's bold flavors: The Prisoner, a heady blend of Zinfandel with Cabernet Sauvignon, Syrah, Petite Sirah and Charbono; and Saldo, a Zinfandel sourced from vineyards all over the state, many of them dry-farmed.
A massive torta extravagently filled with minced pork shoulder, ham, fried egg, avocado, three kinds of cheeses plus cannellini beans, greens and chile morita is wonderful with the 2013 Saldo's spice and blueberry notes. The wine also goes surprisingly well with an albacore tostada with raw tomatillo, chile and slices of white nectarine. A chorizo taco with purple potato and arbol chile is better suited to show off the Prisoner's complexity and layered flavors. The 2013 Zinfandel blend cuts right through the taco's richness.
Best match: Saldo with pork shoulder torta and the Prisoner with chorizo and potato taco
Third stop: Kogi truck parked on Grand Avenue.
For Roy Choi's famed short rib tacos, Beloz breaks out a bottle of her 2013 Cabernet, Cuttings. The austere, brooding Cabernet against the rich beefy short ribs is genius. But Kogi's blackjack quesadilla filled with caramelized onions, spicy pork with lots of melted cheddar and jack in a juicy jalapeno salsa verde needs a more lighthearted, spicier wine. And that, it turns out, is the Zinfandel Saldo.
Best match: Cuttings with short rib tacos
The lesson: Serious wines like these don't always need serious food. And some of our best taco trucks are turning out tacos that can hold their own against these carefully made examples of Napa Valley winemaking. You don't necessarily have to wait for a special occasion to try that bottle of Blindfold or the Prisoner. Just follow your favorite taco truck.
Address book:
Mariscos Jalisco, 3040 E. Olympic Blvd., Los Angeles, (323) 528-6701, https://www.facebook.com/mariscosjalisco, @MariscosJalisco; Guerilla Tacos, 826 E. 3rd Street (at Blacktop Coffee), Thursday and Friday from 10 a.m. to 2 p.m., www.guerrillatacos.com, and Kogi BBQ Taco truck at 300 S. Grand Avenue, DTLA, Fridays 11:30 a.m. to 2:30 p.m., https://kogibbq.com. Check website for schedule.
The Prisoner Wine Co.'s wines are available at fine wine retailers and directly from the winery online. Prices: 2013 Blindfold ($30), 2013 Saldo ($30), 2013 the Prisoner ($40) and 2013 Cuttings ($50).
Follow @sirenevirbila for more on food and wine.
SEE ALSO:
This cookie ice cream sandwich food truck is everything
Just say yes to Say Fish Taco truck, and cauliflower rice
This food truck serves nothing but BLTs with extra crispy bacon
---
Get our weekly Tasting Notes newsletter for reviews, news and more.
You may occasionally receive promotional content from the Los Angeles Times.