Why you should toast your grains, plus a recipe for toasted quinoa salad with grilled corn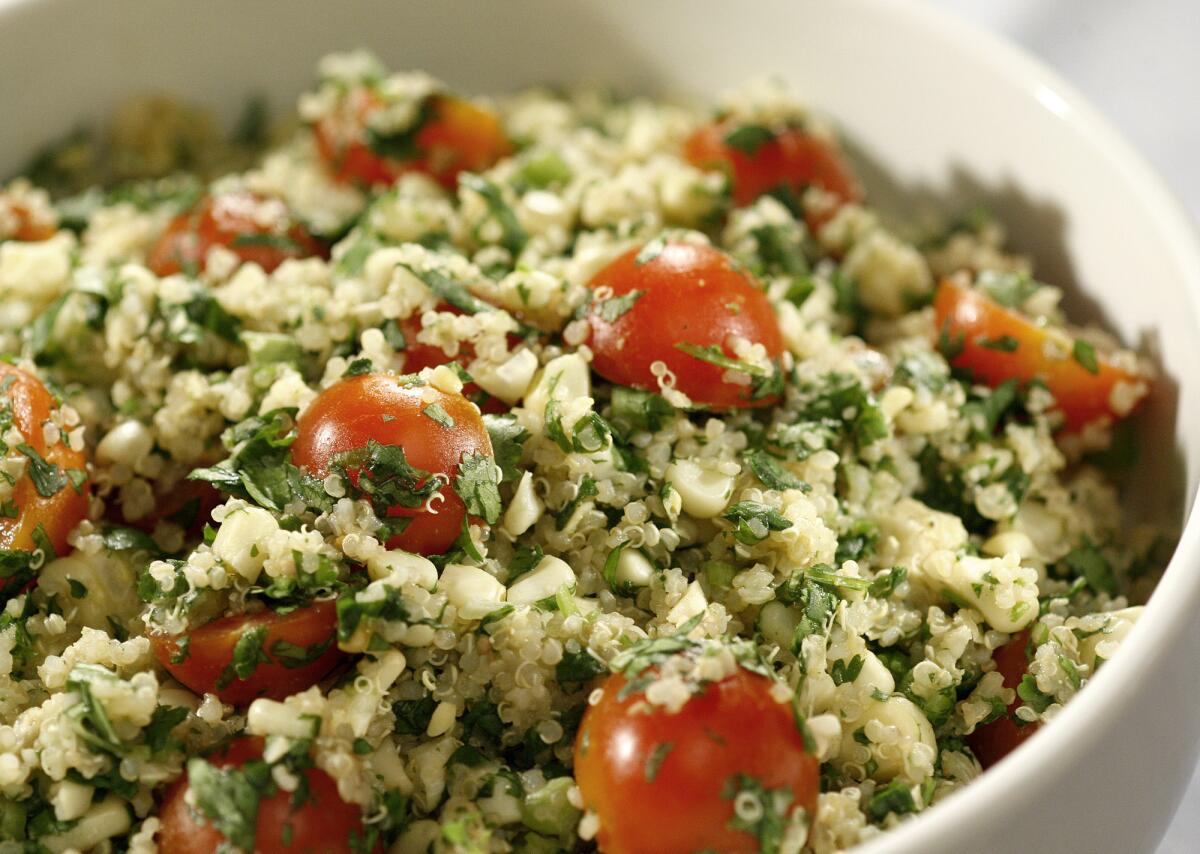 A colorful side that works with almost any summer-inspired meal, this quinoa salad, from former Food columnist Russ Parsons, packs a lot of fresh flavors in just a little time. Toss cooked quinoa with grilled corn kernels (a great way to use up leftover corn), minced serrano chile, tomatoes and green onion. Then add a quick dressing flavored with lime juice, garlic and cumin. Finish with freshly chopped cilantro, and the salad is ready to go.
KITCHEN PRO TIP: Check out the video tip below for toasting grains before cooking. Toasting brings out the oils and rich nuttiness of grains, lending depth of flavor to a variety of dishes.
QUINOA SALAD WITH GRILLED CORN, TOMATOES AND CILANTRO
Total time: 1 hour | Serves 6 to 8
1 cup quinoa
1 3/4 cups water
Salt
2 cups grilled corn (from about 2 ears, cut from the cobs)
2 cups chopped tomatoes, or cherry tomatoes cut in half
1 serrano chile, seeded and minced
3/4 cup chopped green onion
3 tablespoons lime juice
2 tablespoons oil
1 clove garlic, minced
1 3/4 teaspoons ground cumin
1 1/2 cups chopped cilantro
1. Place the quinoa in a strainer and rinse under running water until the water runs clear, 1 to 2 minutes. Turn the quinoa into a medium saucepan and cook over medium heat, stirring constantly. The quinoa will dry, then begin to stick a bit. Keep stirring and it will eventually begin to toast, smell nutty and turn a light golden color (about 5 minutes total). Add the water and one-fourth teaspoon salt, bring to a slow simmer, cover and cook until the quinoa is dry, about 30 minutes. Remove from the heat and set aside for 10 minutes before fluffing with a fork. (Dish can be prepared to this point up to a day in advance and refrigerated tightly covered; bring to cool room temperature before serving.)
2. When ready to serve, transfer the quinoa to a mixing bowl and gently stir in the corn, tomatoes, chile, green onions and 1 teaspoon salt. Combine the lime juice, oil, garlic and cumin in a blender and puree to a smooth dressing.
3. Pour about half of the dressing over the quinoa mixture and stir gently to combine. Add more dressing to taste. Gently fold in the cilantro. Correct the seasoning with more salt or lime juice, if needed, and serve immediately. This makes about 6 cups salad.
Each of 8 servings: 138 calories; 5 grams protein; 23 grams carbohydrates; 3 grams fiber; 4 grams fat; 0 saturated fat; 0 cholesterol; 5 grams sugar; 375 mg sodium.
Love cooking as much as I do? Follow me @noellecarter
ALSO
Farmers market report: Tomatillos are in season. We have recipes
Try this slow-braised rib recipe, and learn how to trim ribs like a pro
Learn our secrets to the best whipped cream, and try this black bottom pie recipe
Get our L.A. Goes Out newsletter, with the week's best events, to help you explore and experience our city.
You may occasionally receive promotional content from the Los Angeles Times.