Ricebar, a Filipino rice bowl counter, to open in downtown L.A.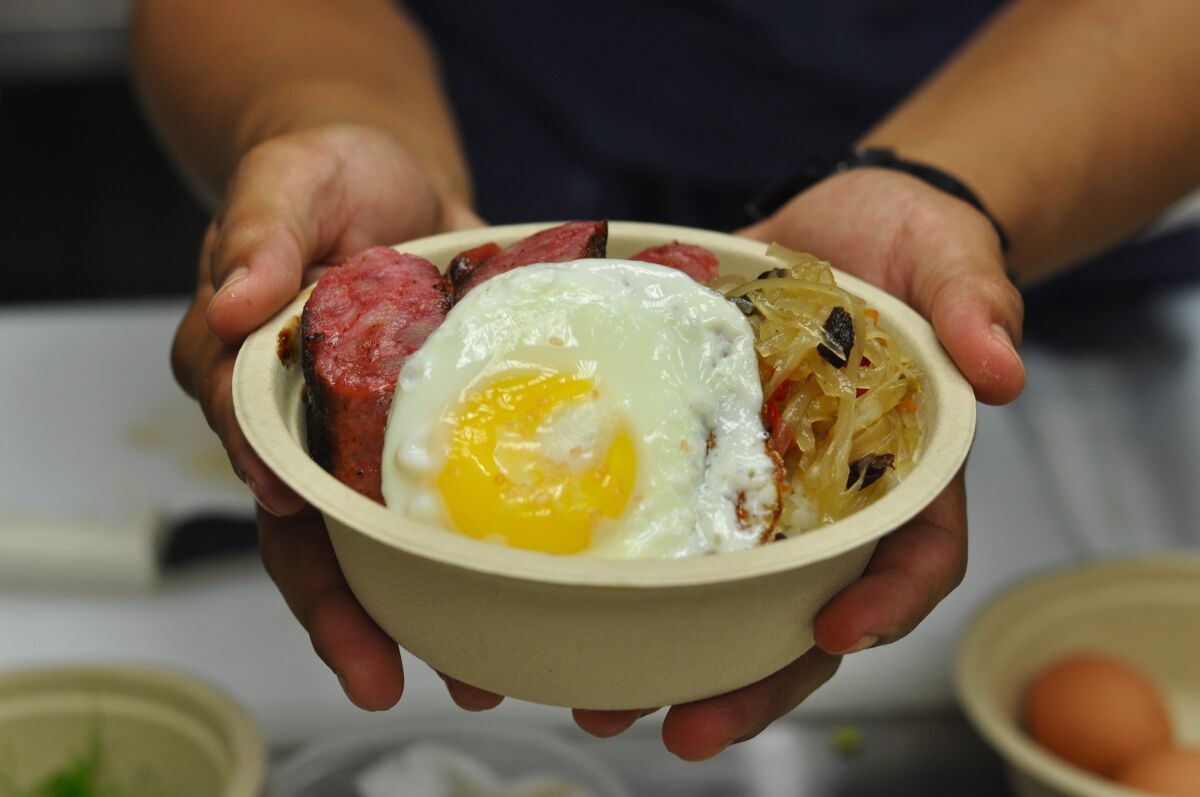 If you love Filipino food, or are yourself a native of that island nation, you'll know that there are few Filipino restaurants in Los Angeles. Although there are some Filipino family restaurants — and of course, Jollibee — most of this town's Filipino chefs cook other kinds of cuisine: Gary Menes at Le Comptoir, for example, or Andre Guerrero at Maximiliano's and Oinkster. Chef Charles Olalia and business partner Santos Uy mean to change that.
Olalia, who is from the Philippines, has spent most of his 12-year career in American kitchens cooking French food, including four years at Patina, where he was Joachim Splichal's executive chef until he left last July. Uy, who grew up in La Canada and went to USC, owns the restaurants Papilles and Mignon. The two men met when Uy staged at Patina and became friends, eventually talking about opening up a place together.
Many conversations and meals later, next week the two will open up Ricebar, a tiny restaurant in downtown L.A. where Olalia will make Filipino-style rice bowls from behind a counter in a space that, Uy figures, is all of about 275 square feet.
It's in a spot that was formerly a falafel and shwarma stand called Cafe Theater -- in the adjoining jewelry mart there is an utterly gorgeous ceiling that dates back to when the place was a theater. The space is just big enough for a counter, a big refrigerator and a kitchen that consists of two rice cookers, a griddle, a hot plate, a sink and a space for Olalia to assemble his bowls.
"The whole concept was to run a restaurant with no pots and pans. Well, maybe just one," says Olalia, who points out that they keep their costs down because they don't need a dishwasher.
Despite the lack of space, Olalia and Uy are ambitious. Their rice bowls will contain not just any kind of rice, but heirloom rice they source from fair trade farms in the Phillipines. They'll start with eight kinds, including four kinds of sticky rice in different colors.
Olalia says that on a recent trip home, he went with his mother to a farmers market and bought 15 kilos of rice, one kilo each of different kinds. "It's like a coffee bar or a wine bar," he says, in this case pairing the food with the different varieties of rice.
Olalia says that when he was at Patina, instead of asking young cooks to make omelets, as the French do to show culinary skill, he'd have them make rice.
To pair with the rice at Ricebar, Olalia and Uy are making bowls that focus on farmers market produce (they source from Coleman, Weiser, McGrath, Tennerelli and other local farms) and housemade ingredients. Olalia makes his longanisa from his uncle's recipe, and the chef's side of the counter is lined with Mason jars of pickled papaya, fresh kalamansi juice and vinegars.
Uy says that they'll start out with a lunch menu, opening the restaurant Monday through Friday from 11 a.m. to 5 p.m., but that they want to do breakfast soon. "The same menu, just add egg," he deadpans. They'll also do takeout and pickup.
The other thing that both men stress is their new restaurant's intimate setting, with the chef cooking and then handing the food to diners. Hospitality is something that Olalia says is the bedrock of Filipino cuisine and something he missed cooking at large, formal restaurants. "This is comfort food," he says, the kind of food you cook for your friends and family. "Working at those restaurants, nobody could visit me."
Now all they have to do is pull up a chair at the counter.
Ricebar: 419 W. 7th St., Los Angeles, Instagram = @ricebarla, Facebook = ricebarla.
Because taking pictures of food is almost as much fun as eating it, on Instagram @ascattergood.
Get our L.A. Goes Out newsletter, with the week's best events, to help you explore and experience our city.
You may occasionally receive promotional content from the Los Angeles Times.