Mozza alums to open two Spanish-themed restaurants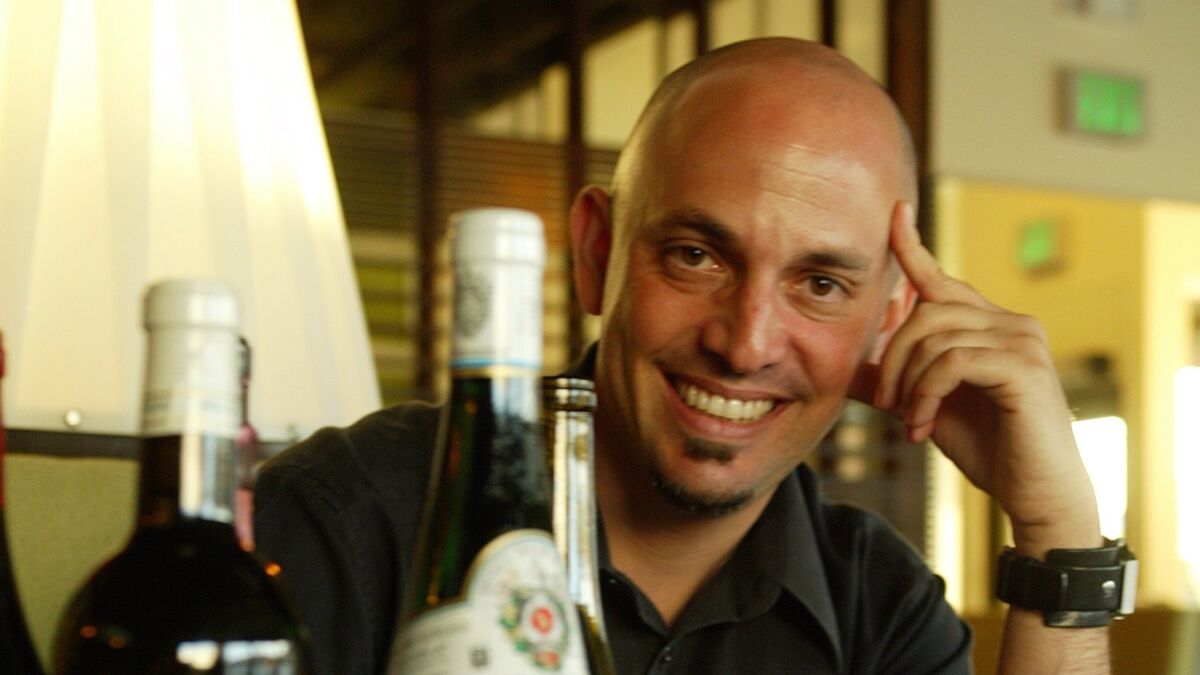 David Rosoff and Chris Feldmeier, who worked together for many years at Osteria Mozza and Campanile, are reuniting to open not one, but two Spanish-themed restaurants — one in the Short Order space at the Original Farmers Market and the other at Grand Central Market.
Rosoff was the general manager at the Mozza restaurants for eight years before leaving in February 2014. Feldmeier was chef de cuisine at the osteria. They also worked together at Campanile. They will be joined in both locations by prolific restaurateur Bill Chait.
The restaurants will be built around and named after the Spanish snacks called morunos. Those are little skewers of pork or lamb, briefly marinated and cooked over a live wood fire, like kebabs.
Rosoff says he and Feldmeier found them in Andalusia and Barcelona when they were traveling together researching potential restaurant concepts.
"They were about the simplest thing we had in all of our travels, and one of the things that really moved us the most for whatever crazy reason," he says. "We loved the simplicity and figured we could do that anywhere.
"That was the fulcrum. That give us the name, the shtick and the signature item. We'll do lamb, pork, chicken, vegetable morunos. cooked on skewers. And then if you take them off the skewer and put them on a sandwich, you can call it a sub-moruno."
At Grand Central Market, they'll be served at what the team is calling Bar Moruno, which will go in on the upper level where the information desk is now, near the Oyster Gourmet and G&B Coffee.
"We're just enormous fans of what Adele Yellin and her team have done down there," Rosoff says. "A couple of years ago Nancy Silverton visited the market and in one of her adorable manic frenzies decided we had to do something with them. We were really impressed, but at that time it just didn't work out.
"I kept up the conversation even after leaving Mozza and the energy and the diversity of the crowd they've attracted is fantastic. But we thought the one component that was missing was a wine bar concept, so that's what we're doing."
At the Farmers Market, Rosoff and Feldmeier are dividing the Short Order space into upper and lower sections.
Downstairs, at Moruno, you'll put in your order, take a number and be served — either on the skewer or in a sandwich.
Upstairs, at what the team is calling Bar Vermut, there will be a wine bar based around vermouth, including a house-made one Rosoff is working on with Steve Clifton from Palmina winery in Santa Barbara.
"Chris and I had a great time in vermouth bars in Madrid and Barcelona and really loved the very social culture of sharing wine and small plates of food in a way we hadn't experienced in the states," Rosoff says.
The food upstairs will be mainly conservas — the pickled, marinated, sliced or preserved fish and vegetables the Spanish are so fond of.
"I'm hoping people in Los Angeles will come to embrace the idea of stopping in for a vermouth on the rocks with a twist and a plate of anchovies," he says.
Rosoff says projected opening dates are early July at the Farmers Market and sometime this fall for the Grand Central market.
Get our L.A. Goes Out newsletter, with the week's best events, to help you explore and experience our city.
You may occasionally receive promotional content from the Los Angeles Times.