HomeState: In Los Feliz, a trip to Texas through brisket tacos and migas
Lonestar's plate of migas brings Texas to Los Feliz.
(Steph Cha / For The Times)
The humble chicken sandwich takes a lovely Tex-Mex turn.
(Steph Cha / For The Times)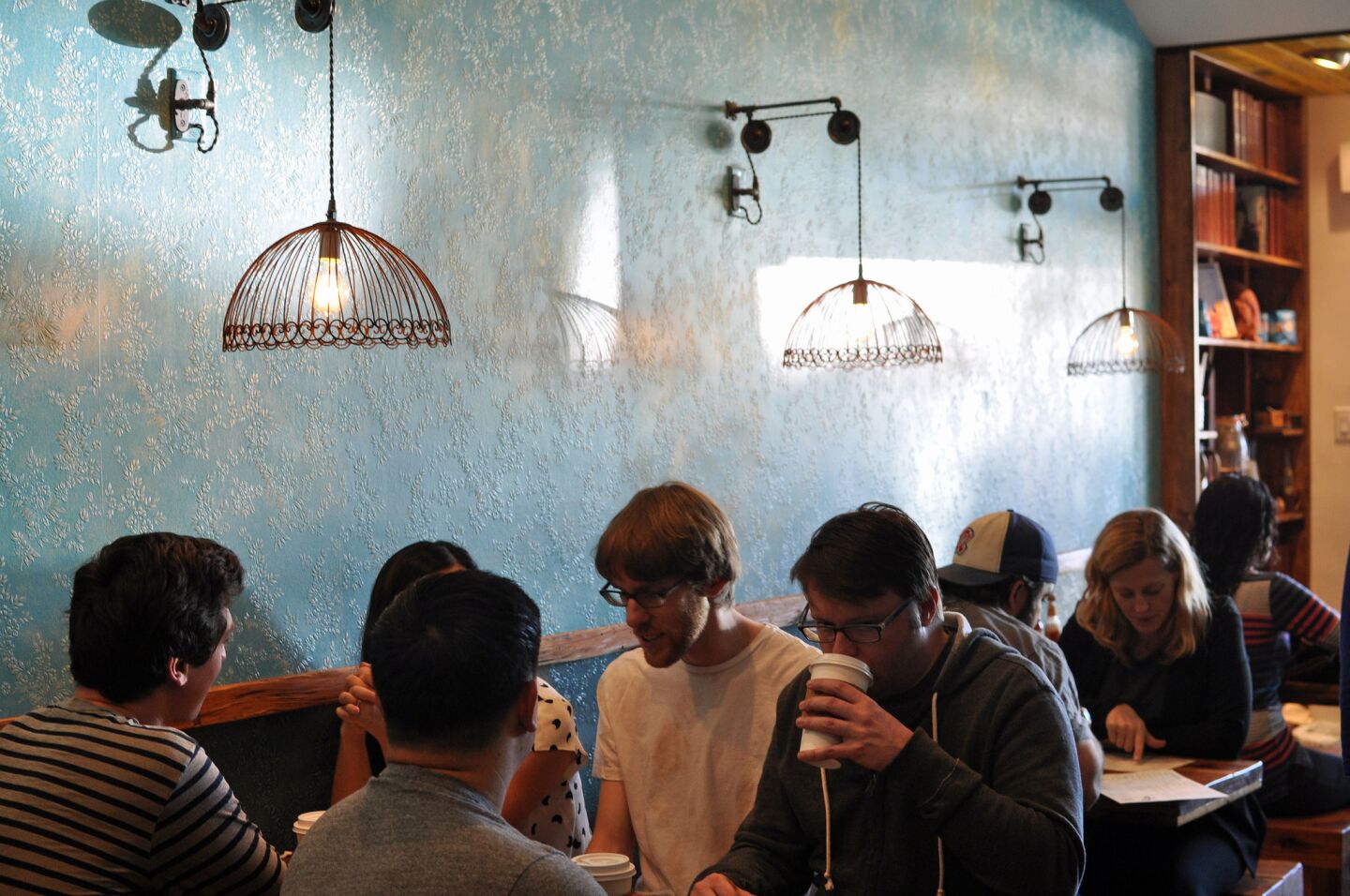 Bright walls, cool fixtures and communal seating inside HomeState.
(Steph Cha / For The Times)
HomeState opened in the former Storefront Deli in Los Feliz.
(Steph Cha / For The Times)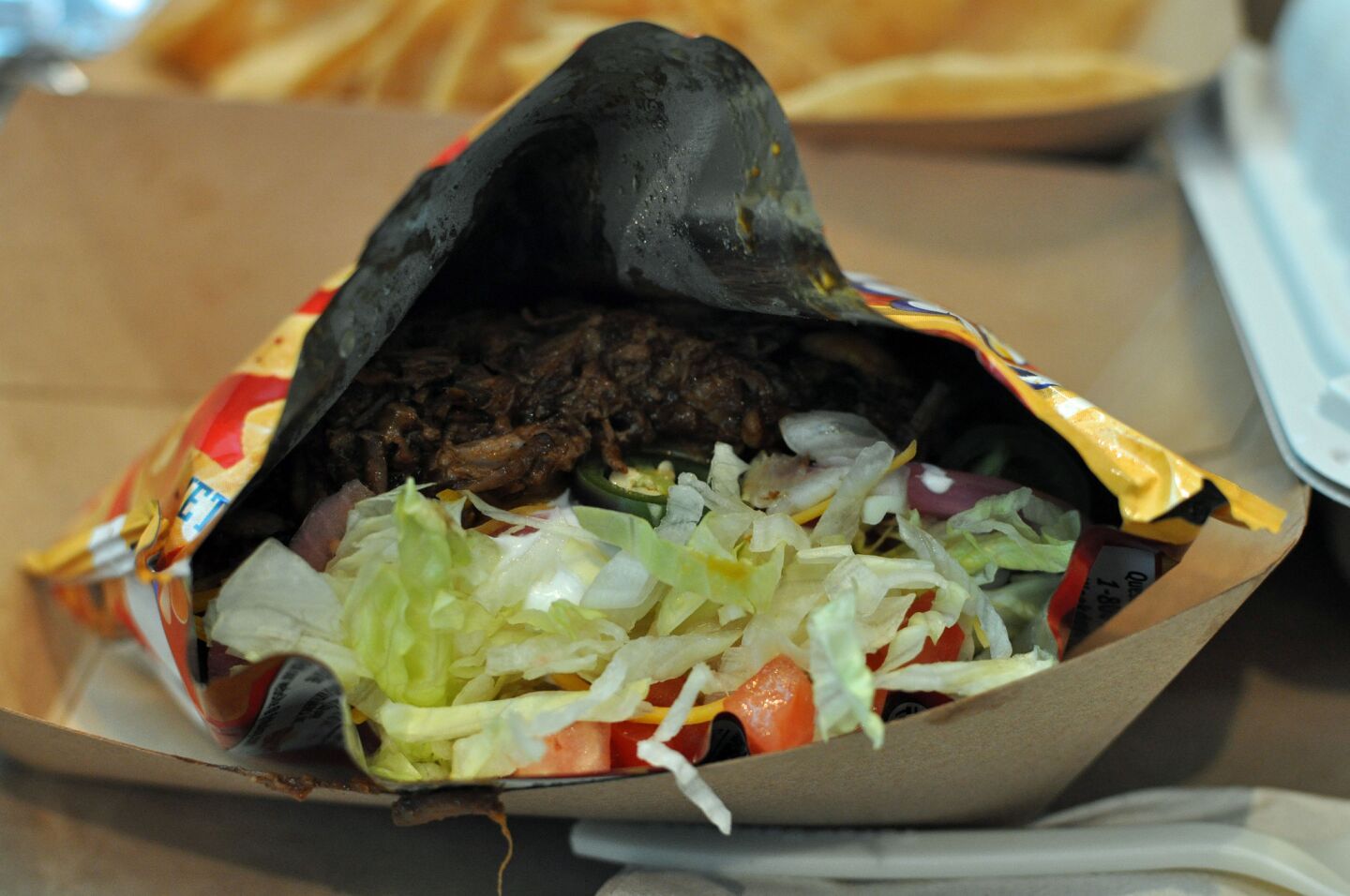 Come on, live a little, with Frito Pie in a Bag.
(Steph Cha / For The Times)
Tacos are a necessity. Pictured are the Trinity and the Picadillo.
(Steph Cha / For The Times)
<i>This post has been corrected. See the note below for details.</i>
Name of restaurant: HomeState
Concept: A Tex-Mex menu with specialties such as migas and brisket tacos. You'll get your brisket, but not in a saucy slab. It's in the former spot of the short-lived Storefront Deli.
What dish represents the restaurant, and why? The migas, a Tex-Mex staple of crispy corn strips scrambled with eggs and cheddar, a sort of brash U.S. cousin of traditional Mexican chilaquiles. The plain classic comes with red or green salsa, but I'd suggest the Lonestar. This variation adds shredded brisket and pico de gallo, and the resulting plate of migas is a meaty, flavorful mess.
Runner-ups: Try the Frito Pie in a Bag, a sort of nacho dip with Fritos, chili con carne, cheddar cheese, lettuce, sour cream, and pickled jalapenos, served in an open Fritos bag. The Trinity breakfast taco is another Tex-Mex must, a fluffy tortilla stuffed with eggs, bacon, potato, and cheddar (Raising the question, which of the four ingredients is less than holy?). The chicken sandwich is also delicious, made with achiote chicken, cabbage slaw, guacamole and pickled jalapenos.
Who's at the next table? The place is crowded with Los Feliz's finest, and the next table is pretty representative: Three people, one man and two women, between the ages of 25 and 35, dressed in some combination of American Apparel and loose cardigans, with a baseball cap for the man.
Appropriate for: A quick lunch for a small group of diners. Takeout is also a viable option.
Uh-oh: It's crowded.
Service: Very good. You order at the counter and the food is brought to your table. Everything runs smoothly.
What are you drinking? A cool, bittersweet mint-and-grapefruit agua fresca. The coffee is also worth noting -- HomeState brews Cuvée coffee, billed as Austin's finest.
Info: HomeState, 4624 Hollywood Blvd., (323) 906-1122, https://www.myhomestate.com/
[For the Record, 11:28 a.m. PST Jan. 13: An earlier version of this post stated that HomeState is a Texas barbecue restaurant with an emphasis on Tex-Mex. It has a Tex-Mex menu.]
ALSO:
EMC Seafood & Raw Bar, it's Son of a Gun for K-Town
For an oyster-and-craft-beer hot date, Portsmouth in Whittier
CVCHE by Walther Adrianzen: You can taste the chef's love of Peru
The Scouting Report is a quick look at restaurants worth a visit. Scouts were selected by restaurant critic Jonathan Gold, who may or may not agree with a single word.
---
Get our L.A. Goes Out newsletter, with the week's best events, to help you explore and experience our city.
You may occasionally receive promotional content from the Los Angeles Times.