Paper Pot Shabu: In that paper bowl is your dinner
Miso broth and house spicy broth.
(Clarissa Wei / For The Times)
Sukiyaki broth is a lighter, slightly sweeter broth.
(Clarissa Wei / For The Times)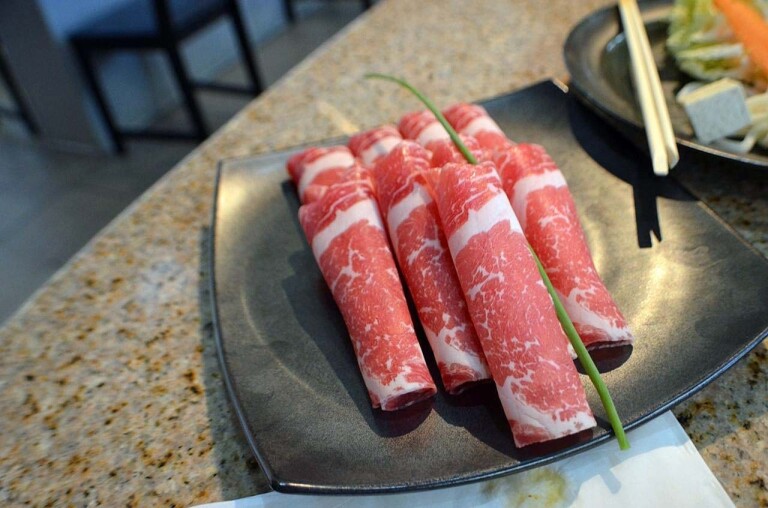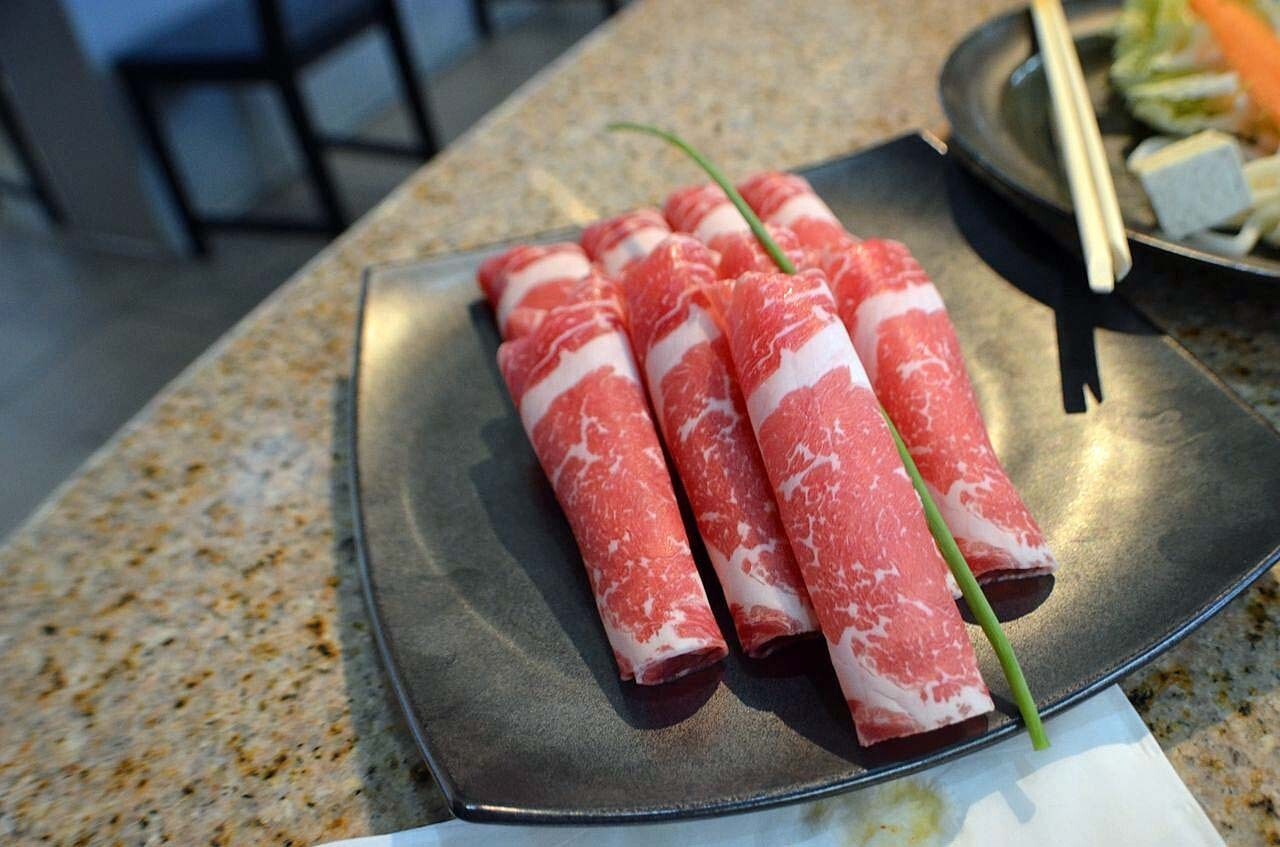 Well-marbled, thinly sliced beef before it meets the boiling broth.
(Clarissa Wei / For The Times)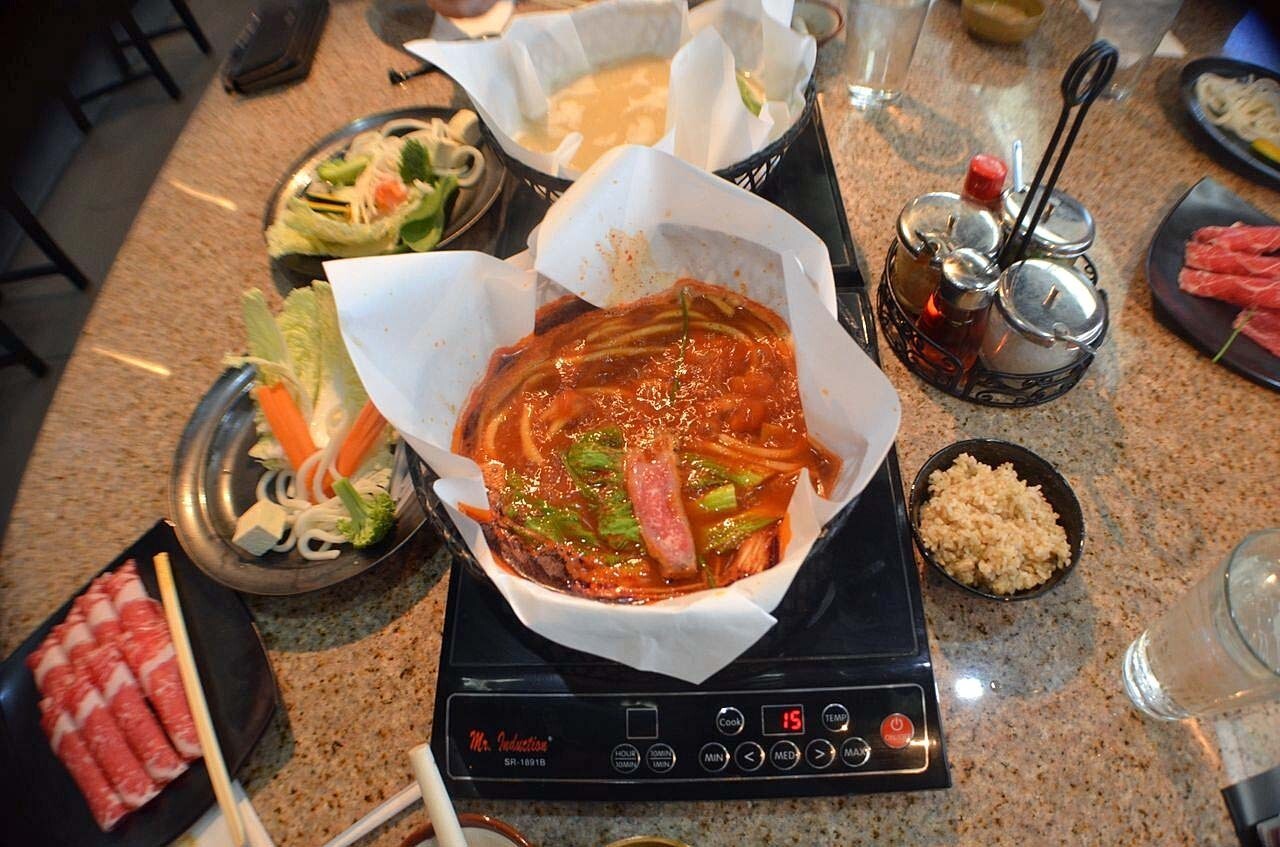 Each order comes with vegetables, meat and rice.
(Clarissa Wei / For The Times)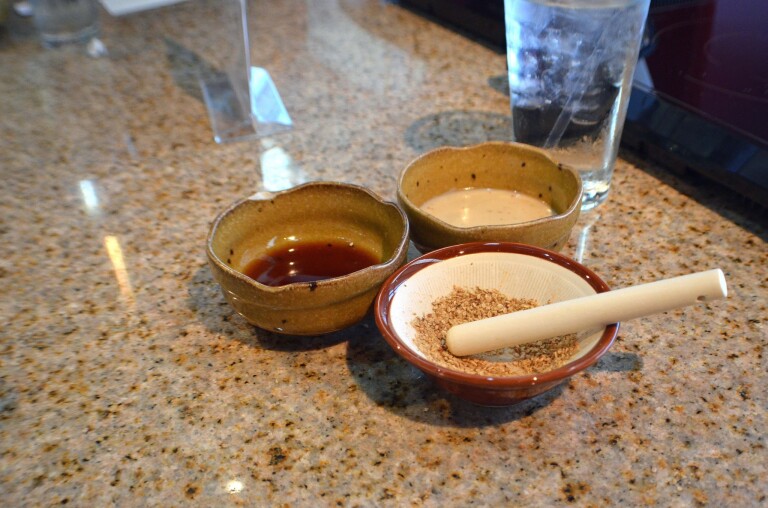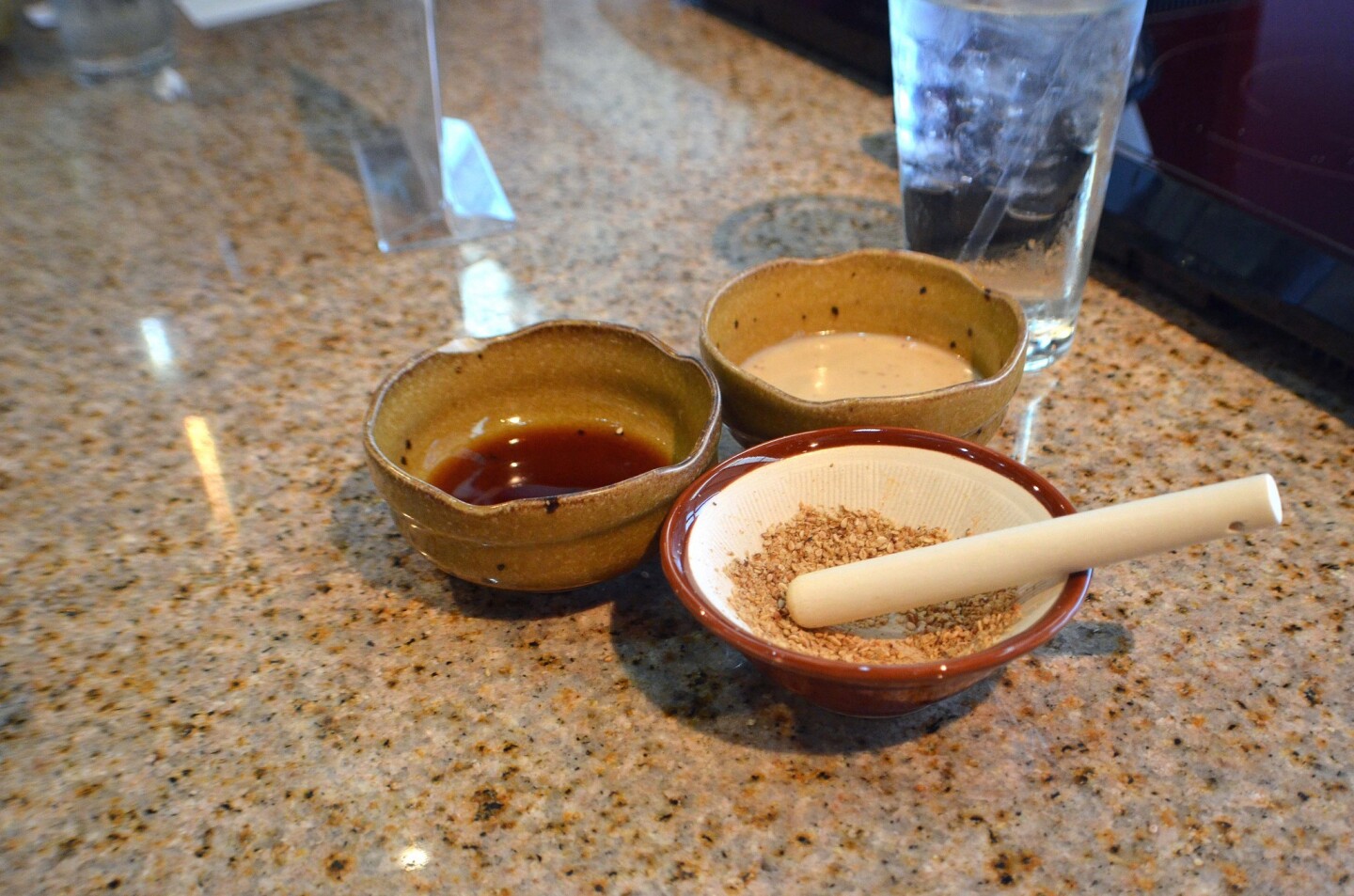 Goma and ponzu sauce for dipping vegetables and meat.
(Clarissa Wei / For The Times)
Name of restaurant: Paper Pot Shabu.
Owner: Jerry Kim, a first time restaurateur. Paper Pot Shabu was inspired by Kim's travels to Japan and Korea.
Concept: While this Diamond Bar restaurant is based on the kami-nabe (paper pot) joints invented in Japan, the particular materials are imported from Korea. Assorted vegetables and meats are cooked in flavored broth. The pots are made out of a type of paper called "washi" that have been chemically coated to become durable against water and heat. The results are almost magical. Piping hot liquid is poured over paper, ingredients are piled up on top and the material stays intact throughout the entire meal. Feel free to poke and prod. The pot won't break.
What dish represents the restaurant, and why? The house spicy broth with prime rib-eye is a popular choice. All pots are for individual use and come with a broth and ingredients of choice. Assortments of vegetables and noodles are complimentary with each order. Rice is also available in both brown or white varieties and yes, completely vegetarian options can be ordered. The house spicy broth has a deep red hue but can be diluted if it's too intimidating. While the exact ingredients are secret, according to Kim, the basics are red pepper and garlic.
Who's at the next table? Young Chinese Americans and Taiwanese Americans who make their way from surrounding San Gabriel Valley towns. Pomona College students are regulars.
Appropriate for: Hot-pot aficionados who want to try something a little bit different. Perfect for entertaining easily amused guests and those who are craving something warm on a chilly day.
Uh-oh: At $16 for six ounces of meat, the prices here are a bit steep compared with nearby restaurants. But the quality is worth it, and lunch specials are available for those who want to save a few bucks. Also, the restaurant accommodates only 48 people.
Service: Extremely attentive. Expect your server to check on you multiple times during your meal.
What are you drinking? Cold sake. Paper Pot offers eight kinds.
Info: 20657 Golden Springs Drive, Suite 206, Diamond Bar.
ALSO:
Bebe Fusion: Taiwanese street food
Finding authentic Chinese food in Los Feliz
At Wonderful Restaurant, sashimi boats and more
The Scouting Report is a quick look at restaurants worth a visit. Scouts were selected by restaurant critic Jonathan Gold, who may or may not agree with a single word.
---
Get our weekly Tasting Notes newsletter for reviews, news and more.
You may occasionally receive promotional content from the Los Angeles Times.