Picnik is the spot in Old Town Pasadena for artisanal sausage and craft beer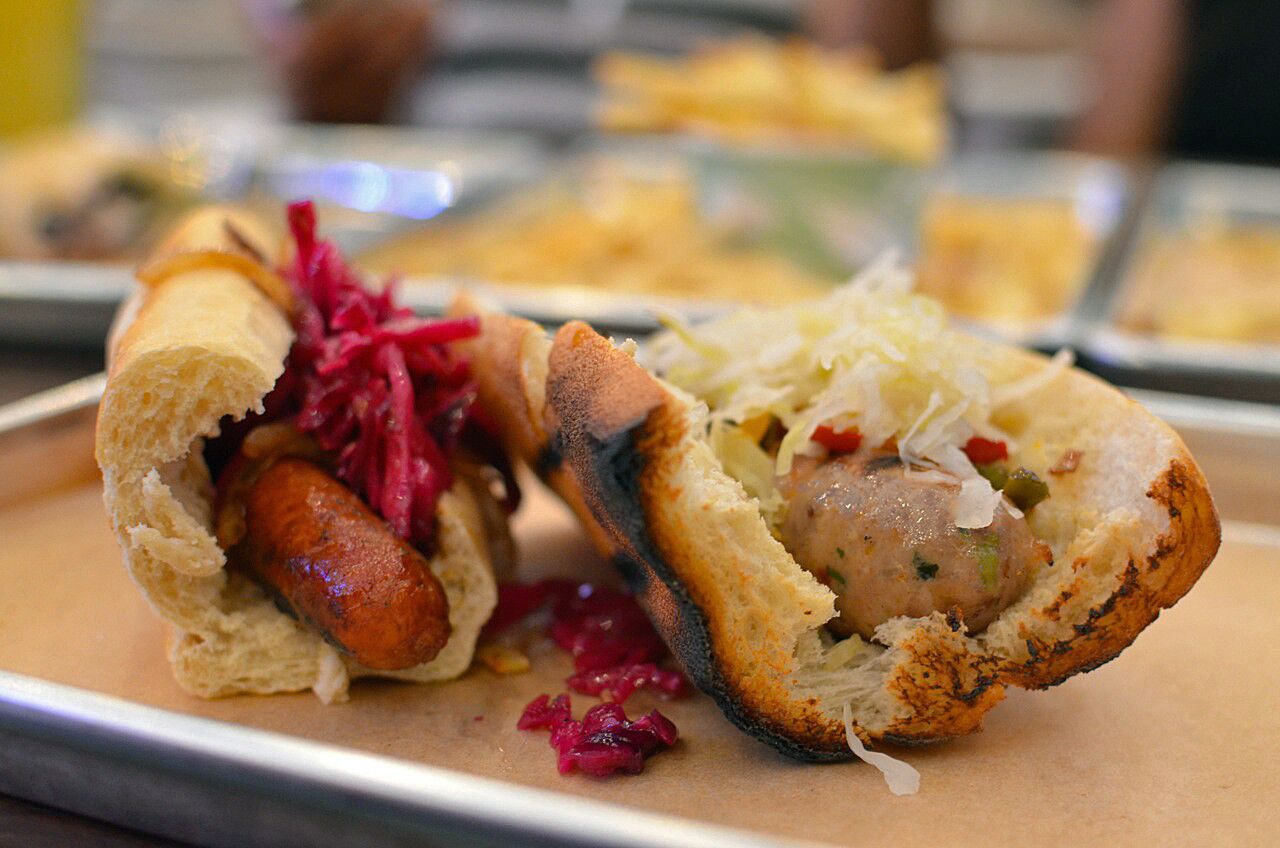 Merguez sausage made with lamb, right, and Malaysian sausage made with shrimp paste and topped with pickled cabbage.
(Javier Cabral / For The Times)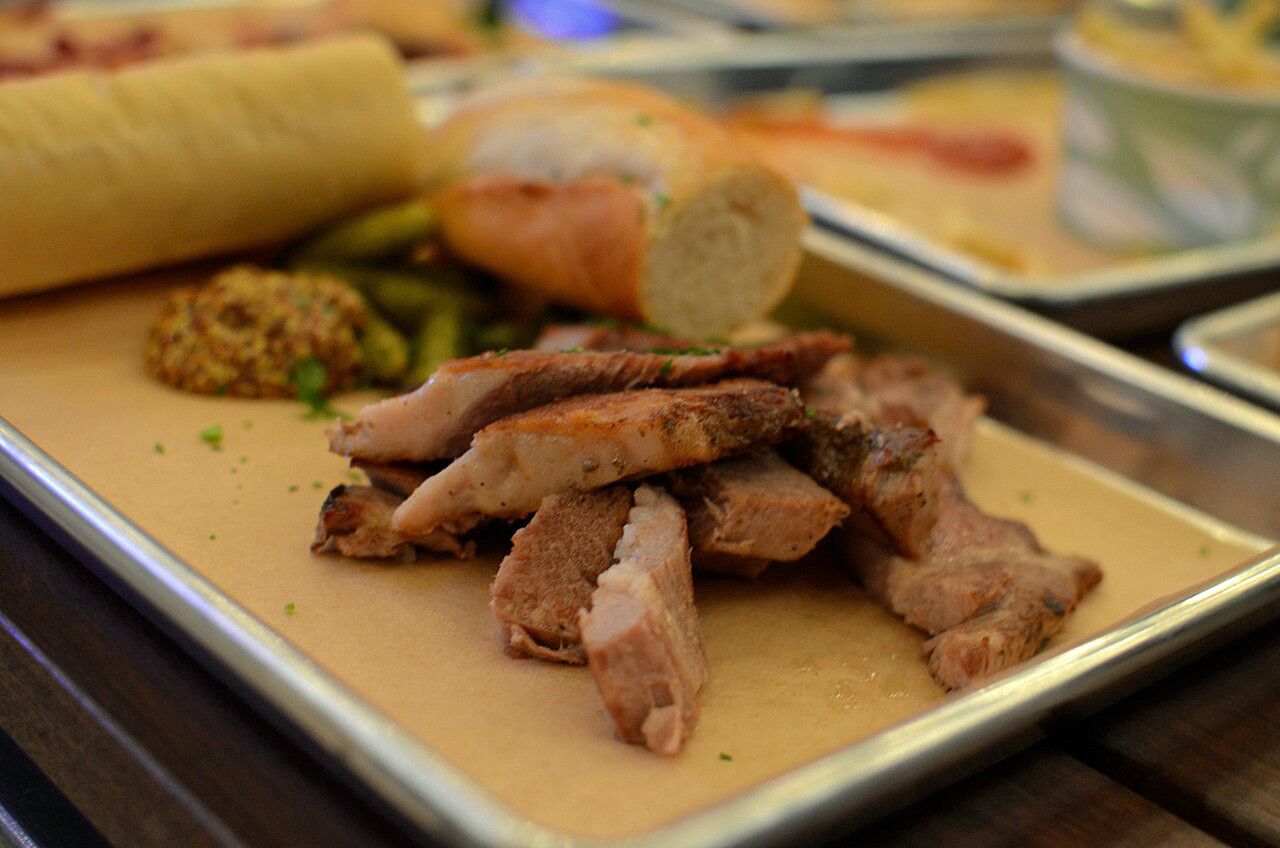 Tender pork is crisped up in duck fat.
(Javier Cabral / For The Times)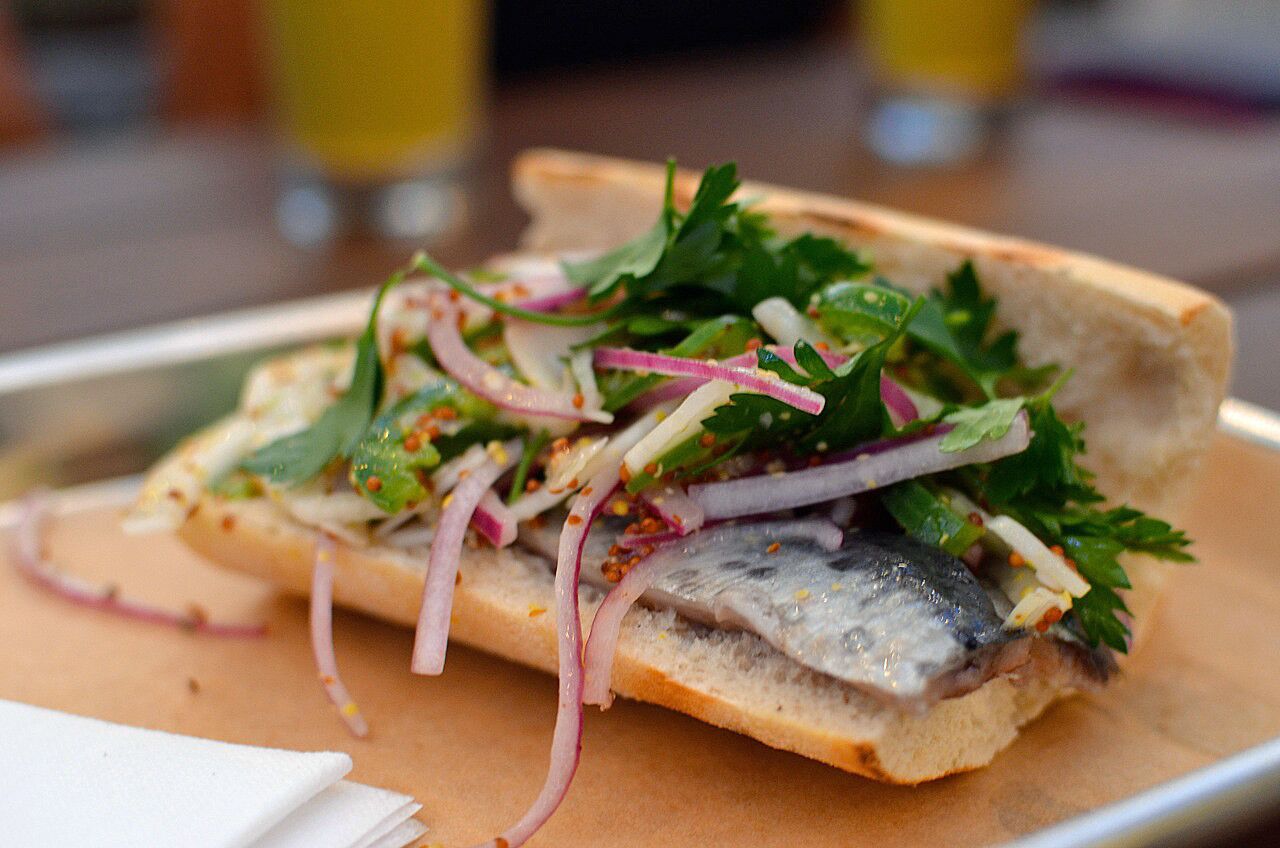 House-cured sardine sandwich is topped with fennel slaw.
(Javier Cabral / For The Times)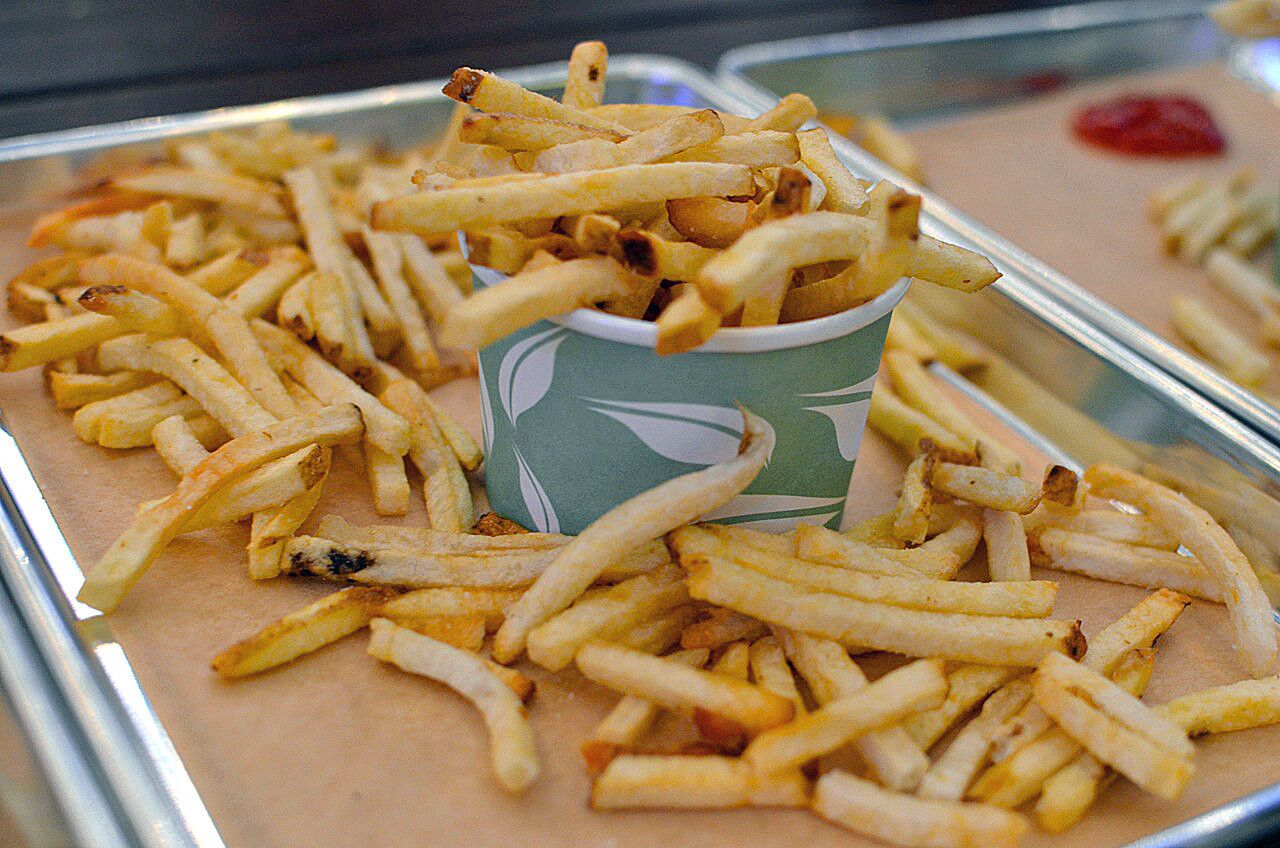 A big mess of In-n-Out-style fries at Picnik.
(Javier Cabral / For The Times)
The space is large with ample seating outside and inside.
(Javier Cabral / For The Times)
Name of restaurant: Picnik
Concept: A single-hog-origin sausage and craft beer restaurant and bar in Old Town Pasadena.
Chef: Eddie Ruiz of Corazón y Miel, in conjunction with Michael Puglisi of Electric City Butcher.
What dish represents the restaurant, and why? The grilled Malaysian sausage topped with pickled red cabbage and sauteed market peppers. It's a juicy pork sausage made with a little citrus, chile and shrimp paste. Its subtle Southeast Asian flavors are absorbed by a baguette.
Runners-up? Lamb-based Merguez sausage with sauerkraut and sauteed onions, Puglisi adds a little extra love in the form of flavorful lamb fatback to give it extra juiciness. If looking for something a bit lighter, Ruiz's house-cured sardine sandwich with fennel slaw is the thing to get. The fishiness is tamed and the filets are meaty. The fennel slaw topping the fish is refreshing. Vegetarians get it just as good with a meaty portobello mushroom flavored with a Texas-style adobo BBQ dry rub. If not in a sausage mood, Ruiz's sous vide pork shoulder (crisped up with a little duck fat in a cast-iron skillet) is waiting. It's served rustic-style, with grilled bread, a pile of cornichons and tangy whole grain mustard so you can go to town with it.
Appropriate for: Post- or pre-shopping lunch or dinner with friends or the entire family. Juicy sausages are affordable here and seem to make everybody happy.
Service: It's a counter-service setup, everything should be good as long as you make sure your number sign is up high and facing the kitchen.
Uh-oh: The Kennebec fries are In-&-Out style, meaning they are cut thin and don't have a crisp exterior. Some people are known to not like this style; if that is your case, stick to the creamy, tender potato salad.
What are you drinking? A chilled pint of Modern Times Lomaland Saison, a relatively new brewery that has a cult following for their esteemed beers. The light funkiness of the unique yeasts found in this ale go nicely with the umami factor of all the sausages and sandwiches.
Info: 168 W. Colorado Boulevard, Pasadena. (626) 793-8008
ALSO:
Night + Market Song opens in Silver Lake
Belcampo Meat Co. opens at Grand Central Market
Baseball and beer: 3 brews to get you through 9 innings
The Scouting Report is a quick look at restaurants worth a visit. Scouts were selected by restaurant critic Jonathan Gold, who may or may not agree with a single word.
---
Get our L.A. Goes Out newsletter, with the week's best events, to help you explore and experience our city.
You may occasionally receive promotional content from the Los Angeles Times.