This might be your new favorite seafood chowder recipe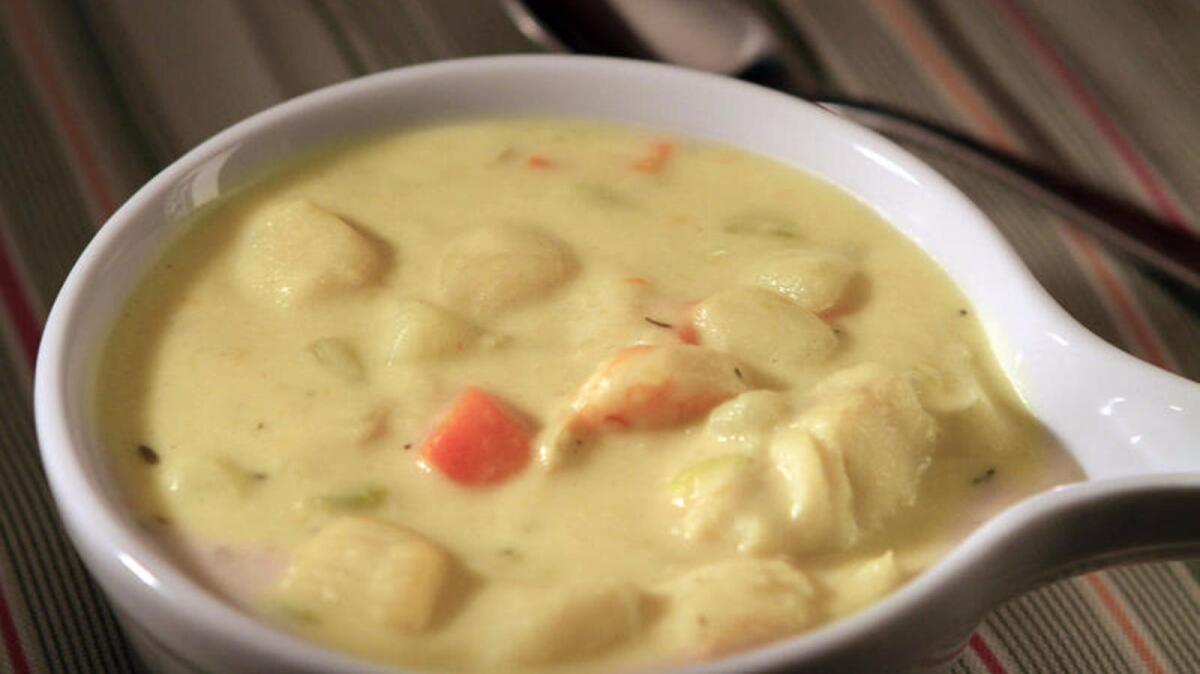 Rich and creamy, with large pieces of firm white fish, shrimp, scallops and tender vegetables, it's hard to beat a hearty bowl of chowder. This recipe, from Durty Nelly's Irish pub in Nova Scotia, makes a generous amount — enough if you're serving family or company — and the flavors continue to improve with time. Best of all? It's ready in less than an hour. Serve it alongside a basket of warm biscuits for the perfect cool weather meal.
DURTY NELLY'S SEAFOOD CHOWDER
Total time: 45 minutes | Makes 10½ cups
2 large boiling potatoes, diced
1½ cups diced onion
1½ cups diced carrots
1½ cups diced celery
¼ cup plus 2 tablespoons butter, divided
1 quart water
1½ tablespoons fish base, preferably Minor's
1 cup whipping cream
¼ teaspoon dried dill
¼ teaspoon dried thyme
¼ cup flour
8 ounces boneless firm white fish fillet, such as haddock or cod, cut into bite-sized pieces
6 ounces shrimp
6 ounces scallops
Salt and pepper
1. In a large pot of simmering water, boil the potatoes just until tender. Drain and set aside.
2. In a large, heavy-bottomed saucepot, saute the diced onion, carrots and celery in 2 tablespoons butter until the vegetables are softened, stirring constantly to avoid coloring. Add the water and bring to a boil. Reduce to a simmer and whisk in the fish base. Add the potatoes, cream, dill, thyme and pepper.
3. In a separate pan, melt the remaining one-fourth cup butter over medium heat. Add the flour, stirring constantly, and cook for 2 to 4 minutes to make a roux. Whisk the roux into the chowder and continue to cook until thickened over medium high heat, approximately 2 to 4 minutes after the mixture has reached a boil.
4. Add the fish, shrimp and scallops to the chowder just before serving and simmer until the seafood is fully cooked, about 5 minutes. Season with salt and pepper to taste.
Each of 8 servings: Calories 341; Protein 14 grams; Carbohydrates 26 grams; Fiber 3 grams; Fat 20grams; Saturated fat 13 grams; Cholesterol 111 mg; Sugar 4 grams; Sodium 518 mg.
Love cooking as much as I do? Follow me @noellecarter
ALSO
You'll love this simple recipe for barbecue beans
Try this Italian sausage and kale gratin for dinner tonight
Persimmons are in season. Here are some of our favorite recipes
Get our weekly Tasting Notes newsletter for reviews, news and more.
You may occasionally receive promotional content from the Los Angeles Times.