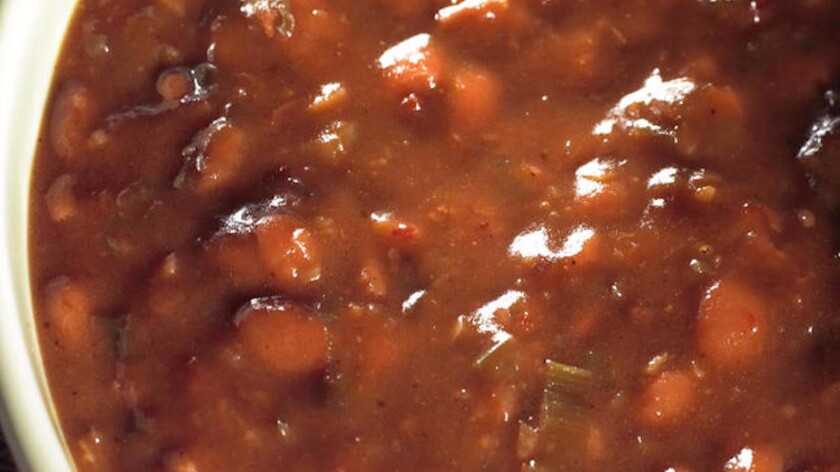 Tender beans, at once sweet and a little spicy, are one of those classic side dishes. This recipe, from the Yard House restaurant chain, is a great one to have on hand any time of the year. Cooked pinto beans (cook them yourself, or buy canned to keep it simple) simmer in a rich sauce flavored with barbecue sauce, chipotle pepper and brown sugar, alongside fresh garlic, green onion and jalapeño. The dish is ready to serve in as little as 40 minutes.
YARD HOUSE BARBECUE BEANS
Total time: 40 minutes | Serves 6 to 8 as a side dish
Note: Adapted from the Yard House. It makes its own barbecue sauce for this recipe but suggests using the brand Bull's-Eye as an alternative to homemade.
1/4 cup olive oil
2 tablespoons minced garlic
1 cup chopped green onion
1 to 2 jalapenos, minced, or to taste (seeding the jalapenos will minimize their heat)
4 cups cooked pinto beans (from about 1 pound dry, or about 3 drained 15-ounce cans)
2 cups chicken broth or 2 cups of pinto bean liquid from boiling
1 cup brown sugar
1 cup prepared barbecue sauce
2 to 4 tablespoons pureed chipotle peppers in adobo sauce, or to taste
2 teaspoons Tabasco, or to taste
Salt and pepper, to taste
1. Heat a medium heavy-bottom pot over medium-high heat until hot. Add the olive oil, garlic, green onions and jalapeno and saute, stirring constantly, until the garlic is aromatic and golden, about 2 minutes.
2. Stir in the pinto beans, chicken broth, brown sugar, barbecue sauce, pureed chipotle peppers and Tabasco sauce. Bring the mixture to a boil, stirring frequently to avoid burning the mixture, then reduce the heat to a simmer.
3. Continue to cook just until the beans begin to break apart, about 15 to 20 minutes. Taste the mixture and adjust the seasoning and heat as desired. Smash some of the beans slightly with the back of a spoon and stir to thicken the texture. The beans will keep, covered and refrigerated, for up to 4 days.
Each of 8 servings: 355 calories; 9 grams protein; 65 grams carbohydrates; 9 grams fiber; 8 grams fat; 1 gram saturated fat; 0 cholesterol; 37 grams sugar; 588 mg. sodium.
Love cooking as much as I do? Follow me @noellecarter
ALSO
Get your grilled cheese on with this great recipe
How to make the ultimate pumpkin-spiced French toast
Lima beans are in season. Here are some of our favorite recipes
---