Shia LaBeouf and ramen prison hacks in the new 'Prison Ramen' cookbook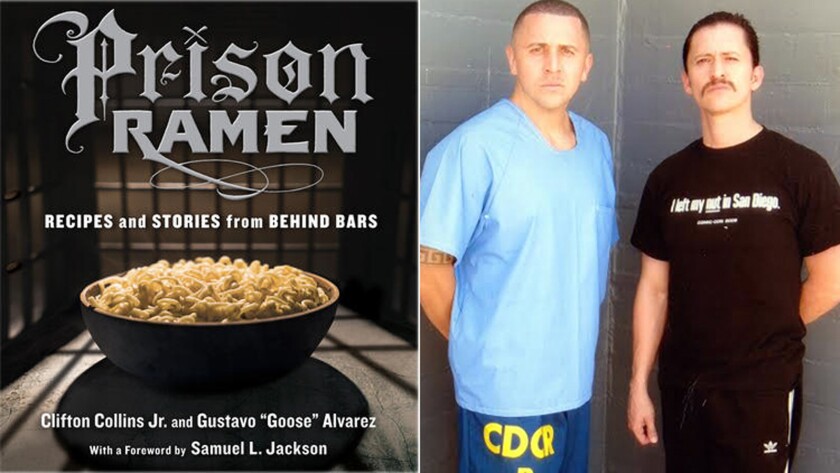 Have you ever heard of ramen goulash? What about something called the Jailhouse Hole Burrito? Recipes for these two delicacies and more can be found in "Prison Ramen: Recipes and Stories from Behind Bars," a new cookbook published by Workman Publishing.
Yes, you read that correctly. This cookbook features recipes for ramen, a food that, according to the book, is often bought by inmates at the prison commissary and used as the base for many meals.
These meals include the aforementioned goulash, the burrito, black bean ramen, an onion tortilla ramen soup, ramen nuggets, Slash's J-Walking Ramen (made with scallions, Sriracha and minced pork) and orange porkies, which involve chili ramen with white rice, half a bag of pork skins and orange-flavored punch.
These recipes, along with stories from ex-cons, are all included in the book. Former celebrity inmates Shia LaBeouf, Taryn Manning and Danny Trejo all contributed, as well as Goose Alvarez, an ex-con now living freely in Mexico, and his lifelong friend, actor Clifton Collins Jr., who co-authored the book.
The book will be available for sale at Homeboy Industries' annual Every Angeleno Counts 5K walk/run and festival Oct. 24. The book officially goes on sale November 3 at Barnes & Noble, Books a Million, Vroman's Bookstore and elsewhere.
------------
FOR THE RECORD
An earlier version of this post said the book is out Oct. 24. The book will be available for sale at the Every Angeleno Counts walk/run on the 24th. It won't be available in stores until Nov. 3.
------------
Proceeds from the book will benefit Homeboy Industries, an organization that focuses on gang rehabilitation and a world re-entry program after prison.
I like my ramen spicy. Follow me on Twitter @Jenn_Harris_
ALSO:
9 mac 'n' cheese recipes you need right now
Blue Star Donuts in Venice will hand out free doughnuts on Monday
Food events: Taste of Mexico, 'Zahav' at Animal, Salvadore Dali dinner in the O.C.
---
Get our weekly Tasting Notes newsletter for reviews, news and more.
You may occasionally receive promotional content from the Los Angeles Times.