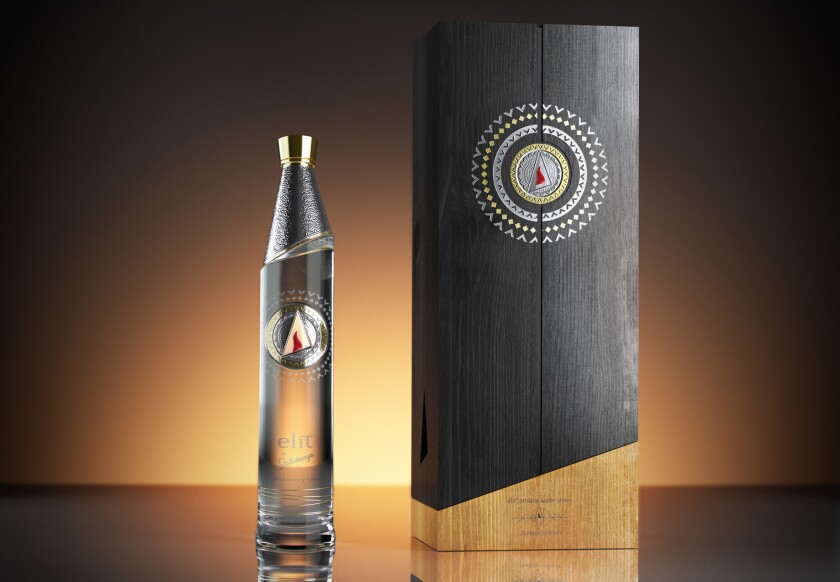 On a recent evening at Petrossian in Beverly Hills, ice sculptures glistened, candles flickered and polished glasses sat next to neatly folded, black napkins. The back room was set for a lavish dinner party, but the star of the evening wasn't the food. It was a $3,000 bottle of vodka.
"Think about it as you would think about sushi," said Brent Lamberti, Elit by Stoli national brand ambassador. "Think about how clean it tastes, the mouthfeel."
Lamberti hosted a vodka tasting to celebrate the launch of the Andean edition, the third in the Elit by Stolichnaya brand's pristine water series of vodka, which includes spirit made with water from New Zealand's Blue Spring and another made with water from the Himalayan mountains.
Each table setting featured four glasses of vodka, with one glass for Stolichnaya Elit and one for each vodka in the pristine water series. Each of the glasses was served at room temperature, so that according to Lamberti, each taster could really experience the flavor.
"We want to take vodka back to what it originally was in Eastern Europe," Lamberti said. "It was used to cut through fatty foods and cleanse your palate."
I breezed through the first three vodkas, noticing the lack of flavor in the Stolichnaya Elit, the subtle citrus in the New Zealand edition and the peppery burn from the Himalayan edition.
But what I really came for was the Andean edition, made with water from Colico Lake in the La Araucania Region of Chile and natural spring water from the foothills of the Andes Mountains. The water is combined with Russian Alpha Spirit at the Latvijas Balzams distillery in Latvia and filtered using a freeze-out filtration process at minus 18 degrees Celsius.
The cost is a whopping $3,000 a bottle. With that price tag, this is a rock star, hip hop king, master of the universe spirit, and I wanted a taste.
I took a whiff and noticed the lack of a scent, but it tasted of lemon and bright citrus, and had a savory, almost salty quality that made me salivate. It would make a fine martini vodka, or even something to sip straight on a cool night, with a little smoked fish.
It was also hard to concentrate when I kept trying to calculate how much it would cost for each sip. Did they use an entire bottle that night? Was that last sip $100? $238?
I mentally compared the vodka to a mini bottle of Kettle One and Sky vodka I had discreetly sipped in the bathroom before the tasting.
The Andean edition was noticeably smoother, but for the flavor alone, it wasn't worth the price tag. And to be fair, no spirit made of mostly water could possibly be worth $3,000. That's where the packaging and the exclusivity come in.
The vodka is bottled in a hand-cut, crystal bottle, sealed with a silver medallion overlaid with gold, and crowned with a ruby depicting the elit by Stolichnaya flame. The bottle is then packaged in a Chilean black cherry wood case lined with leather, and embellished with an indigenous pattern local to Colico Lake.
When you factor in the precious metals, jewel and fancy wood, the sticker shock lessens. Sort of.
The company produced 250 bottles total, 70 of which will be sold in the U.S. Of those 70, most will go to California and Nevada.
If you've got enough dough to snag a bottle for yourself, you can find more information on where to buy one at www.elitbystoli.com.
I like my martinis extra dirty. Follow me on Twitter @Jenn_Harris_
---