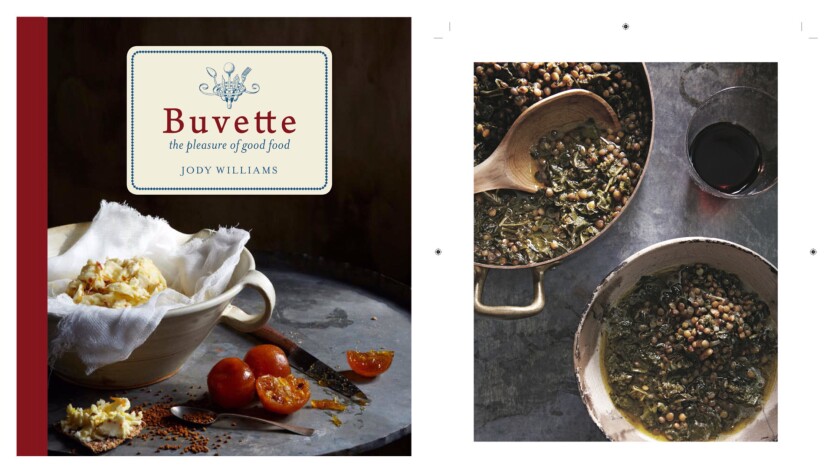 Often on a trip to New York, I'll find myself in the afternoon or late in the evening seated with friends at a table at Buvette in the West Village, talking, drinking rosé or a pretty Beaujolais, with a platter of butter and anchovy tartinettes or a crock of duck rillettes.
Jody Williams opened Buvette in 2010 and has just opened a second gastrothèque (an eating and drinking establishment dedicated to the serious enjoyment of food and wine) in Paris. Not bad for a self-taught chef, who has been "equally inspired by people and places that I have hungrily pursued, fork in hand, throughout my life."
Her cooking is relaxed and unfussy, basically comfort food with a French (and occasionally Italian) accent. And her new cookbook "Buvette: The Pleasure of Good Food" (Grand Central Publishing, New York, $30) distills the essence of her little wine bar — with "thoughtful food" — into dozens of recipes for Buvette's signature dishes.
Organized by times of the day, it begins with the category Mornings (duck eggs with brown butter and sage or piperade, the traditional Southwest dish of sweet peppers and pork, hers made with spicy chorizo and topped with eggs). She's got sections on Coffee and Tea, Afternoons, Jambon et Fromage, Apéritifs, Evenings — and Sweets.
The Apéritifs chapter works as a guide to entertaining casually and/or on the spur of the moment. You could make her breafast radishes with bagna cauda or salmon rillettes with horseradish on toast. And especially her dreamy oxtail marmalade tartinettes.
Other chapters hold her recipes for duck confit, leeks in vinaigrette, lentils with kale and shallots or rabbit à la moutarde. And should you happen on some sardines, check out her recipe for grilled sardines in salmoriglio.
I love this note for "On Including Unusual Items on My Menu": "I make a point of offering dishes like tripe, kidneys, and even cuttlefish and peas prepared the old Italian way by cooking for hours. I know that not everyone is going to order these dishes, but for me it is worth it for the two or three people who might. I love those customers."
And as for referring to herself as self-taught, just in case you were wondering, she trained with Thomas Keller at his very first (and long defunct) restaurant Rakel, with Lidia Bastianich at Felidia, and spent six years in Italy knocking on restaurant doors and asking if they needed a cook. Most of the time they did. So it's not as if she just wandered into a kitchen, put on an apron and started to cook. She's a pro.
Here's one of her recipes, untested by the Times Test Kitchen.
Lentils with Kale and Shallots
"This hearty lentil dish is all about patience and slow cooking. You want the kale to really cook to the point where it just about loses its physical integrity and all of its freshness is dissolved into the lentils. The effect becomes rich and comforting. And while this is completely vegetarian, I am not. Really, I am just opportunistic and I believe in the freedom of what works well. Which is to say, this would be great with bacon!"
(Serves 4 to 6)
1/4 cup extra virgin olive oil
3 shallots, peeled and diced
5 garlic cloves, peeled and trimmed
2 dried red chilies or 1 teaspoon red chili flakes
1 bunch kale (preferably laminate kale, also known as dinosaur kale), finely chopped
1 cup dark lentils (preferably "du Puy" or "Castelluccio")
Coarse salt
4 cups water
1/2 teaspoon freshly grated nutmeg
Crme fraiche, for serving
Some really high-quality, extra-virgin olive oil, for serving
Heat the 1/4 cup olive oil in a large pot over medium-high heat. Add the shallots, garlic, chili, and kale and cook, stirring occasionally, until the vegetables are just beginning to soften, about 5 minutes. Add the lentils, a healthy pinch of salt and the water. Bring the mixture to a boil, reduce the heat, and simmer gently until the lentils and kale are not just cooked through, but really soft and lovely, a good hour, maybe even two; it will depend on the age and type of lentil you choose. Splash the mixure with additional water as it cooks if it's threatening to dry out; you want the final product to be moist, but not at all broth. Just before serving, stir in the nutmeg and season the mixture with salt.
Serve hot or at room temperature with generous spoonfuls of cold creme fraiche and a healthy drizzle of the raw, high-quality, extra-virgin olive oil.
Follow @sirenevirbila for more on food and wine.
---