Palm Restaurant to close in West Hollywood, reopen in Beverly Hills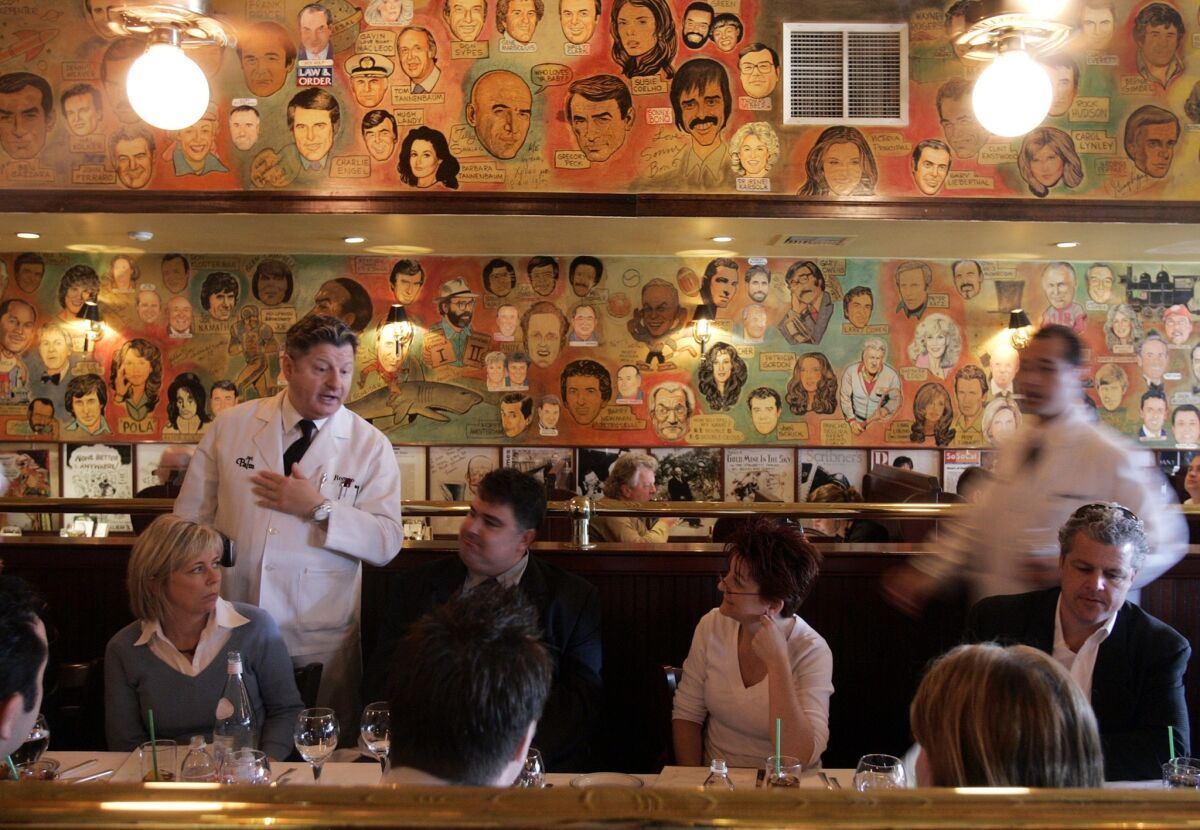 After nearly 40 years in West Hollywood, the Palm Restaurant announced it will close its doors Sept. 30. The restaurant will reopen at a location in Beverly Hills in early November.
The classic steakhouse with its white-jacketed servers has been a place for those in the entertainment industry to rub elbows since opening in 1975. The restaurant boasts a celebrity power lunch clientele that includes Billy Crystal, Adam Sandler, Mike Myers and more.
The Palm is also known for the caricatures of its celebrity customers that cover most of the walls of the restaurant. The company says it is inviting all those depicted in the illustrations to take their images home.
Bruce Bozzi Jr., the great-grandson of Pio Bozzi, who along with John Ganzi co-founded the original Palm in New York, says the restaurant's lease is up in November.
"So we thought OK, reinvention is good and it's time for a change," said Bozzi. "We've been in West Hollywood for 40 years and we have strong brand equity in Los Angeles, so it's going to be exciting."
"We're not moving the West Hollywood Palm to Beverly Hills, we're opening a brand new Palm," added Bozzi, who will run the new Beverly Hills location.
The new 6,000-square-foot restaurant, to be located at 267 N. Canon Drive, will seat 185 and include a private dining room. Bozzi says the menu will stay pretty much the same and the server's iconic white uniforms will be tweaked just a little.
"All the things that makes us The Palm will happen at the new location," said Bozzi, who added that newer design elements will include circular booths and a feature wall that will pay homage to the city.
Bozzi plans on taking some of the portions of the West Hollywood walls, framing them and putting them up in the new location. He's also working with artists to create some new local art.
"The walls in West Hollywood are a time capsule of 40 years in California with people who worked in show business, people who live out there, people in music," said Bozzi. "It's just really fun."
The original Palm opened in New York in 1926. Pio Bozzi and Ganzi wanted to call their restaurant Parma, after their hometown in Italy, but a New York City clerk misunderstood their accents and mistakenly gave them a license for "The Palm," according to the restaurant's website.
And what became one of the most well-known steakhouses didn't actually have steak on the menu when it opened. When customers requested steaks, Ganzi would buy one from a nearby butcher shop and cook it to order. After multiple requests, steaks eventually made their way onto the menu.
And if you're wondering where the tradition of the caricatures on the walls came from, artists would take care of their tabs by painting original portraits on the walls of the restaurant.
To celebrate the restaurant's success in West Hollywood, co-owners Wally Ganzi, Bruce Bozzi Sr. and Bruce Bozzi Jr. will make regular appearances at the restaurant until its closing, and plan on being at the new location when it opens.
9001 Santa Monica Blvd., West Hollywood, (310) 550-8811, www.thepalm.com.
More restaurant news? Follow me on Twitter @Jenn_Harris
[Updated August 11, 2:54 p.m. to include comments from Bruce Bozzi.]
---
Get our L.A. Goes Out newsletter, with the week's best events, to help you explore and experience our city.
You may occasionally receive promotional content from the Los Angeles Times.