The Taste food event returns to Paramount Studios Labor Day weekend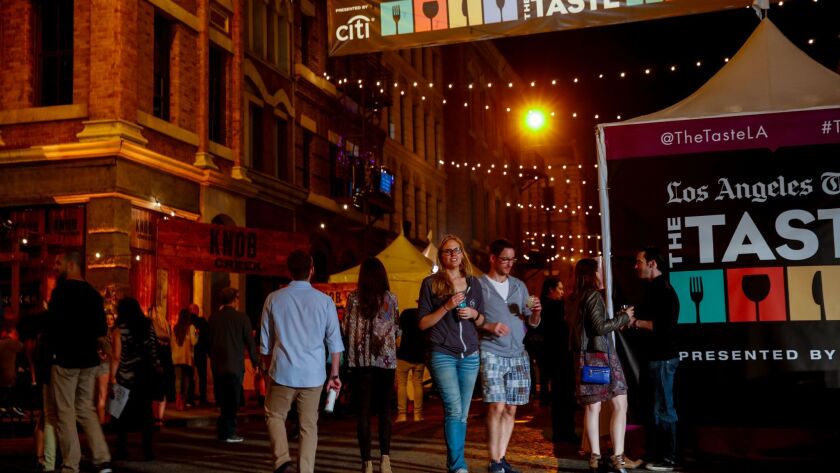 Like the sound of a three-day party with food, wine and specialty cocktails from the city's best bars and restaurants? The Taste, The Los Angeles Times' annual celebration of Southern California's culinary scene, returns on Labor Day weekend, September 1-3, at Paramount Pictures Studios.
Five events will highlight food from every corner of L.A., from Boyle Heights to Beverly Hills, NoHo to Venice. There will be unlimited food tastings, live cooking demos and wine seminars.
OPENING NIGHT — Friday, Sept. 1, 7:30 p.m. — 10:30 p.m.
The weekend kicks off with a focused collection of tastings, cocktails and wine offerings. It's also a chance to mingle with The Times' hosts and many of the weekend's participating chefs and bartenders. Restaurants include Scratch Bar & Kitchen, Side Chick, Simone, Friends & Family and more. Hosted by Noelle Carter (Test Kitchen Director), Jonathan Gold (Restaurant Critic), Amy Scattergood (Food Editor) and me. Tickets: $150.
NEW THIS YEAR: For our Saturday and Sunday events, take your experience at The Taste to the next level by upgrading to Green Room Access. This includes free parking inside the Paramount Pictures gates (regular price for outside-the-lot parking is $13), access to a furnished lounge during the entire event, exclusive activity inside the Green Room created by the event hosts and co-hosts, a wine tasting experience not present in the general event during Field to Fork and the Sunday Block Party, and cocktails not present in the general event during Dinner with a Twist and Flavors of L.A.
FIELD TO FORK — Saturday, Sept. 2, Noon – 3:00 p.m.
Inspired by Southern California's agricultural roots and DIY attitude, leading L.A. chefs including Sang Yoon (Lukshon and Father's Office) and Miles Thompson (Michael's) will share their farmers market savvy through individual cooking demos using their favorite ingredients. There will be a discussion about the importance of farms and eating local with Romeo Coleman (Coleman Family Farms), Alex Weiser (Weiser Family Farms) and Wes Whitsell (Manuela). Restaurants include Aqui es Texcoco, Banh Oui, Cento Pasta Bar, Coni'Seafood and more. Hosted by Amy Scattergood and Sang Yoon. Tickets: $95 ($145 with Green Room upgrade).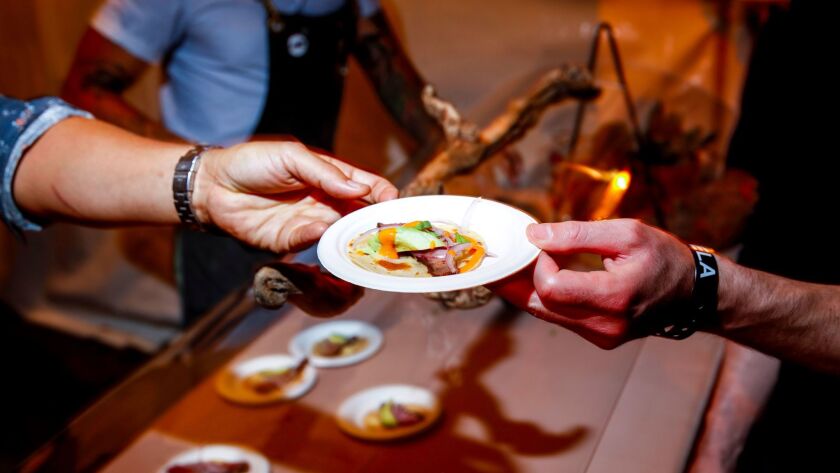 DINNER WITH A TWIST — Saturday, Sept. 2, 7:30 p.m. – 10:30 p.m.
Spend an evening exploring how great cocktails, wine and spirits pair with excellent culinary creations. Breana Jackson (Sugar & Spice: Baked by Bre), Danielle Bennett (Lady on the Rocks), Derrick Lewis (Not Your Mama's Kitchen) and Chef E Dubble (E Dubble Catering/Grilled Fraiche) will celebrate urban gastronomy with a collaborative showcase of their signature concoctions. Other participating restaurants include the Ponte, Faith & Flower, Szechuan Impression and more. Hosted by Jonathan Gold, Antonia Lofaso and Marco A. Ramos (Scopa and Black Market Liquor Bar) and me. Tickets: $130 ($180 with Green Room upgrade).
SUNDAY BLOCK PARTY — Sunday, Sept. 3, Noon – 3:00 p.m.
No need to fire up the grill yourself today; we've got all the ingredients for the ultimate block party. Former Spago pastry chef Sherry Yard will demystify pastry-baking for home cooks and David LeFevre (Manhattan Beach Post) will give a master class on making biscuits. There will be a talk with Chris Phelps (Salt's Cure) about what it means to brunch at some of the most innovative spots around town, with additional panelists to be announced. Hosted by Noelle Carter and Sherry Yard (Tuck Room Tavern). Tickets: $95 ($145 with Green Room upgrade).
FLAVORS OF L.A. — Sunday, Sept. 3, 7:30 p.m. – 10:30 p.m.
Let Jonathan Gold take you on a tour of the rich and diverse culinary scene of L.A. with some of the city's chefs. Gold will also explore Korean barbecue with masters of the grill: Jenee Kim (Park's Barbeque) and Chris Oh (Seoul Sausage Co.). Hosted by Jonathan Gold and Gilberto Cetina Jr. (Chichen Itza and Holbox). Tickets: $130 ($180 with Green Room upgrade).
Ticket price includes food, beer, wine and spirits tastings, plus access to seminars and presentations. Los Angeles Times subscribers save $25 on Saturday and Sunday events.
Details and tickets: latimes.com/thetaste. Connect on Facebook, Twitter and Instagram @TheTasteLA (#TasteLA).
Los Angeles Times The Taste is presented by JetBlue Plus Card and is produced in association with Best Events. The Collins College of Hospitality Management, L.A. Regional Food Bank and Midnight Mission are the event's charity beneficiaries.
ALSO:
Taco Tuesday: Kosher birria tacos
Jonathan Gold's 101 Best Restaurants list
Dine L.A. restaurant week is back with exclusive dishes
---
Get our weekly Tasting Notes newsletter for reviews, news and more.
You may occasionally receive promotional content from the Los Angeles Times.