Three great new L.A. coffeehouses
The interior of Dinosaur Coffee, including their swank red La Marzocco machine.
(Tien Nguyen)
A cortado at Dulce Dos, a new coffeehouse in Little Tokyo.
(Tien Nguyen)
The counter of Little Tokyo's new coffeehouse Dulce Dos.
(Tien Nguyen)
The pretty interior of Dinosaur Coffee, a new L.A. coffehouse.
(Tien Nguyen)
If black coffee is too boring for you, try the horchata latte at the new Compañía de Café in South Gate.
(Tien Nguyen)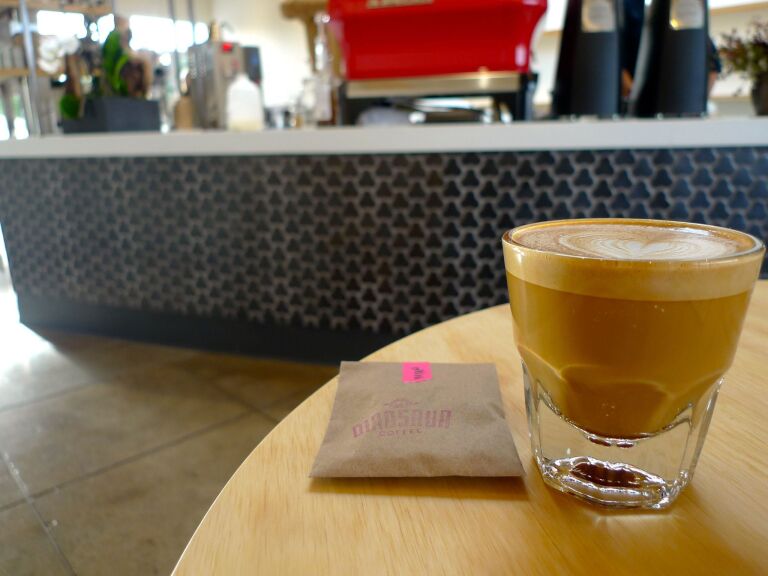 A cortado at Dinosaur Coffee, a new coffeehouse in Los Angeles.
(Tien Nguyen)
For those of us who love coffee, the last two months have been like early holiday presents. Because no fewer than three terrific coffee shops have opened around the city since November. One is a brand new dinosaur-themed shop that is about as fun as a trip to the Natural History Museum; the other two are much welcome second outposts of established shops. And all three are worth a stop the next time you're in their respective neighborhoods. The newest places to get caffeinated:
Dinosaur Coffee
"We wanted to create something fun. A coffee shop we all want to go to," Michelle Hantoot says about Dinosaur Coffee, the coffee shop she just opened with her husband, Ben, on the part of Sunset Boulevard where the hazy edges of the Los Feliz, Silver Lake and East Hollywood neighborhoods blur into one another. For those of you who spent the better part of your college years with Figure 8 on repeat, you'll know exactly where Dinosaur is: just steps from the Elliott Smith Memorial wall, in the Solutions! building.
The Hantoots worked with MASS Architecture and Design to design their cafe space, which, as you might expect, centers on a dinosaur conceit. This would be a conceit that's (wisely, perhaps) less Jurassic Park and more Land Before Time: The shop is airy and bright, and curvy boards hanging from the ceiling could double as the most unintimidating of stegosaur fins. Custom molded tiles on the kidney-shaped bar look a bit like how a Pixar animator might draw a dinosaur puppy's paw prints. And then there's the shop's logo, which is that of a pretty cute stegosaurus. A kid could be happy here. As could an adult, especially after a cup of coffee.
Speaking of the terrific coffee: Dinosaur's beans of choice are from Four Barrel Coffee, and Michelle Hantoot, a former barista, is leading a solid crew making a short menu of filtered coffees, nicely sweetened cortados and other espresso drinks. Tea comes courtesy Song Tea, pastries are brought in from FarmShop, and ChocoVivo chocolates are available at the counter. Tables in the front, bar seats and a large communal table in the back of provide ample seating. And, yes, there's Wi-Fi.
In the near future, the Hantoots hope to host a few community events like craft workshops at their shop. And, as Ben Hantoot was one of the co-founders of Cards Against Humanity ("a party game for horrible people"), it would not be a surprise to walk in here one day to find a group of folks playtesting a new game.
Dinosaur Coffee is open daily from 8 a.m. to 6 p.m., though that may change in the future depending on demand. 4334 W. Sunset Blvd., Los Angeles, dinosaurcoffee.com.
Dulce Dos
Last year, Little Tokyo's Cafe Dulce opened a small coffee counter in the lobby of one of the buildings in Alameda Square, next to the American Apparel warehouse in Downtown. It was a small but efficient kiosk, billed then simply as pop-up; as of late November, though, that pop-up has officially popped down, and that little counter has evolved into a bona fide space with four corners and cold-brew on tap. Dulce Dos currently in soft opening mode, but the drinks are solid enough that you'd scarcely notice any roughness around its edges.
Dulce Dos's menu is similar to the coffee menu at Cafe Dulce, meaning you'll find terrific pourovers, nice cortados and Vietnamese iced coffee here, all made with coffee from Heart Coffee Roasters. Unlike Cafe Dulce, Dulce Dos' focus is on only coffee — sandwiches, salads and sweets are brought in daily from Cafe Dulce — so the baristas here have a bit more space to tinker with brew methods, experiment with drinks and to train staff.
Dulce Dos plans to have a grand opening in January. At the moment, its hours are Mondays through Fridays from 8 a.m. to 4 p.m. 777 Alameda St., Los Angeles, cafedulce.co.
Compañía de Café
Compañía de Café opened its first location in San Fernando earlier this year, and with Percy Ramirez heading the coffee program, it quickly became not just one of the best coffee shops in the San Fernando Valley, but one of the best coffee shops in L.A., period. And now, mere months after that first opening, we have a second location of the coffee shop, this one located considerably farther south, in South Gate.
Tucked in a shopping plaza, Compañía de Café's South Gate shop sports a similar aesthetic as the first: there's the beautifully tiled wall, the splashes of hot pinks here and there, the pastry case lined with pretty cookies and snacks, the hanging lights above the coffee bar glowing like sparklers on a dark night. Between the cappuccinos, abuelita lattes and tamarindo-infused cold-brews, surely there's something on this drinks menu for most everyone. The shop features coffee from a variety of roasters, including George Howell Coffee and 49th Parallel Coffee Roasters.
Compañía de Café is open daily from 6 a.m. to 11 p.m. 4705 Firestone Blvd., South Gate, (323) 476-7201, companiadecafe.com.
---
Get our weekly Tasting Notes newsletter for reviews, news and more.
You may occasionally receive promotional content from the Los Angeles Times.