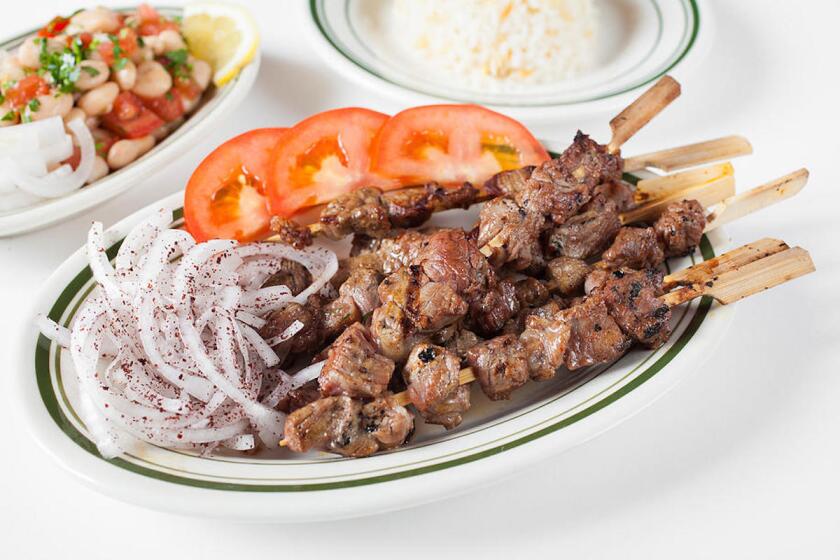 There's plenty of meat at Mr. Kebap, a new Turkish restaurant in Fountain Valley, although you could skip the kebabs (not likely) and make a handsome meal just of salads and sides.
Fat stuffed peppers and grape leaves may be familiar, but possibly not pachanga pastry -- a fried appetizer of cheese and Turkish pastrami wrapped in thin pastry called yufka. The Turkish version of tabouleh is made with wheat and occasionally with quinoa.
Artichoke hearts combined with broad beans were a special one day, along with eggplant kebabs. There's piyaz, a white bean salad with olive oil, tomato, onions and parsley. A creamy carrot salad might seem like something you'd have for Thanksgiving. And how often do you find purslane on a menu? Here, it's mixed with yogurt and garlic for a cold side dish.
The meats at Mr. Kebap are halal certified. Try the chopped shish kebab -- small cubes of filet mignon and lamb fat grilled and served with Turkish cumin and Turkish mountain oregano. It takes a couple of days to make inegol kofta -- ground beef kneaded with seasonings, refrigerated overnight, kneaded again and refrigerated once more. The beef is then formed into patties, grilled and served with rice and salad. If you prefer chicken, you can choose breast or thigh meat or Mediterranean-style chicken marinated with mayonnaise, lemon juice, garlic and oregano.
If you're wondering, the "p" at the end of Mr. Kebap is not a typo but a business decision. Owner Eric Star switched because the domain using the spelling Mr. Kebab was already taken.
Star previously had a restaurant called Quick Kebab in Westminster. He's from Izmir, Turkey. His partners, Celal Koko and Nimet Tan, are from Istanbul. Koko designed the restaurant, recreating a typical cafe in Turkey.
It's like a deli, with side dishes, meats and desserts displayed for browsing. Colors are warm and inviting. Tables line a narrow hallway, and there's a larger space in front. The three partners and Star's wife, Lora, do the cooking, turning out food that tastes homemade.
There's even a menu category called "Turkish daily home-style cooking." The rotating main dishes include tas kebabi, filet mignon that is not grilled but cooked in broth with green pepper, onion and garlic, accompanied by rice and salad. Another is a combination of cubed filet mignon and eggplant, served with garbanzo kofta.
Soups change also. One day, Koko produced an intense lamb soup enriched with butter and egg yolks, adding lemon for balance and drizzling red pepper oil on top.
The perfect beverage with this forthright food is ice cold ayran -- diluted yogurt served in copper mugs like those used in Turkish villages.
Homestyle desserts, prepared by Tan, include sekerpare -- small pastries moistened with lemon-flavored syrup. The orange ball in the center of a bowl of rice pudding is Kemal Pasha, a syrup-soaked cheese and semolina cake named for Kemal Ataturk, the first president of Turkey, who is said to have adored the dessert.
Afterward, patrons can linger over Turkish tea or coffee. The restaurant serves lunch and dinner, but early next year Turkish breakfast is to be available as well.
Mr. Kebap, 16937 Bushard St., Fountain Valley, (714) 369-2001, mrkebap.com
ALSO:
Make Paula Wolfert's sizzling shrimp dish for dinner tonight
Now open: Seoul Sausage in Little Tokyo, Barcito in DTLA, Sausal in El Segundo
Wrap your knife in a newspaper, and other tips from a master Japanese knife sharpener
---