Ventura distillers make vodka -- from local strawberries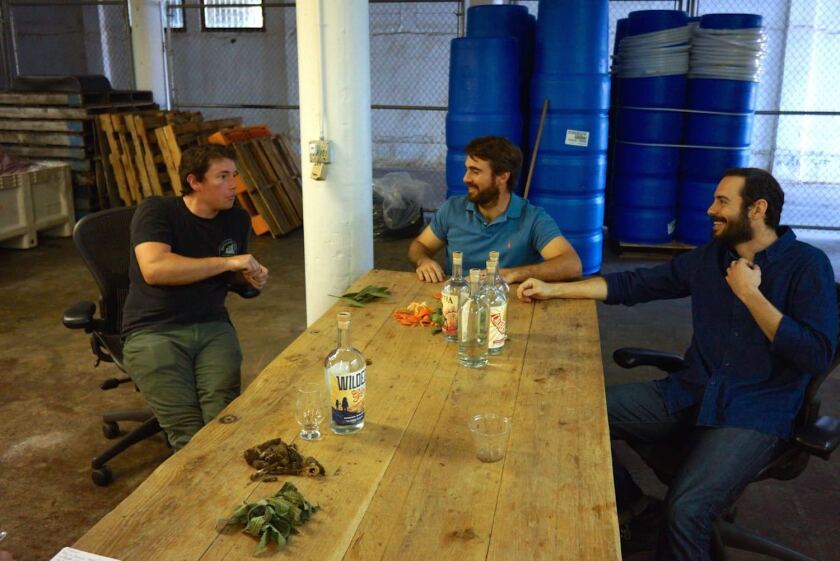 Make vodka from strawberries? No one does that, says Anthony Caspary, co-founder of Ventura Spirits, a bootstrap distillery he started with his brother and two friends in the basement of an old industrial building on the western edge of Ventura. Other than the expense of the strawberries themselves, it's just too much work.
Yet that's just what they're doing — thanks to a rock bottom price Caspary and his partners got on 500,000 pounds of frozen strawberries abandoned in a contract dispute. Intent on distilling the essence of Southern California at Ventura Spirits, vodka from local strawberries was an irresistible idea.
There are an estimated 550 American craft distilleries in operation, the vast majority launched in the last 20 years, according to the American Distilling Institute. Anthony Caspary, his brother Andrew Caspary, James Greenspun and Henry Tarmy (all in their early 30s) joined the craft spirits revolution last summer.
Already, Ventura Spirits California Vodka is on the shelf in Whole Foods Markets and up-scale liquor stores in the Los Angeles area.
"Their vodka is something we've never seen before," says Nicholas Krok, bar manager at Bestia in downtown Los Angeles, where they serve the full line of Venture Spirits. "It's refreshing to find a distiller making spirits with local ingredients." (You can also find Ventura Spirits' vodka at A.O.C.)
In addition to the strawberry-sourced vodka, Caspary and his partners produce a gin infused with purple sage, sagebrush, bay leaf and yerba santa they forage from the coastal mountains outside their distillery. Local prickly pear fruit is the base ingredient for their Opuntia, a clean, white spirit intended to give a California spin to that other cactus-based spirit, tequila. They're also working on a spirit made from kelp gathered along the nearby ocean beaches.
"I am absolutely not worried that anyone will copy what we're doing," says Anthony Caspary.
The four partners, the distillery's only employees — if you don't count the Casparys' father, who hand labels the bottles for them — are stretched thin by the weight of those strawberries. "They are soaking up all of our free cash," says Andrew Caspary. Not to mention their time and energy.
"Sticky, thick, perishable," Anthony says, with a shake of his head. "The sheer mass of fruit we're working with. It is brutally hard, messy work. Eighty percent of the labor is cleaning. You have to keep everything clean or your stuff will taste like crap."
Every week for the last nine months and for another three months to come, 10,000 pounds of frozen strawberries arrive at the distillery. It takes five days to thaw the strawberries in a makeshift pond they created on the floor of the distillery.
Using a mash filter, they extract the juice from the strawberries, separating the fruit solids to sell to a local farmer for pig feed. The juice goes into plastic containers to ferment for 12 days before distillation. After six passes through their hand-fabricated hybrid pot still, the distillate reaches 190 proof, which is the technical definition of vodka. It takes 11.5 pounds of strawberries to make one bottle of California Vodka.
The crazy thing, says Anthony Caspary, is that after the first pass through the still, the spirit is 140 proof yet still smells like sun-ripened strawberries. The flavor of the berries is a lively ghost in the glass with no residual sugar, the true essence of Southern California and exactly what the partners set out to create.
"It is delicious, but uncategorizable," says Andrew Caspary with a shrug.
"Create something that doesn't fall into any category? I absolutely want to see that," says Krok, Bestia's bar manager.
It's the sort of innovation the craft distilling revolution promises to bring to the spirits world, and the reason four friends are knee deep in a sticky pool of strawberries.
---
Get our weekly Tasting Notes newsletter for reviews, news and more.
You may occasionally receive promotional content from the Los Angeles Times.